TRILUX – Light is always an Art.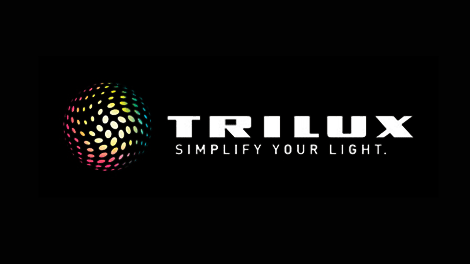 High-quality special solutions and distinctive pieces for unique architectural projects
Light can do everything: set the stage for architecture uniquely and create attractive working environments. Or become art itself.
Would you like to see a few examples?
AIMING HIGH
LIGHT ART FOR THE DFB
A bespoke piece from our factory in Arnsberg: The eight-meter-high light sculpture stands in the Academy of the German Football Association foyer in Frankfurt am Main. The work of art is reminiscent of a huge bundle of luminous reeds. For the sporting reference, the stems were made from pole vaulting sticks. The translucent reeds are made of satin-finished plastic. Inside, the latest lighting technology with five diffusers provides homogeneous attractive light.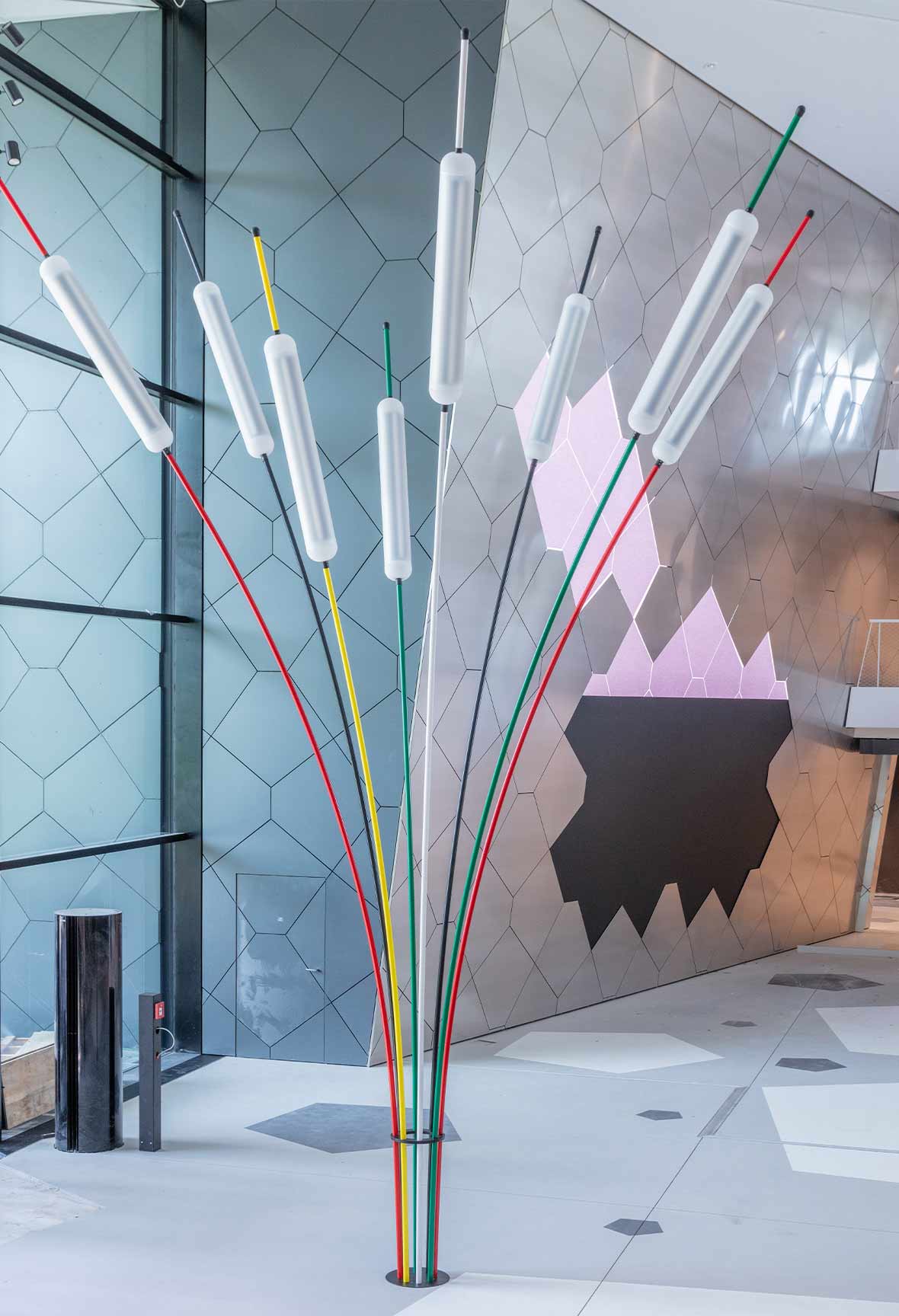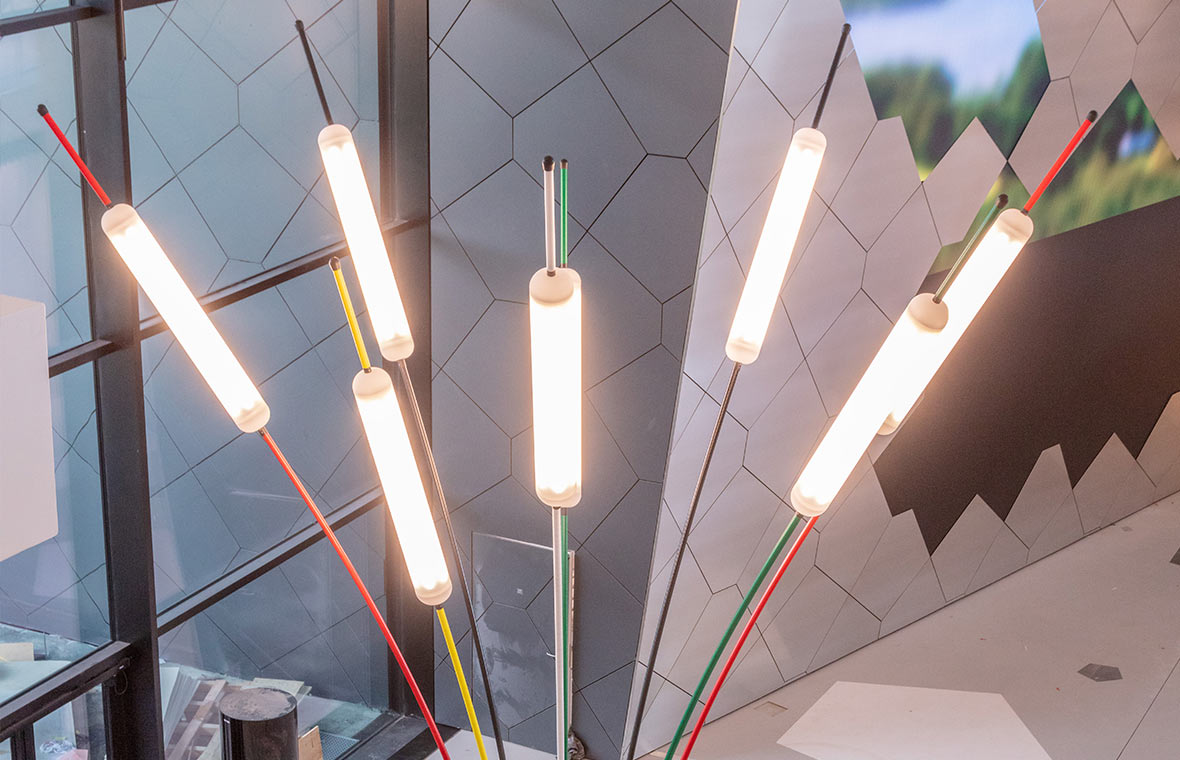 OFFICE REVELATION
HEADQUARTER BAD WIMPFEN
Situated on the outskirts of Bad Wimpfen, Germany, stands a remarkable symbol of forward-thinking work environments. The gently curving terraced building landscape embodies a vision of the future. Spanning an impressive 130,000 square meters, this grand structure serves as the new home for a prominent German food discounter.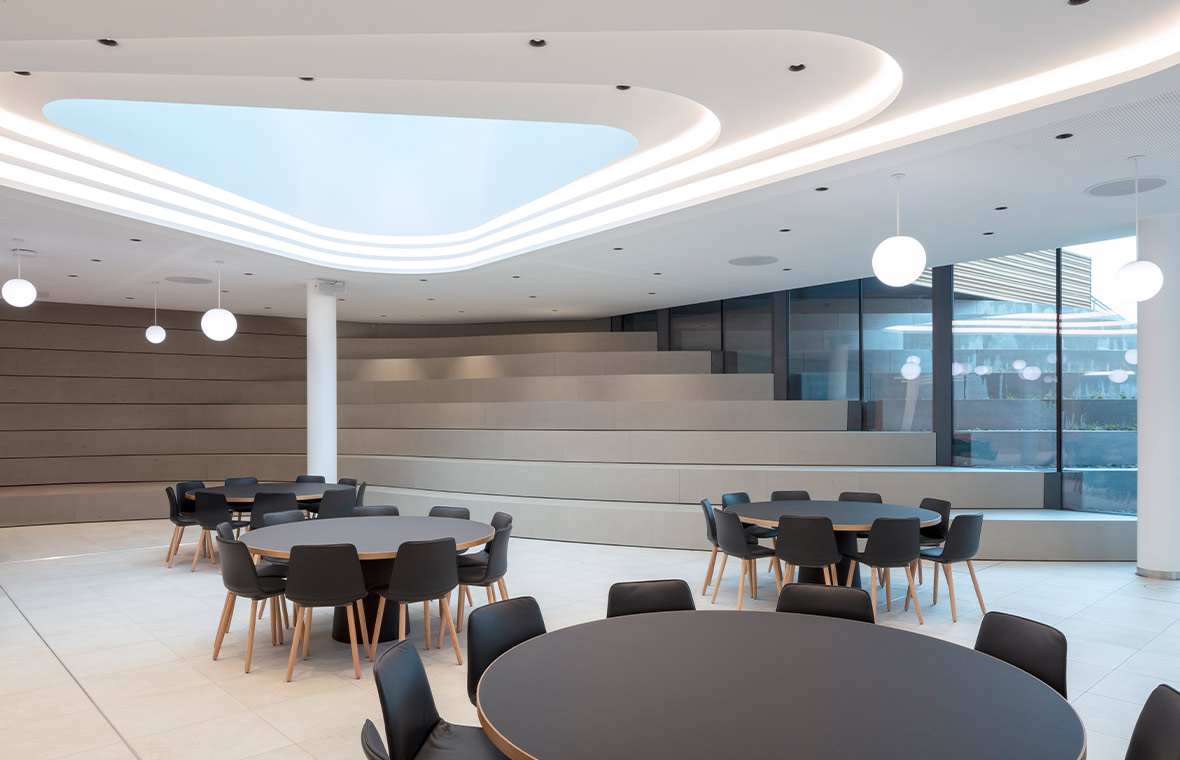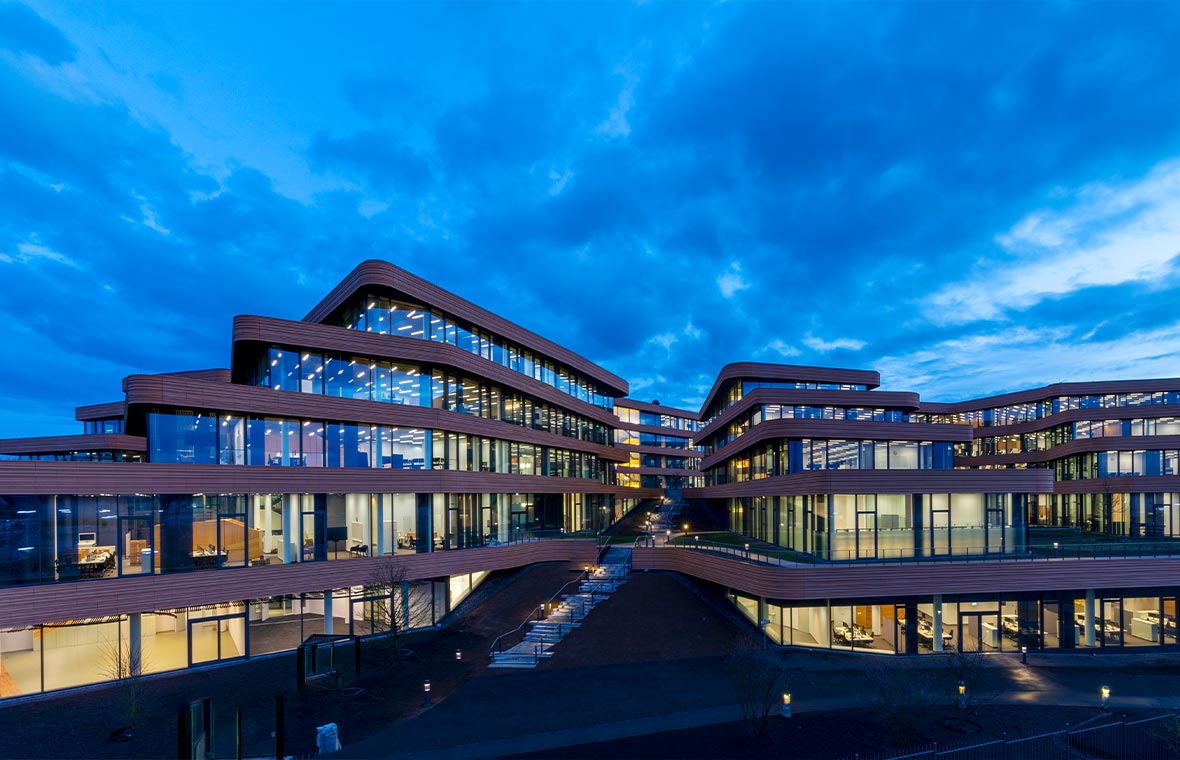 Here we provided state-of-the-art lighting throughout the building, from the offices to the meeting areas. Our solutions, such as Finea light channel for cove lighting and decorative luminaires such as Solegra, are part of the futuristic interior design.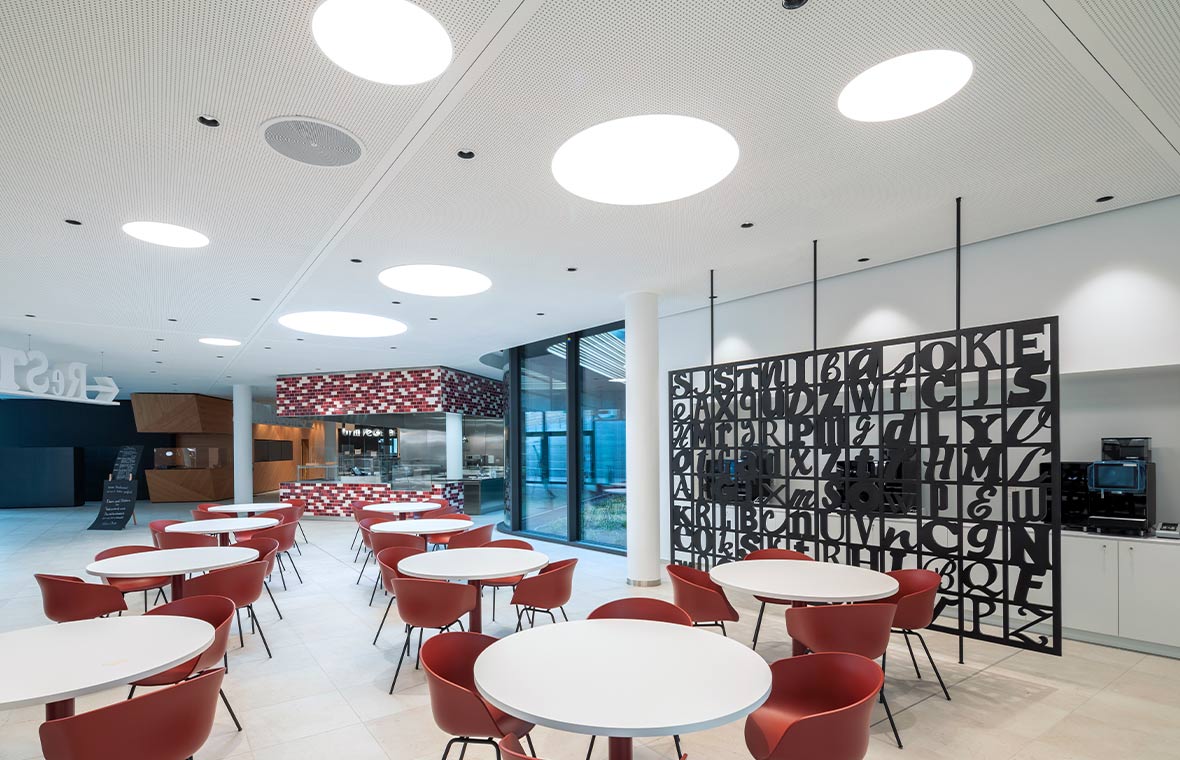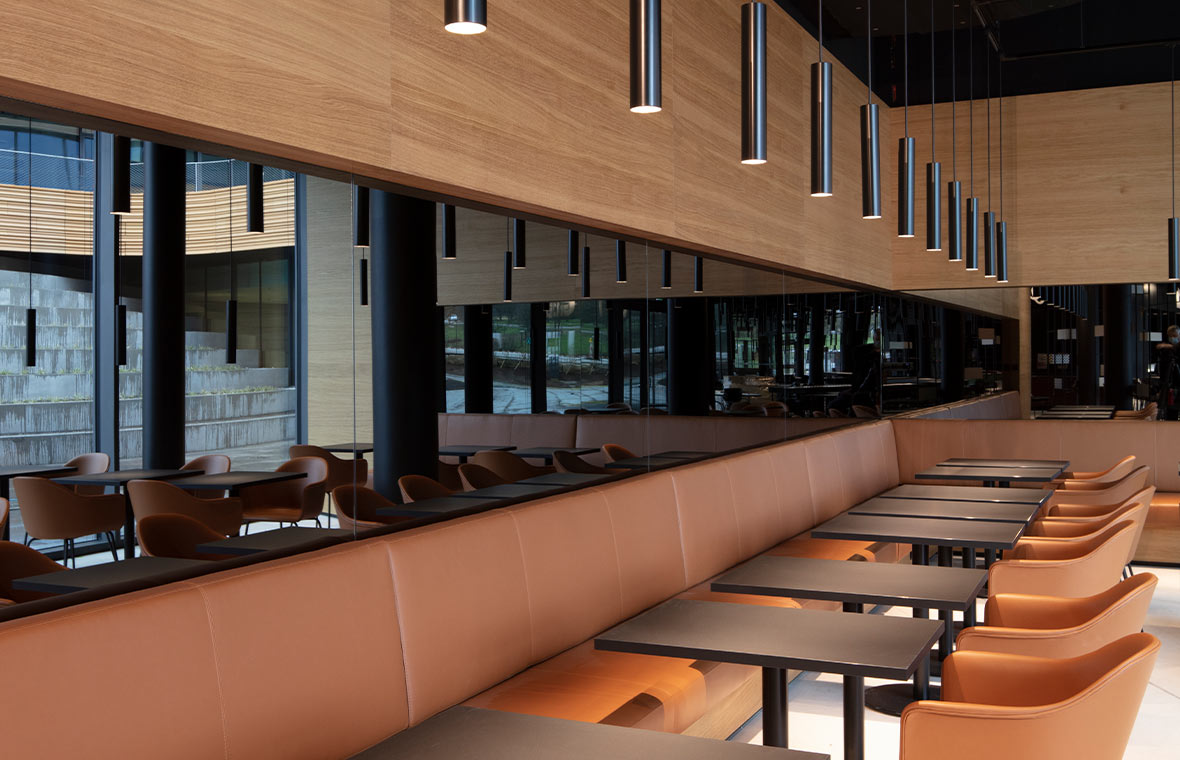 SMART CIRCLES
VIP LOUNGE OF VFL WOLFSBURG
The VIP area of VfL Wolfsburg in the Volkswagen Arena has become a state-of-the-art lounge on several levels. Our innovative lighting concept was designed to match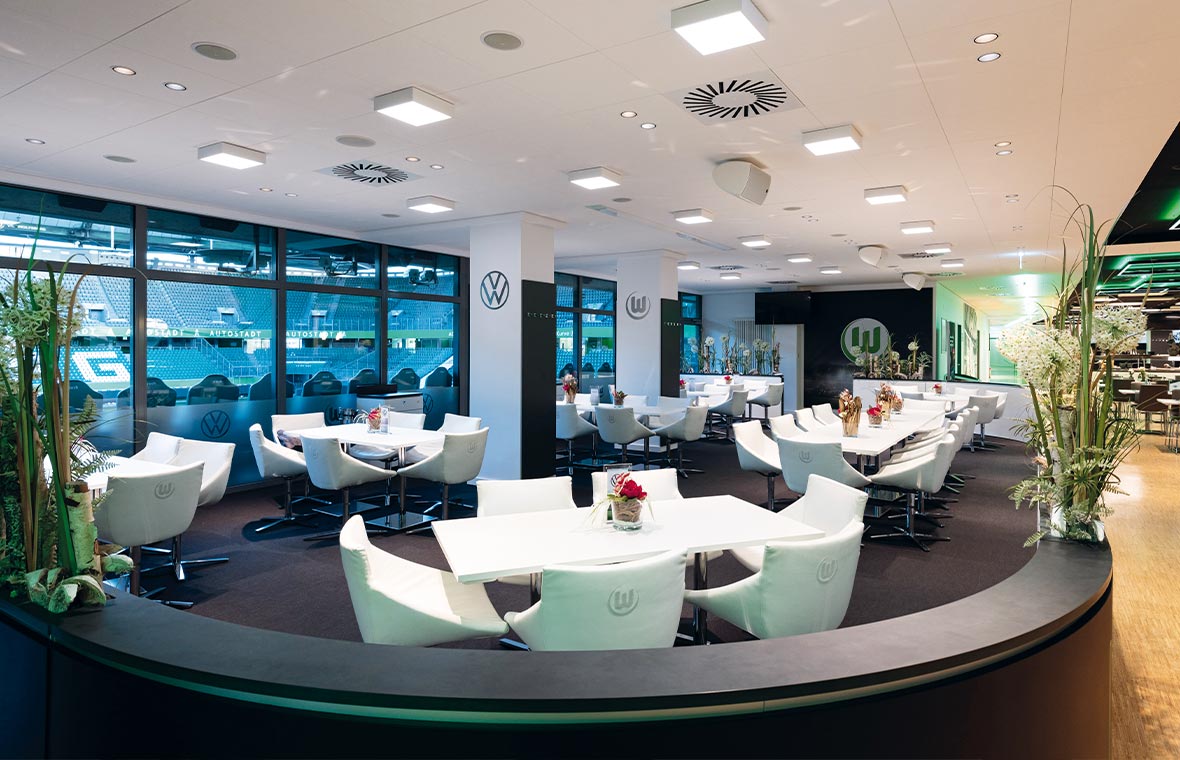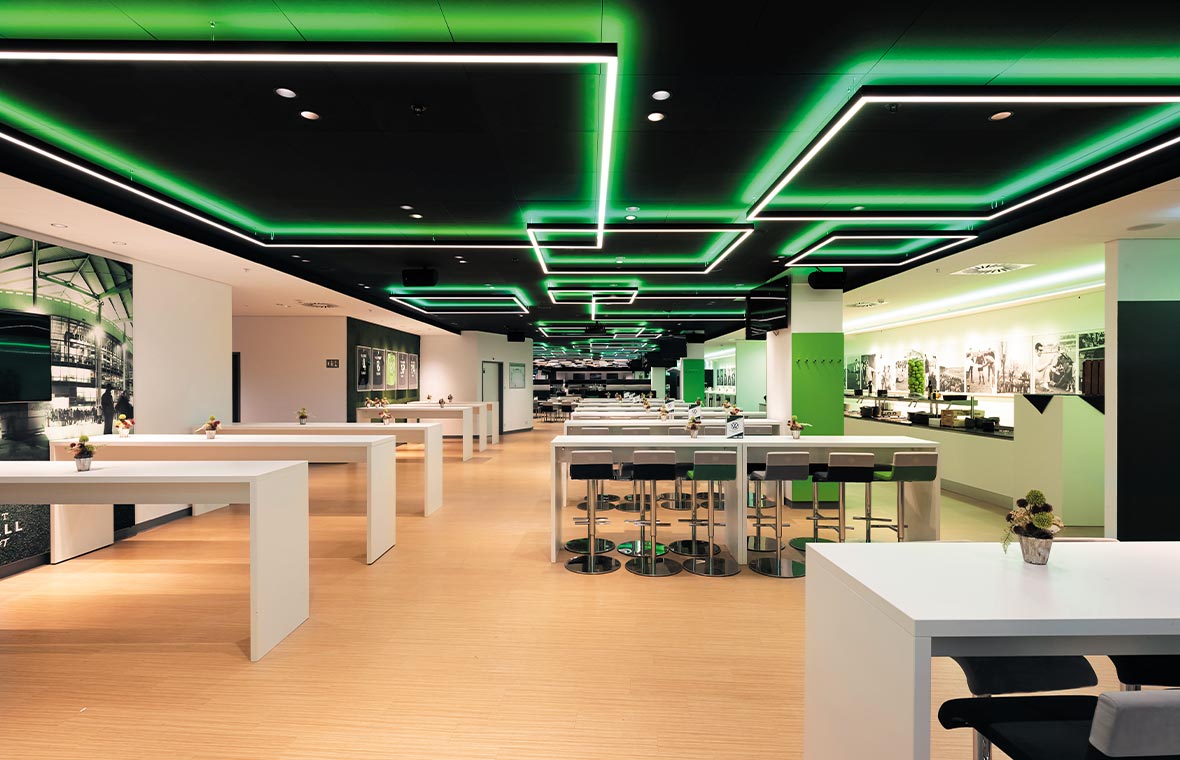 The Finea light channel floats under the acoustic ceiling, and the indirect component of the luminaire has been finished to complement the club's greenery.
Sonnos downlights, among others, are also used. All luminaires are smart and networked to create mood and atmosphere in the VIP area with dynamic light scenes, #goalcheer.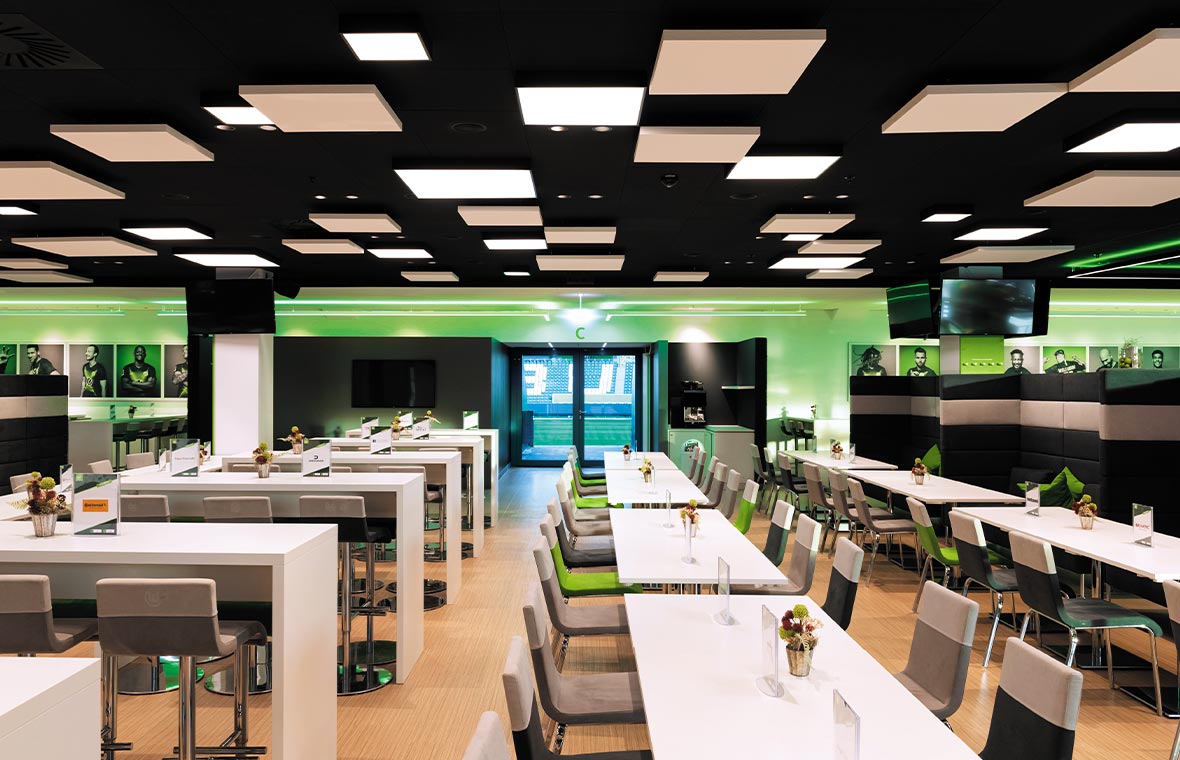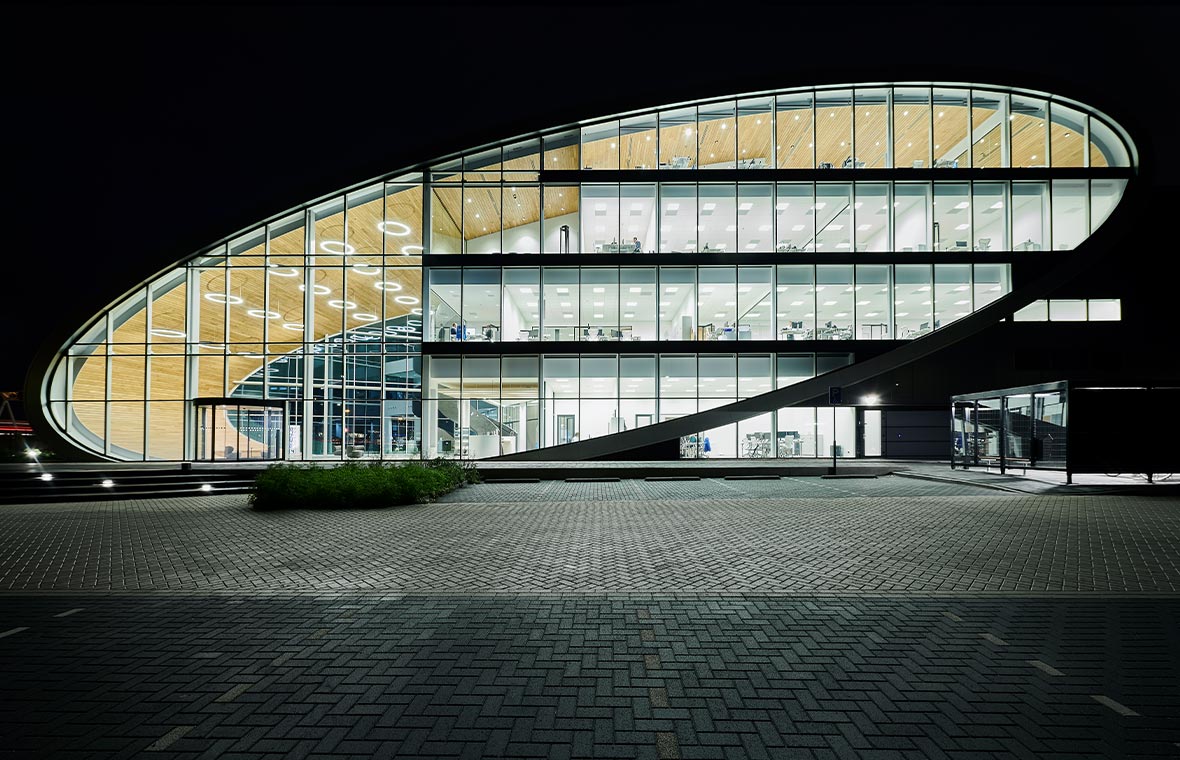 INDUSTRIAL-UFO WITH DISTINCTION
NEW LOGIC III
An industrial building that does everything differently and better? Here you go: the NEW LOGIC III distribution centre in Tilburg (NL) impresses with an outstanding BREEAM rating and awards such as the "Tekla BIM Benelux Award".
And our lighting is central. Giant light rings hang weightlessly above the multi-story foyer, emphasizing the futuristic architecture. In the 46,000 m2 logistics halls, E-Line Next LED continuous row system guarantees the highest lighting quality and efficiency.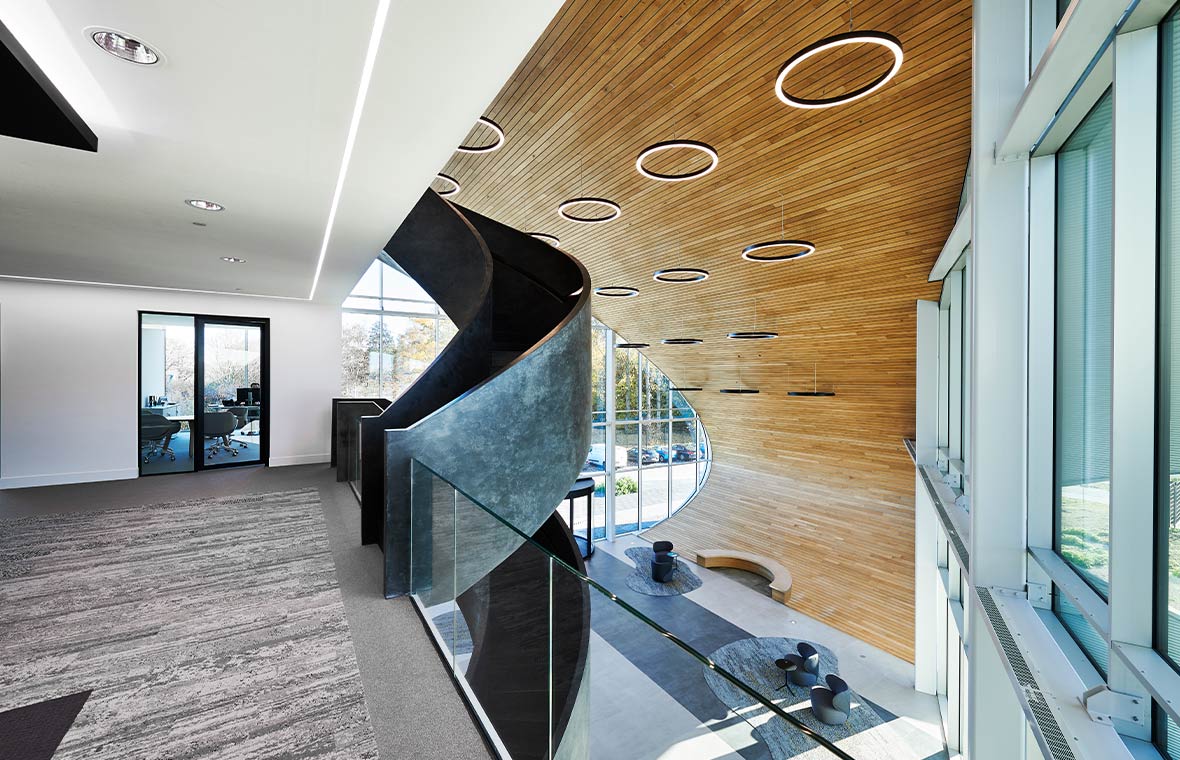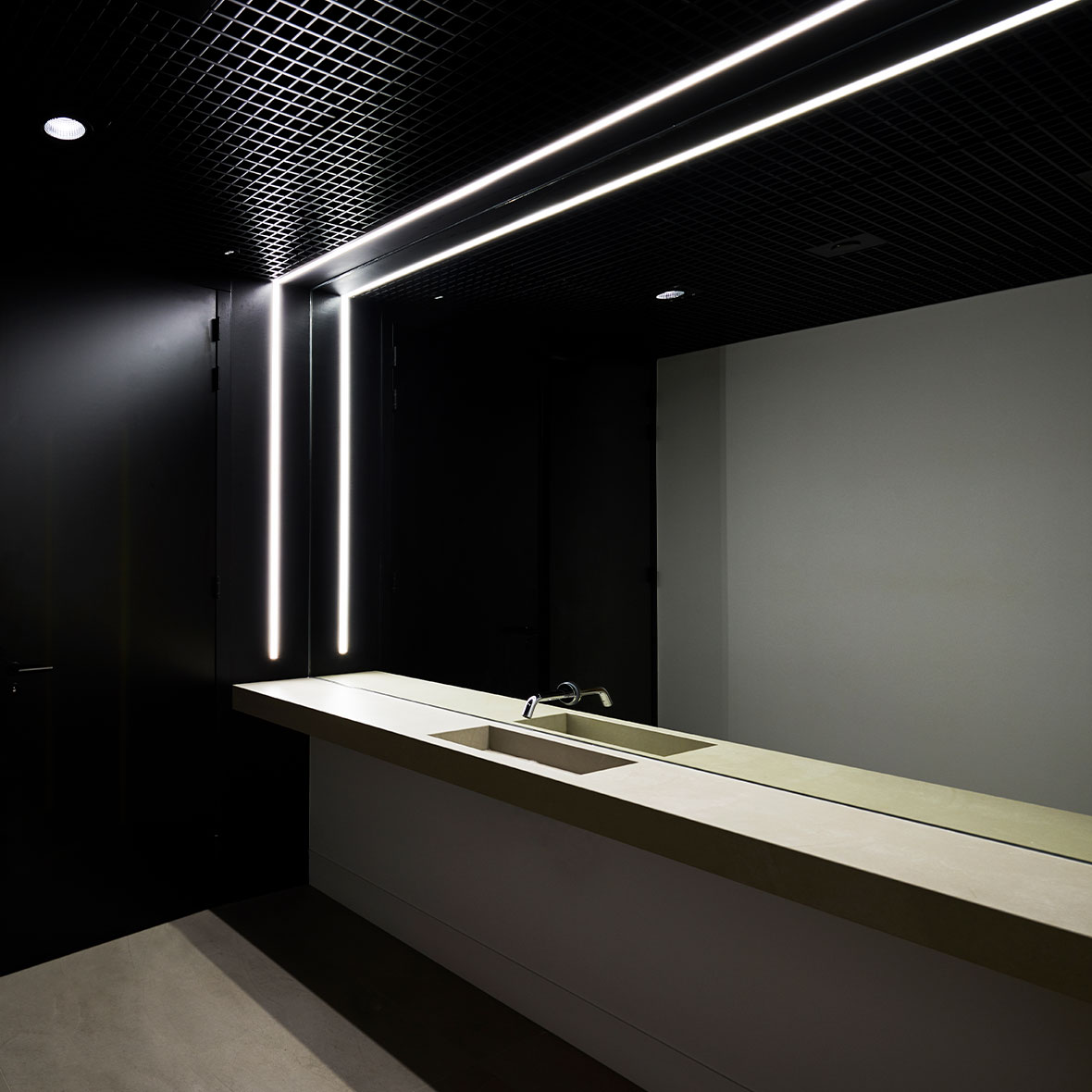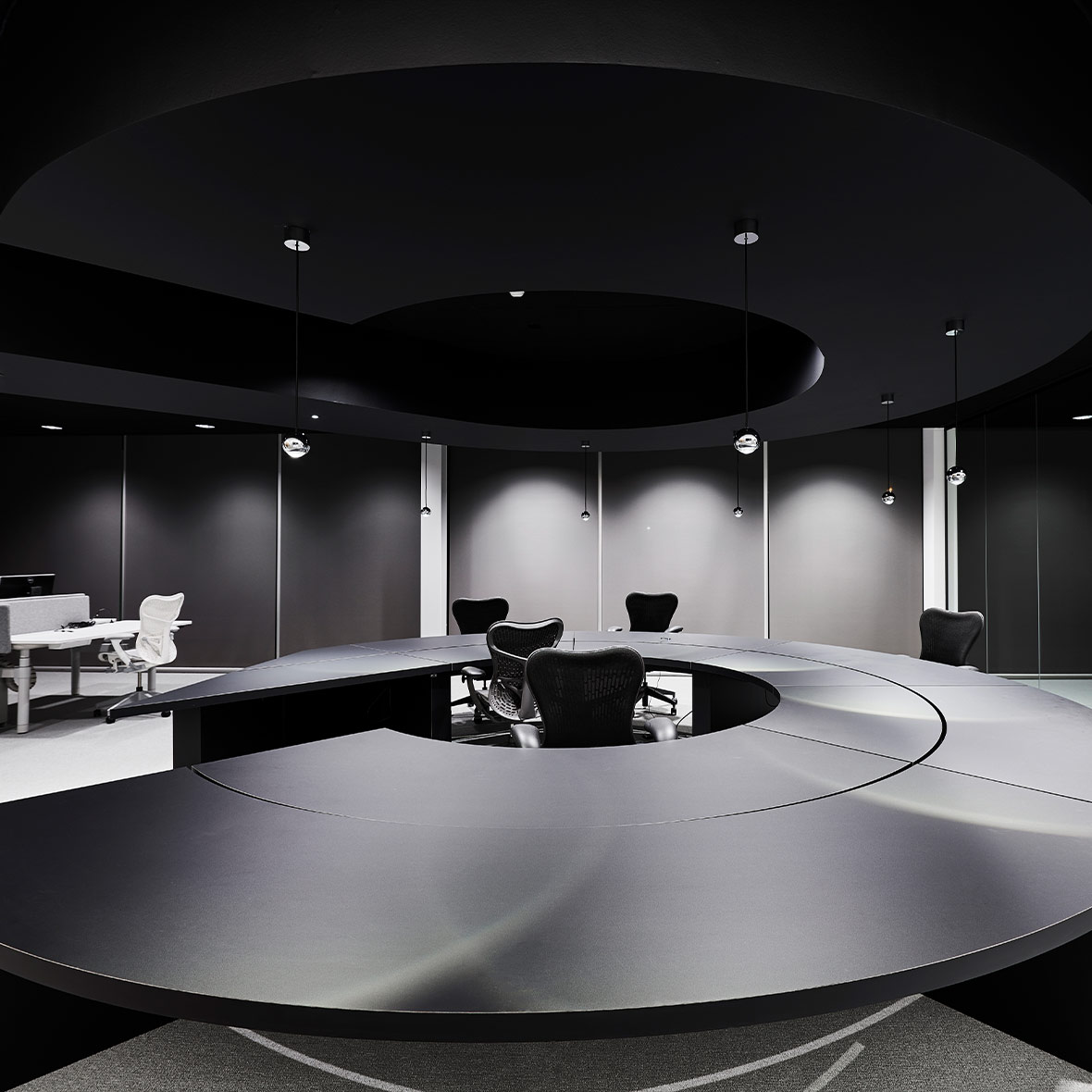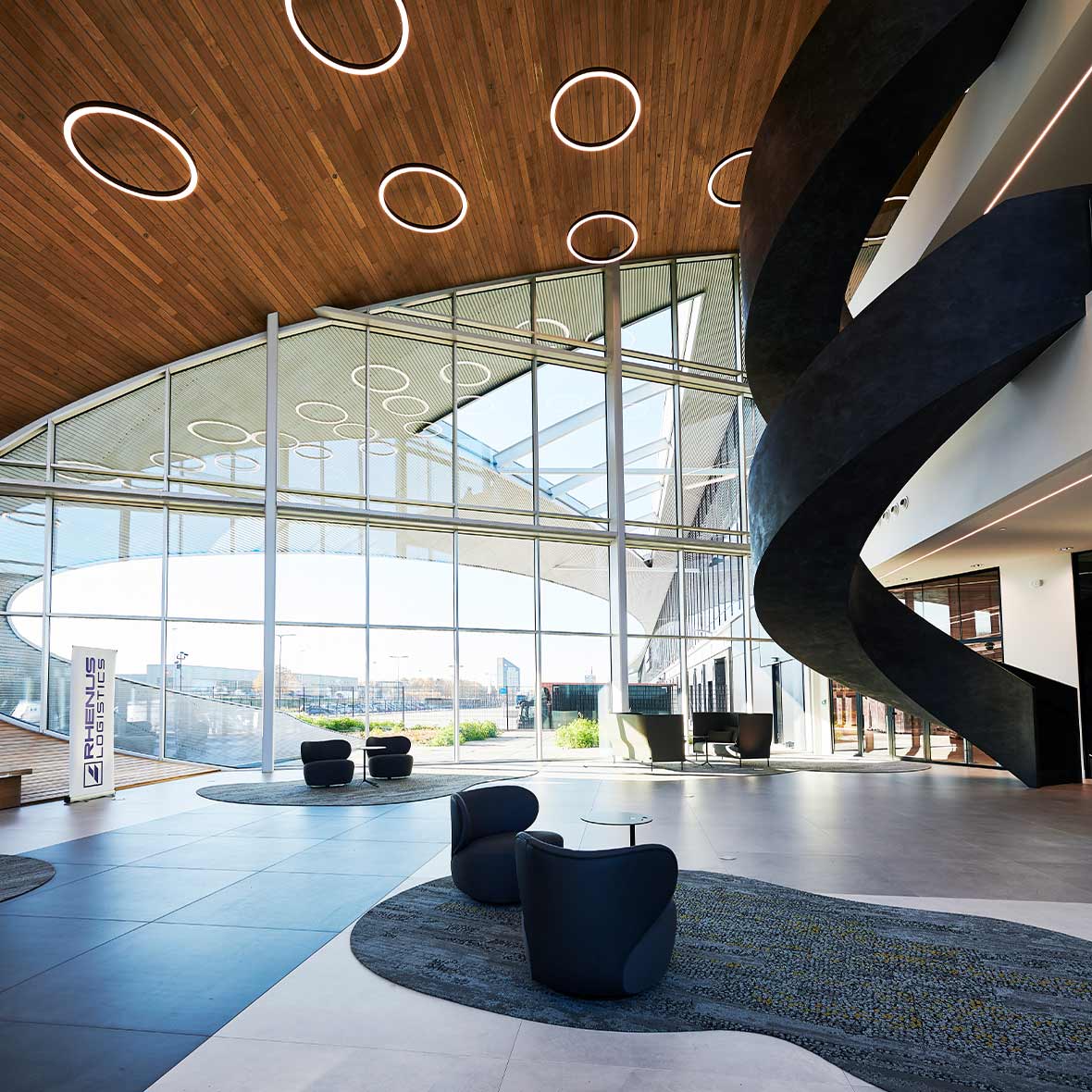 SMART PORT HIGHLIGHT
PORT OF KIEL SHORE POWER SYSTEM
The Kiel Shore Power Plant in Germany is an excellent source of climate-neutral electricity for cruise ships and ferries. Its illuminated facade, featuring 12,000 LED points, creates a striking visual display, transforming the building into a massive multimedia screen.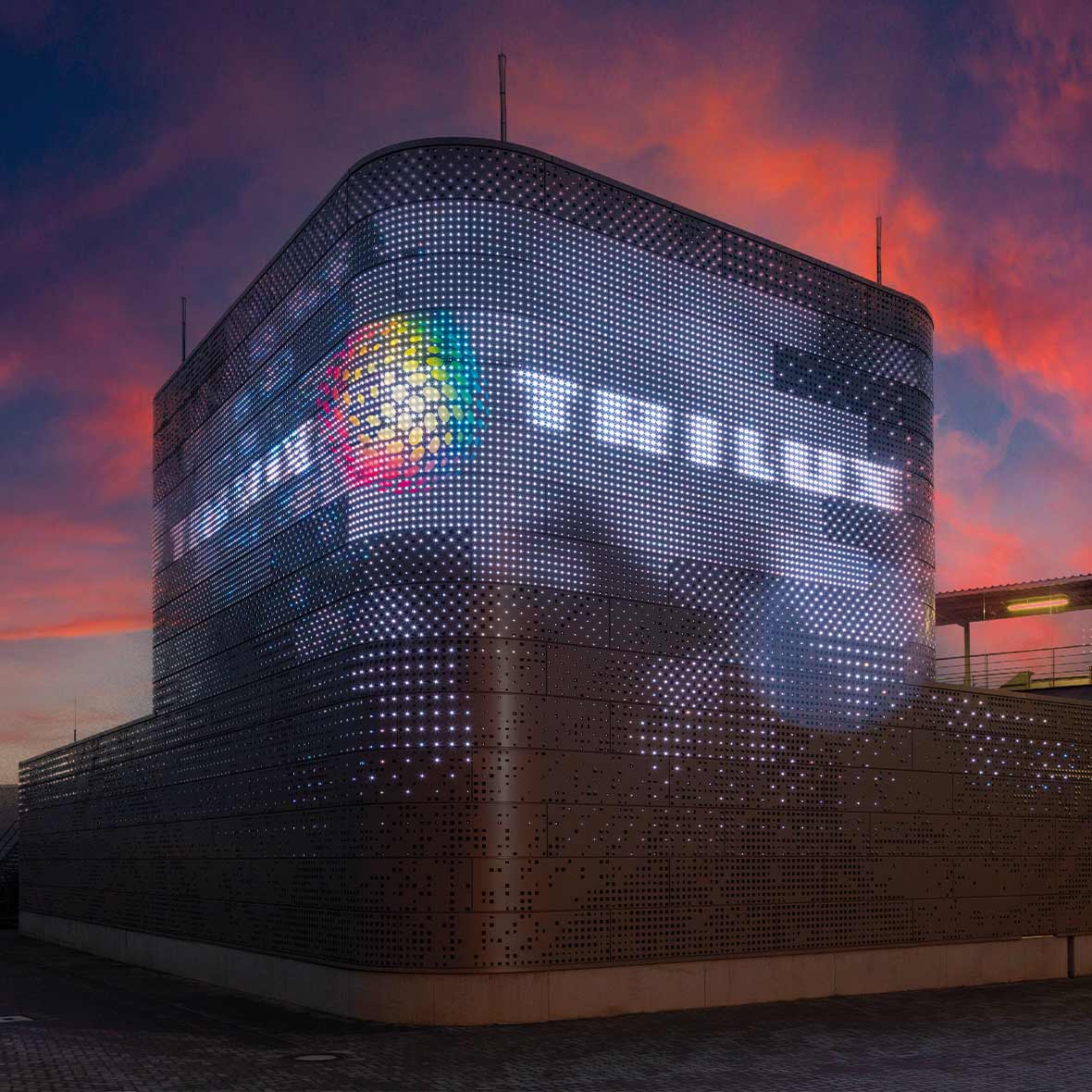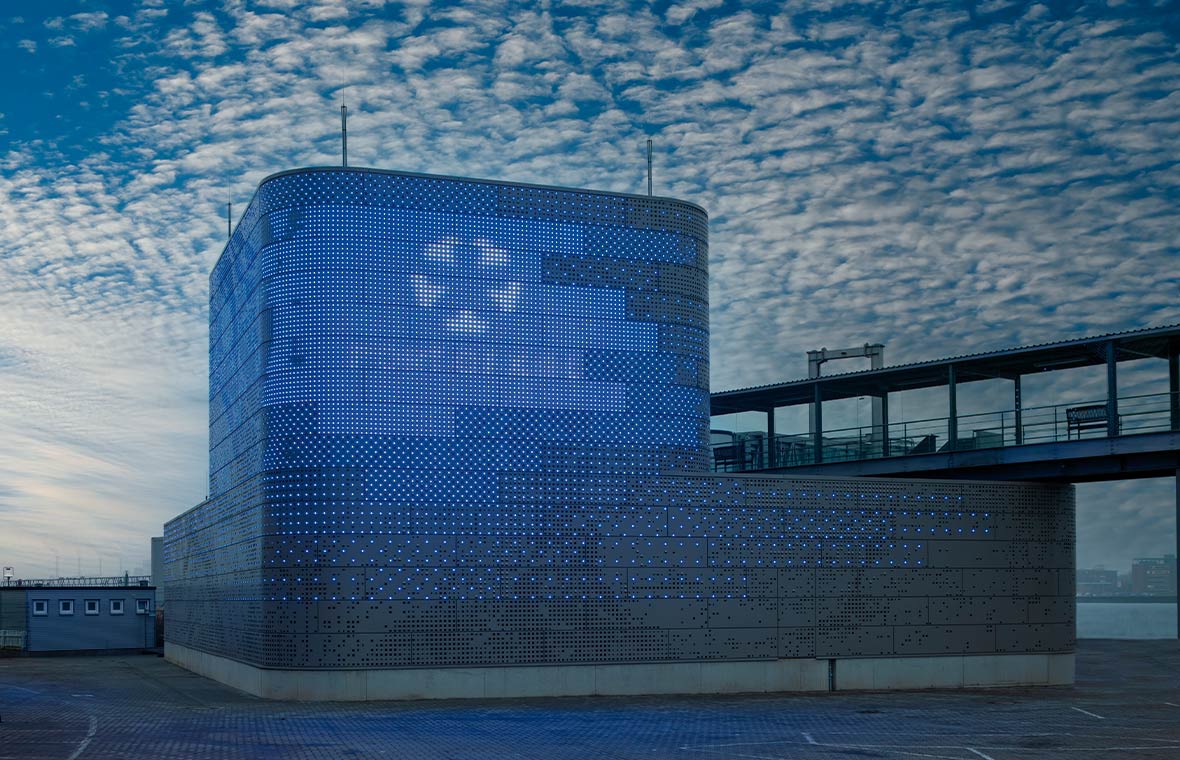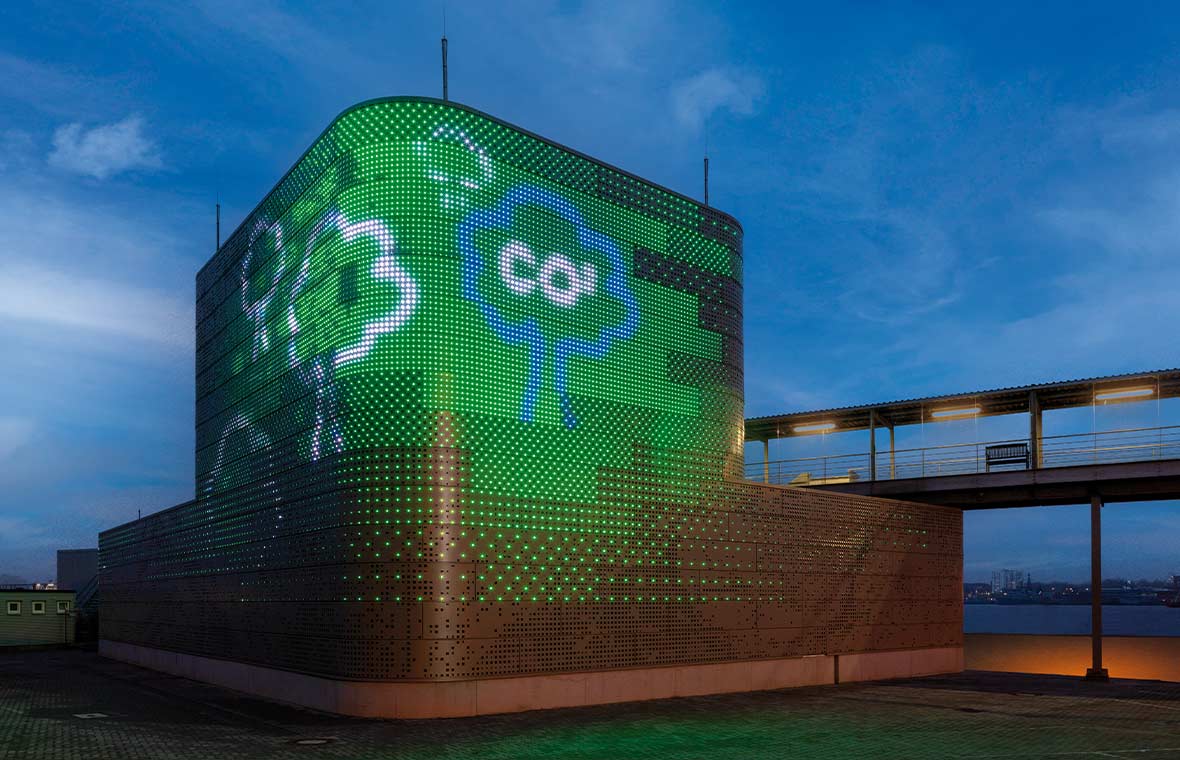 CANADIAN PARLIAMENT 
A GREAT MOMENT PF ILLUMINATION
The Canadian Parliament convenes within a neo-Gothic architectural ensemble situated in Ottawa. During the renovation of the meeting room and conference rooms in the West Block, one of the objectives was to update the lighting to meet the latest technological standards. The lighting solution needed to encompass exceptional technology to facilitate TV broadcasts and a distinctive design.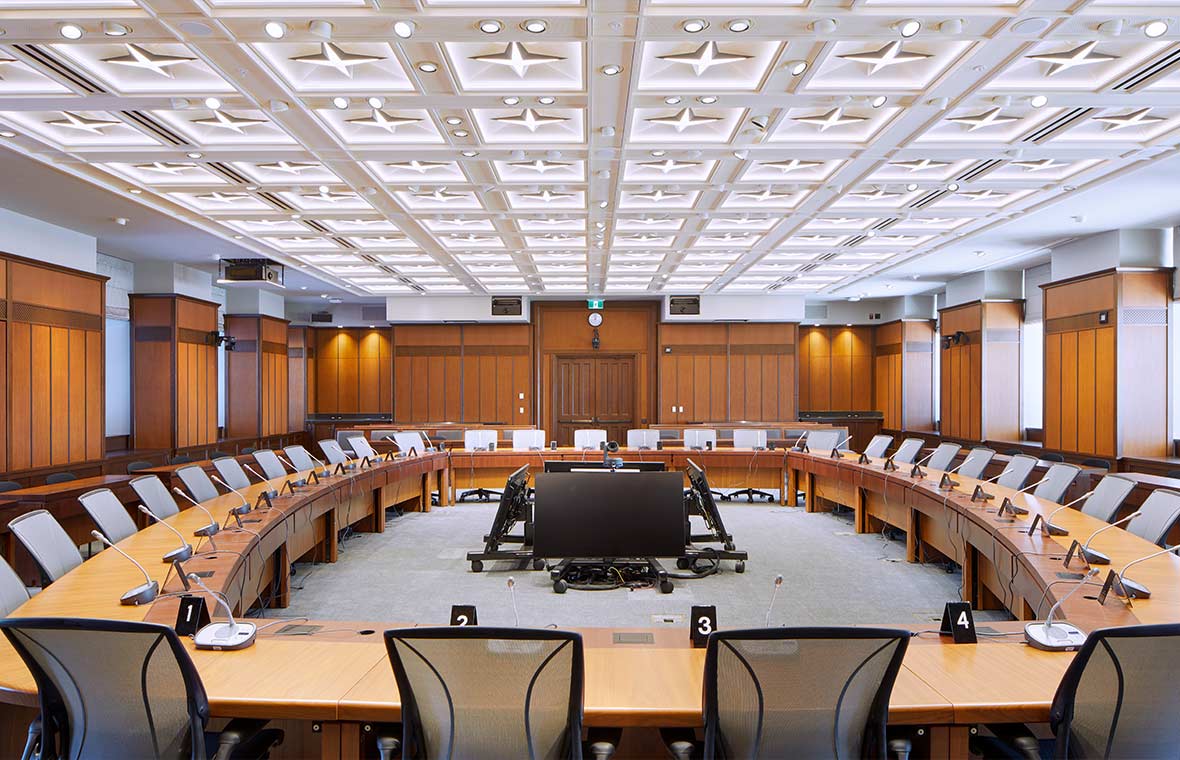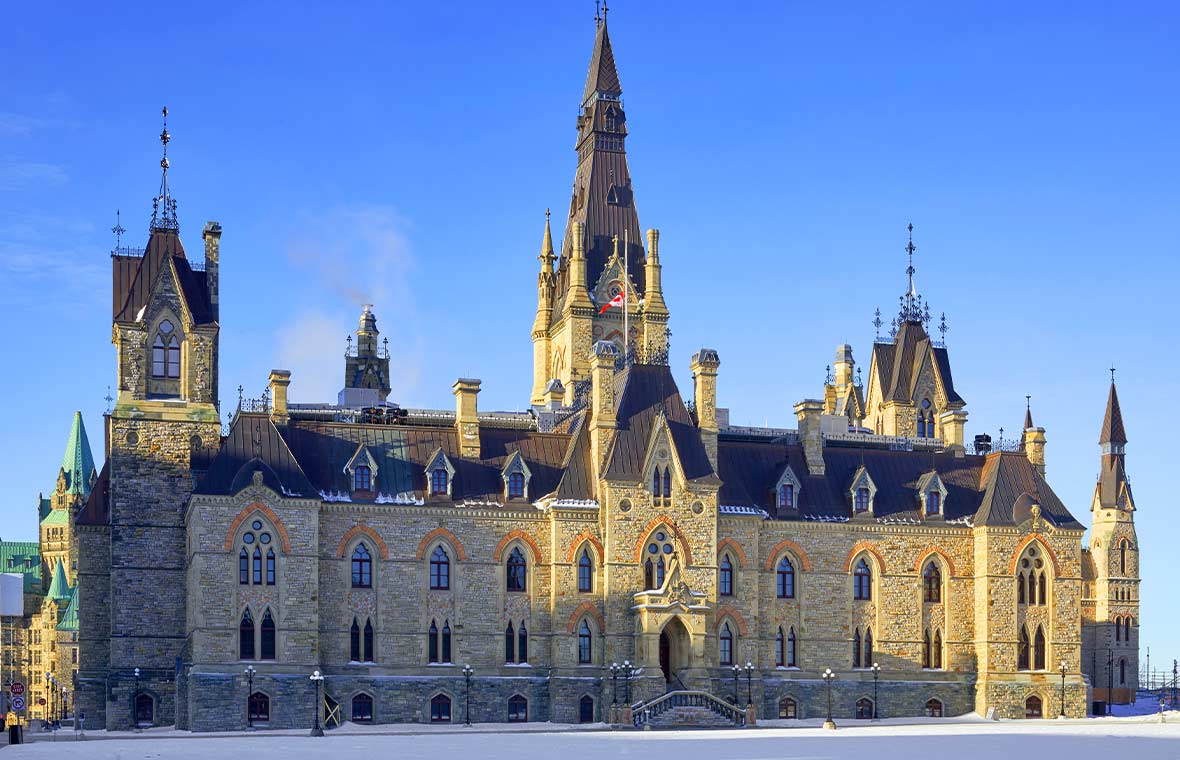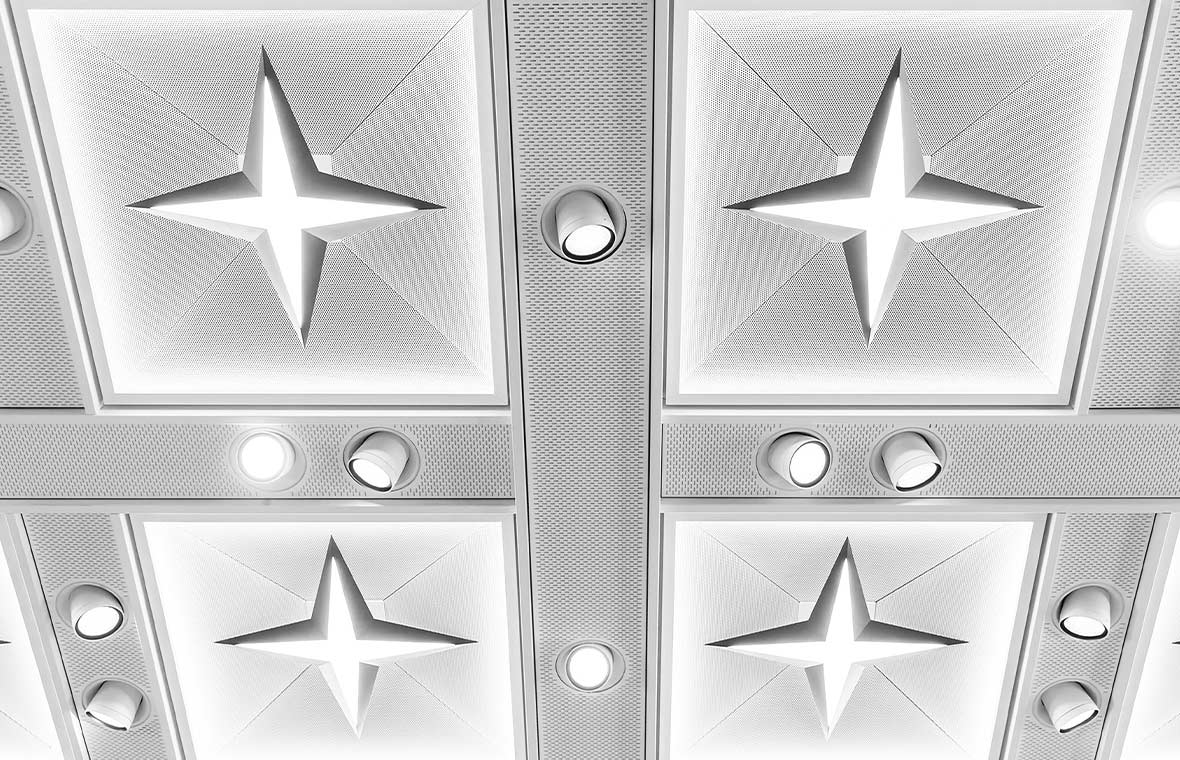 To accomplish this, luminaires featuring a four-pointed reflector star were seamlessly integrated into the grand plenary hall, while diamond-shaped star luminaires, with diameters reaching up to 2 meters, were employed in other conference rooms.
EMR Analysis
More information on TRILUX: https://www.trilux.com/gb/ + TRILUX Simplify Your Light represents the most simple and reliable path to customised, energy-efficient and sustainable lighting solutions. In the dynamic and ever more complex lighting market, customers are provided with optimal advice, ideal orientation and perfect light. To ensure this, TRILUX offers a wide portfolio of technologies as well as high-performance partners within the TRILUX Group, and unites single components to create custom-designed complete solutions – always perfectly matched to customer requirements and specific applications.
In this way, complex and extensive projects are simply and rapidly realised from a single source.  According to the principle of "SIMPLIFY YOUR LIGHT", planning, installation and ease of use, besides quality and cost efficiency, is focused on for customers.
Founding Year: 1912 – Annual Turnover 2018: 681 Mio. € – Global employees: Approx. 5,000 – Sales Market: 50 Countries
More information on Michael Huber (General Representative and Chairman of the Supervisory Board, TRILUX): See the full profile on EMR Executive Services
More information on Finea light channel by TRILUX: https://www.trilux.com/en/products/finea-led/ + With FINEA, TRILUX provides a flexible, modular light channel system which can be simply configured regarding dimensions, shape, installation type, photometrics and sensors. Be it planar or directional, as an Active version with Human Centric Lighting, with a high CRI90 colour rendering index or integrated emergency light components – besides aesthetic demands, FINEA meets all requirements for lighting with distinction. Thanks to the intuitive online configurator, designers and installers have simple command of the various possibilities
More information on Solegra decorative luminaires by TRILUX: https://www.trilux.com/en/products/solegra-led/ + Similar to a large sun, Solegra LED floats beneath the ceiling and emits soft, uniform and glare-free light with balanced shadowing. The series of round luminaires immediately gives any room a special look. Thanks to various sizes, surface-mounted variants, optics and lighting technologies, creative zones can be attractively illuminated, as can VDU workstations, classrooms and prestigious sales spaces.
More information on Sonnos downlights by TRILUX: https://www.trilux.com/en/products/sonnos-led/ + Sonnos LED is a modular luminaire range that meets all customer-specific demands in the downlight sector. Optionally available with a square or round construction and in four different sizes, Sonnos LED offers a wide selection of optics, lighting technologies and mounting methods. Despite this enormous diversity, the complete range features a uniform design to achieve holistic lighting projects.
More information on E-Line by TRILUX: https://www.trilux.com/en/products/e-line-next-led/ + Thanks to 20 different optical systems, the E-Line Next LED guarantees the right lighting for almost any application. Other highlights include excellent glare control and a color rendering index of Ra >90.
The wide selection of luminous flux packages means that warehouses with high mounting heights can be illuminated just as effortlessly and efficiently as offices or supermarkets. The very good efficiency of up to 190 lm/W and a service life of up to 90,000 h guarantee permanently low operating costs.
The E-Line Next LED can be easily retrofitted 1:1 onto existing old systems. For example, it takes just 44 seconds to convert a conventional T5/T8 E-Line to LED technology without tools.
The different lengths of the E-Line Next LED gear trays offer maximum freedom: 737.5 mm for more flexibility in planning, 1,475 mm for 1:1 replacement in refurbishment and 2,212.5 mm for use in cost-efficient projects.
In addition to the large number of luminaire inserts, other components such as sensors, emergency lighting, spotlights or loudspeakers can be simply inserted via plug and play. This makes it easy to implement individual lighting concepts.
Thanks to the variants with high protection classes, the E-Line Next LED is also suitable for use in operating areas subject to fire hazards (D marking) as well as dusty production environments.
The IP64 variant of the E-Line Next LED is extremely robust, completely dust-tight and offers protection against strong splash water from all sides. Ideal for areas with high safety requirements or harsh general conditions.
More information on DFB (German Football Association): https://www.dfb.de/en/en-start/ + The development of the DFB, from its humble beginnings to becoming one of the biggest professional associations in world sport, almost quintessentially reflects football's triumphal march across all the continents on our planet. The DFB's history shows the meteoric rise of football to becoming a nation's most popular sport, a process in which the DFB not only became a sporting powerhouse, but also an authority of high importance from a socio-political point of view.
The DFB fulfils its socio-political and sports policy responsibilities at international level through various activities.
The international work of the DFB is divided into two areas: on the one hand, the International Relations and Strategic Projects Unit strives to create knowledge and added value for German football and its partners through cooperation with other football associations worldwide and through strategic partnerships.
On the other hand, the DFB has been carrying out international, football-related CSR projects for more than half a century. Amongst others the DFB supports the German government in its sport-related activities in developing countries and emerging markets.
The departments are working together to promote the development of football worldwide.
More information on VfL Wolfsburg-Fußball GmbH: https://www.vfl-wolfsburg.de/en/home + VfL Wolfsburg are committed to sporting success and while our aim is to regularly qualify for European competition, we also stand for a lot more besides. Thanks to our close and trusting partnership with Volkswagen AG, we have a financial stability that allows us to make a valuable sporting and social contribution towards fans, society, media and players. For us, all of that makes up what football is about. Football is everything. As brand ambassadors for Volkswagen AG, we stand for compassion, professionalism, sustainability, team spirit, internationality and innovative leadership.
We achieve these aims with a passionate belief in performance, as well as a strong sporting department, organisation and brand. For these reasons, we see VfL Wolfsburg's corporate direction as the foundation for lasting success. The core ingredients for this success are rooted in the continual growth of the club's sporting appeal, excellent youth development, proactive communication and effective implementation of our regional, national and international marketing opportunities.
Our brand values and the unique relationship between the city, the Volkswagen factory and the club will carry and emotionally support this vision.
More information on Rhenus Group: https://www.rhenus.group/ + As a family-owned business, it is particularly important for the Rhenus Group to focus on the wishes and needs of its customers.
As a logistics service provider, we see ourselves as a value-added partner for our customers. That is why we analyse highly complex logistics processes along your supply chain and optimise them with tailor-made solutions for procurement, production and distribution.
We look to the future so that your logistics will also make a value contribution tomorrow. We support you all over the world. However far you are taking your company, we will pave the way as we accompany you on your expansion course.
With an annual turnover of EUR 8.6 billion, the Rhenus Group is one of the leading global logistics service providers. Rhenus has 39,000 employees across 1,120 sites. The Rhenus Group offers solutions for a wide range of industries along the entire supply chain, including multimodal transport, warehousing, customs clearance and innovative value-added services.
More information on Tobias Bartz (Chairman of the Management Board, Rhenus Group): https://www.rhenus.group/rhenus-group/about-us/ + https://www.linkedin.com/in/tobias-bartz-rhenus/
More information on BREAAM Sustainability Standards: https://www.breeam.com + BREEAM is the world's leading sustainability assessment method for masterplanning projects, infrastructure and buildings. It recognises and reflects the value in higher performing assets across the built environment lifecycle, from new construction to in-useand refurbishment.
BREEAM does this through third party certification of the assessment of an asset's environmental, social and economic sustainability performance, using standards developed by BRE. This means BREEAM rated developments are more sustainable environments that enhance the well-being of the people who live and work in them, help protect natural resources and make for more attractive property investments.
More information on the Kiel Shore Power Plan: https://www.portofkiel.com/home-en.html + The air quality in the port of Kiel is very good. However, we as PORT OF KIEL strive to proactively develop solutions and do our part for keeping the air clean in our city. This is what we promised to do in our BLUE PORT concept, this is the way we plan and act – and not just since yesterday. On-shore power is a sensible way for the ferries and cruise ships berthing in Kiel's city port to avoid the emission of air pollutants and noise during their docking times.
With the Color Line ferries at the Norwegenkai and the ferries of the Stena Line shipping company at the Schwedenkai, 44 percent for the energy demand of the vessels berthing in the port of Kiel are covered in an emission-free and climate-neutral way. With the integration of the cruise vessels, it is going to be no less than 60 to 70 percent.

EMR Additional Notes: 
LED:

LED stands for Light Emitting Diode.
LED lighting products produce light up to 90% more efficiently than incandescent light bulbs. How do they work? An electrical current passes through a microchip, which illuminates the tiny light sources we call LEDs and the result is visible light.
A light-emitting diode is a semiconductor light source that emits light when current flows through it. Electrons in the semiconductor recombine with electron holes, releasing energy in the form of photons.

LED vs. Halogen:

Halogen bulbs, while lasting longer than incandescent bulbs, only last up to 2,000 hours. In contrast, LED bulbs can last up to 25,000 hours, and LED tubes are rated for up to 50,000 hours. LED bulbs can use as much as 80% percent less energy than halogen bulbs.
There's obviously a clear winner when it comes to LED vs halogen lighting. LED lights are more energy-efficient, have a longer lifespan, and offer more choices in color temperature. They do cost a little more, but their extremely long lifespan easily offsets the higher upfront cost.