Southwire – Southwire Casts First Copper Bar at New Plant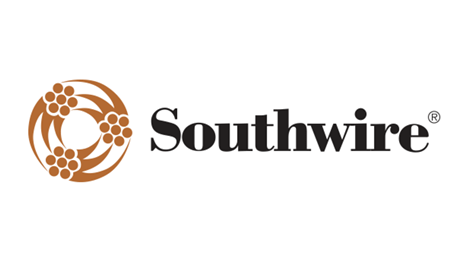 On Saturday, Jan. 21, 2023, at 12:45 p.m. (EST), the first copper bar was cast at Southwire's new, state-of-the-art Copper Rod Plant in Carrollton, Ga.
This moment is a key milestone in the start-up of the largest and most sophisticated Southwire Continuous Rod (SCR®) system in the world.
"It is truly an exciting day for Southwire. Our company is where it is today because of these copper rod plants, and starting up a new copper rod system is like starting a brand new chapter in our history," said Will Berry, senior vice president of Modernization. "It's a great time to be at this point; a perfect moment to build on all that we have already accomplished."
In 1963, the company patented SCR technology, which transformed the wire and cable industry. More than half of all copper rod in the world has passed through a SCR system in some capacity.
In 1981, Southwire started the operation of its current copper rod system in Carrollton, and four decades later, copper continues to be the primary source of metal for the company's wire and cable operations.
"On December 9, more than 40 years ago, my dad drove my siblings and I to the existing rod plant. The plant was completed, and we watched it start production that night," said Lee Richards, Southwire board member and son of the company's founder, Roy Richards, Sr., during the groundbreaking for the new facility . "My dad always believed that there was a more efficient way to make copper and aluminum rod, and the SCR system development was the result of this belief."
Through cutting-edge technology and practices, the new rod plant will produce more copper rod than any other SCR® system, while encompassing a smaller environmental footprint. In support of Southwire's Carbon Zero initiative to achieve 100% carbon free energy for our operations by 2025, Southwire is partnering with Carroll EMC to utilize all renewable electricity for the facility.
"Mr. Richards' philosophy was 'build it big, and grow into it' – and we're already growing into it," said Berry. "This place gives you energy – you can feel the anticipation around this facility and this system, and I'm proud of the team that has worked diligently to get the plant up and running. I believe that we're sending a message to the local community that we're here for the long haul and, at the same time, providing an international showcase for SCR technology."
More updates will be shared as the new plant comes online in the coming weeks. The facility plans to celebrate its official grand opening in mid-April.
EMR Analysis
More information on Southwire: See the full profile on EMR Executive Services
More information on Lee Richards (Board Member, Southwire + Son of the Company's Founder, Roy Richards, Sr.): See the full profile on EMR Executive Services
More information on Rich Stinson (President and CEO, Southwire): See the full profile on EMR Executive Services
More information on Southwire Continuous Rod (SCR®): https://www.southwire.com/scr-technologies/scr-copper-rod-systems + Southwire Company, LLC sells and manufactures the most technically advanced continuous rod system to produce electrolytic tough pitch (ETP) copper rod in the world. Southwire has been designing, operating and selling continuous copper rod mills since 1963. Southwire has continued the improvement and development of the system to increase product quality and decrease the operating costs. The Southwire Continuous Rod (SCR®) process allows production of the highest quality copper wire rod at the lowest possible cost. Because of the ease of maintenance and operation, the Southwire system has higher availability than competing systems, which further lowers operating costs. Frequent system startups for new customers ensure that start-ups are well planned and minimize the required field services. Smooth startups get the customer's equipment into production quickly to meet market demand. Fifty percent (50%) of all copper rod made in the world is produced with Southwire SCR technology.
Southwire has sold more than 100 copper SCR systems around the world.
More information on Will Berry (Senior Vice President of Engineering and Modernization, Southwire): See the full profile on EMR Executive Services
More information on Carroll EMC: https://www.carrollemc.com/ + Since 1936, we have stayed true to our founding principles by providing low-cost, safe and reliable electricity to western Georgia.
Today, the cooperative's membership base has changed dramatically from primarily farmers to an ever-increasing number of urban, suburban and commercial accounts. While retaining our rural farm heritage, we now serve many of the new residential subdivisions and commercial areas outside of metro Atlanta.
Carroll EMC serves more than 53,000 meters. 94% of these are residential and 6% are commercial and industrial accounts. Carroll EMC's service area covers approximately 1,100 square miles in Carroll, Haralson, Heard, Paulding, Polk, Troup and Floyd counties in western Georgia. The Cooperative maintains three office locations. The main office is in Carrollton and district offices are in Buchanan and Franklin.
The system covers approximately 5,549 miles of line with 25 distribution substations distributing more than 1 billion kilowatt-hours of electricity annually to more than 53,000 meters. Wholesale electricity is purchased primarily from Oglethorpe Power Corporation (an electric generation and transmission cooperative) and from other wholesalers.
As a cooperative, Carroll EMC embodies a business philosophy of operating at the lowest possible cost for its Members, who each share in the business's ownership. The utility is not-for-profit, and Members have democratic control.
EMR Additional Notes:
Cutting Edge Technology:

Cutting-edge technology refers to technological devices, techniques or achievements that employ the most current and high-level IT developments; in other words, technology at the frontiers of knowledge. Leading and innovative IT industry organizations are often referred to as "cutting edge.
Carbon Dioxide (CO2):
Primary greenhouse gas emitted through human activities. Carbon dioxide enters the atmosphere through burning fossil fuels (coal, natural gas, and oil), solid waste, trees and other biological materials, and also as a result of certain chemical reactions (e.g., manufacture of cement). Carbon dioxide is removed from the atmosphere (or "sequestered") when it is absorbed by plants as part of the biological carbon cycle.
Decarbonization:
Reduction of carbon dioxide emissions through the use of low carbon power sources, achieving a lower output of greenhouse gasses into the atmosphere.