Schneider Electric – Schneider Electric Opens Pre-Orders for Schneider Home, A First-of-its-Kind Home Energy Management Solution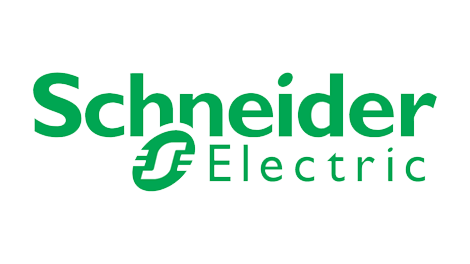 Also announces EcoStruxure Microgrid Flex and EcoXpert Microgrid Badge certification
Schneider Electric unveils bidirectional EV charging
New offerings support the acceleration of a new energy landscape for industrial, commercial, and residential prosumers
Schneider Electric, the leader in the digital transformation of energy management and automation, today announced that it has begun taking orders for Schneider Home, a first-of-its-kind integrated home energy management solution that makes homes more efficient and resilient. Unveiled at the Consumer Electronics Show (CES) in January, this award-winning solution provides energy independence automating energy production, storage, measurement, and control – all from a single, easy-to-use app.
The announcement was made during RE+ 2023, the largest event in North America for the clean energy industry. Schneider Electric has a significant presence at this year's conference, with executives featured in seven expert sessions, including North America CEO, Annette Clayton joining the opening session roundtable co-hosted by Kal Penn, Former Associate Director, White House Office of Public Liaison, and Van Jones, CNN Host & President of Magic Labs Media.
"As the need for resilience and decarbonization becomes ever more urgent, it's imperative that the growing range of energy users–organizations, businesses, utilities and consumers–contribute to a shared grid," said Annette Clayton, CEO, North America, Schneider Electric. "This trend will require innovative technology to accelerate the electrification of homes, buildings and transport, EV charging infrastructure and microgrids." Clayton concluded, "Empowering everyone from homeowners to commercial and industrial customers with more visibility and decision making over their energy consumption is critical as this collection of energy conscious prosumers will make up the new energy landscape."
Schneider Home is a comprehensive solution that includes a smart electrical panel, a home battery for clean energy storage, a high-power solar inverter, an electric vehicle (EV) charger and connected electric sockets and light switches, all connected to intelligently orchestrate home energy. In contrast to existing solutions which require separate apps and disjointed hardware, Schneider Home eliminates that complexity, providing homeowners the ability to easily monitor energy consumption by individual appliance, decide where to prioritize power during an outage to extend available back up power and avoid expensive electrical service upgrades when purchasing an EV.
Schneider Electric's announcements provide transformative approach for net-zero carbon efforts
Schneider Electric also announced that its EcoStruxure Microgrid Flex and the EcoXpert Microgrid Badge certification program are now available. These new offerings are the latest in Schneider Electric's efforts to meet the growing needs of today's prosumer.
EcoStruxure Microgrid Flex, also an industry first, standardizes microgrid development to drastically reduce project timelines. It fuses microgrid controls, electrical distribution, software, and Schneider Electric's all-in-one Battery Energy Storage System (BESS) to simplify traditional microgrid configuration for faster and simpler implementation. Partners will gain access to a new microgrid design approach, EcoStruxure Microgrid Build, a web-based tool that helps to configure, program, and deploy microgrid control algorithms.
Meanwhile, the EcoXpert Microgrid Badge program is set up to deliver needed certification, training, and a mutually beneficial partnership program to enable participants to succeed in the growth of microgrid adoption. EcoXpert Microgrid Badge certification highlights partners' competence in designing and implementing microgrid solutions. Partners can become advanced system integrators adept at helping organizations manage loads and distributed energy resources, yielding more sustainable and resilient energy systems.
According to Guidehouse Insights, Schneider Electric is the leading microgrid integrator globally due to its microgrid services, technologies, and innovative scope of delivery through joint ventures. Customers, like Bimbo Bakeries, benefit from Schneider Electric's expertise in delivering high-quality, strategic solutions in the microgrid value chain, enabling customers to achieve new heights in decarbonizing their energy operations.
"Grupo Bimbo and Bimbo Bakeries USA are committed to Net Zero Carbon by 2050," said Chris Wolfe, Bimbo Bakeries USA's Senior Director of Environmental Sustainability. "These onsite microgrids represent a key component to our diversified strategy."
Schneider Electric reveals bidirectional EV charging
Optimized energy use is crucial for a net-zero future. Schneider Electric is unifying commercial and residential customers in this endeavor by enabling bidirectional charging, such as vehicle-to-grid (V2G) and vehicle-to-home (V2H) functionalities. With more than 100 years of energy management innovation and existing projects, like the one powered by zero-emissions electric buses in Oakland, California, Schneider Electric is positioned to deliver on the promise of a two-way energy paradigm. Customers will be able to future-proof their EVs as they become dynamic energy assets that can produce emergency backup power for homes (V2H), reduce homeowner costs and electric supply strain by selling excess power back to the grid (V2G), and reduce carbon emissions by harnessing renewable energy.
RE+ attendees visiting the Schneider Electric booth (#5343) will get a 'first-look' at the company's all-in-one bi-directional EV charging prototype expected to be commercially available in 2025. Schneider Electric's bi-directional EV charger will enable full home backup, high power charging, plug and play integration of solar and stationary storage and optimized installation costs with its simple, integrated design.
For more information, visit Schneider Electric at RE+ (Sands Expo Level 2, Booth #5343) to learn more about these announcements.
EMR Analysis
More information on Schneider Electric: See the full profile on EMR Executive Services
More information on Peter Herweck (Chief Executive Officer, Schneider Electric): See the full profile on EMR Executive Services
More information on Annette Clayton (CEO and President, North America Operations, Schneider Electric): See the full profile on EMR Executive Services
More information on EcoStruxure™: https://www.se.com/ww/en/work/campaign/innovation/overview.jsp + EcoStruxure™ is our open, interoperable, IoT-enabled system architecture and platform. EcoStruxure delivers enhanced value around safety, reliability, efficiency, sustainability, and connectivity for our customers. EcoStruxure leverages advancements in IoT, mobility, sensing, cloud, analytics, and cybersecurity to deliver Innovation at Every Level. This includes Connected Products, Edge Control, and Apps, Analytics & Services, supported by Customer Lifecycle Software. EcoStruxure™ has been deployed in almost 500,000 sites with the support of 20,000+ developers, 650,000 service providers and partners, 3,000 utilities, and connects over 2 million assets under management.
From energy and sustainability consulting to optimizing the life cycle of your operational systems, we have worldwide services to meet your business needs. As a customer-centric organization, Schneider Electric is your trusted advisor to help increase asset reliability, improve total cost of ownership, and drive your enterprise's digital transformation towards sustainability, efficiency and safety.
More information on EcoStruxure™ Microgrid Flex: https://www.se.com/us/en/product-range/175184034-ecostruxure-microgrid-flex/#overview + Complete pre-tested and pre-commissioned Microgrid system. Part of EcoStruxure.
Enable intelligent energy management with our complete pre-tested and pre-commissioned microgrid system.
Unlike engineered and custom microgrid projects, EcoStruxure Microgrid Flex is a faster, simpler, and standardized microgrid system designed to meet resilience, efficiency, and sustainability needs. This standardization substantially reduces project time and engineering hours, making it a better return on investment.
More information on EcoStruxure™ Microgrid Badge Certification: https://www.se.com/ww/en/partners/ecoxpert/discover/certifications-and-specializations.jsp + Through tiered competency training paths, EcoXpert partners gain the industry knowledge and skillsets needed to digitize and electrify our world for a more sustainable future.
More information on Schneider Home by Schneider Electric: https://shop.se.com/us/en/schneiderhome + Smarter energy when you need it most.
Monitoring and controlling your home's power is just a tap away with the Schneider Pulse smart electrical panel.
Solar power, battery backup, EV charging, home automation, connected switches and outlets. Transform your home into a state-of-the-art sustainable vessel – and save big bucks while you're at it.
Schneider Home is a comprehensive solution that includes a smart electrical panel, a home battery for clean energy storage, a high-power solar inverter, an electric vehicle (EV) charger and connected electric sockets and light switches, all connected to intelligently orchestrate home energy. In contrast to existing solutions which require separate apps and disjointed hardware, Schneider Home eliminates that complexity, providing homeowners the ability to easily monitor energy consumption by individual appliance, decide where to prioritize power during an outage to extend available back up power and avoid expensive electrical service upgrades when purchasing an EV.
More information on CES 2023: https://www.ces.tech/ + CES® is the most influential tech event in the world — the proving ground for breakthrough technologies and global innovators.
This is where the world's biggest brands do business and meet new partners, and the sharpest innovators hit the stage. Owned and produced by the Consumer Technology Association (CTA)®, CES features every aspect of the tech sector..
CES® 2023 harnessed the power of human-to-human interaction to keep the innovation engine moving forward and have a direct business impact.
More information on RE+ 2023: https://www.re-plus.com/ + Developed by the nation's leading solar energy organizations, the Smart Electric Power Alliance (SEPA) and the Solar Energy Industries Association (SEIA), RE+ reflects an ongoing entrepreneurial approach to renewing best practices across the clean energy landscape as the marketplace evolves.
RE+ held its inaugural show as "Solar Power International" in 2004 to bring together the people, products, and professional development opportunities that drive the solar marketplace. The event has since evolved alongside the industry, bringing together an extensive alliance of clean energy leaders to become the largest gathering of energy professionals in North America. Today, the multi-day event boasts 27,000+ professionals from all segments of the industry, over 1,300 exhibitors, and 100 countries.
More information on IEA (International Energy Agency): https://www.iea.org + The IEA is at the heart of global dialogue on energy, providing authoritative analysis, data, policy recommendations, and real-world solutions to help countries provide secure and sustainable energy for all.
The IEA was created in 1974 to help co-ordinate a collective response to major disruptions in the supply of oil. While oil security this remains a key aspect of our work, the IEA has evolved and expanded significantly since its foundation.
Taking an all-fuels, all-technology approach, the IEA recommends policies that enhance the reliability, affordability and sustainability of energy. It examines the full spectrum issues including renewables, oil, gas and coal supply and demand, energy efficiency, clean energy technologies, electricity systems and markets, access to energy, demand-side management, and much more.
Since 2015, the IEA has opened its doors to major emerging countries to expand its global impact, and deepen cooperation in energy security, data and statistics, energy policy analysis, energy efficiency, and the growing use of clean energy technologies.
More information on Net Zero: https://www.iea.org/reports/net-zero-by-2050 + The number of countries announcing pledges to achieve net zero emissions over the coming decades continues to grow. But the pledges by governments to date – even if fully achieved – fall well short of what is required to bring global energy-related carbon dioxide emissions to net zero by 2050 and give the world an even chance of limiting the global temperature rise to 1.5 °C. This special report is the world's first comprehensive study of how to transition to a net zero energy system by 2050 while ensuring stable and affordable energy supplies, providing universal energy access, and enabling robust economic growth. It sets out a cost-effective and economically productive pathway, resulting in a clean, dynamic and resilient energy economy dominated by renewables like solar and wind instead of fossil fuels. The report also examines key uncertainties, such as the roles of bioenergy, carbon capture and behavioral changes in reaching net zero.
More information on Dr. Fatih Birol (Executive Director, International Energy Agency): https://www.iea.org/contributors/dr-fatih-birol
More information on Guidehouse Insights: https://guidehouseinsights.com/ + Our goal is to present an objective, unbiased view of market opportunities across dozens of industry verticals. Guidehouse Insights is not beholden to any special interests and is thus able to offer clear, actionable advice to help clients manage transformation, unfettered by technology hype, political agendas, or financial influences that are inherent in emerging technology markets.
More information on Bimbo Bakeries: https://www.bimbobakeriesusa.com/ + From the breakfast table to lunch boxes to family barbecues, Bimbo Bakeries USA's fresh, high-quality products have delighted Americans for generations. As the largest commercial baking company in the U.S., we are proud to deliver our bread, bagels, buns, English muffins and sweet baked goods to every town, city and community in the United States.
Bimbo Bakeries USA is proud part of Grupo Bimbo, the world's largest baking company with operations in 33 countries.
More information on Chris Wolfe (Senior Director of Environmental Sustainability, Bimbo Bakeries USA's): https://www.linkedin.com/in/wolfechristopher/
More information on the Zero-emissions Electric Buses in Oakland, California: https://www.oaklandca.gov/news/2023/city-of-oakland-releases-zero-emission-vehicle-action-plan + The City of Oakland announced the release of its Zero Emission Vehicle (ZEV) Action Plan. The Plan, approved unanimously by the City Council in October 2022, provides a roadmap for transitioning to a zero emission transportation system by 2045. It centers a holistic approach to mobility: Transition as many people and activities away from private automobiles as possible; and ensure that all remaining vehicles run on carbon-free, renewable electricity.
EMR Additional Notes:
Prosumer:

A prosumer is an individual who both consumes and produces.
Generally attributed to writer Alvin Toffler, this term is used in several ways to refer to individuals who are more than just regular consumers and who also may have a professional interest in a company or its products and services.
A consumer is a person who buys a product and uses it. A prosumer is a person who buys a product, uses it, and spread the word about it. A single consumer does not affect the image of a brand. A single prosumer can affect the image of a brand.
Grid, Microgrids and DERs:

The power grid is a network for delivering electricity to consumers. The power grid includes generator stations, transmission lines and towers, and individual consumer distribution lines.
The grid constantly balances the supply and demand for the energy that powers everything from industry to household appliances.
Electric grids perform three major functions: power generation, transmission, and distribution.
A microgrid is a small-scale power grid that can operate independently or collaboratively with other small power grids. The practice of using microgrids is known as distributed, dispersed, decentralized, district or embedded energy production.
Smart Grid is any electrical grid + IT at all levels . Micro Grid is a group of interconnected loads and DERs (Distributed energy resources) within a clearly defined electrical and geographical boundaries witch acts as a single controllable entity with respect to the main grid.
Distributed energy resources (DERs) are small-scale electricity supply (typically in the range of 3 kW to 50 MW) or demand resources that are interconnected to the electric grid. They are power generation resources and are usually located close to load centers, and can be used individually or in aggregate to provide value to the grid.
Common examples of DERs include rooftop solar PV units, natural gas turbines, microturbines, wind turbines, biomass generators, fuel cells, tri-generation units, battery storage, electric vehicles (EV) and EV chargers, and demand response applications.
Distributed energy resources management systems (DERMS) are platforms which helps mostly distribution system operators (DSO) manage their grids that are mainly based on distributed energy resources (DER).
DERMS are used by utilities and other energy companies to aggregate a large energy load for participation in the demand response market. DERMS can be defined in many ways, depending on the use case and underlying energy asset.
Battery Energy Storage System (BESS):

A BESS is an energy storage system (ESS) that captures energy from different sources, accumulates this energy, and stores it in rechargeable batteries for later use.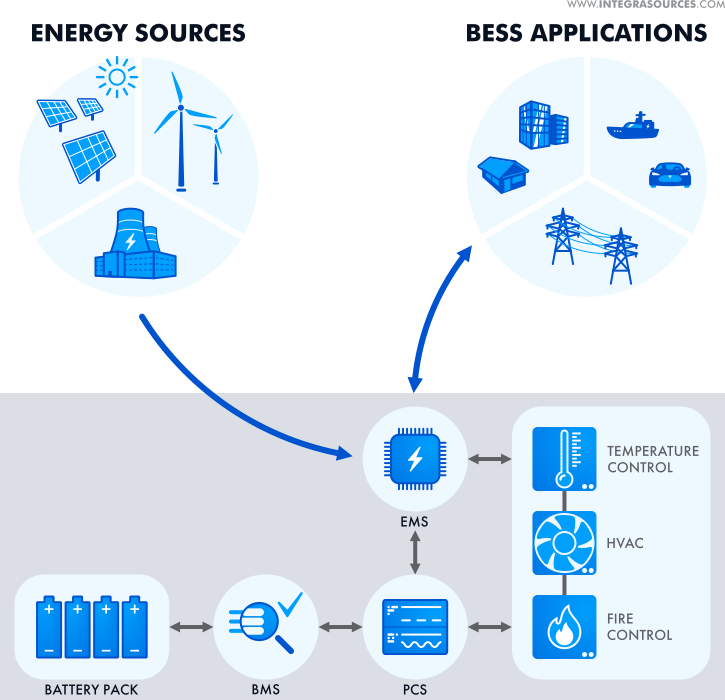 System Integrator:

A systems integrator is an individual or business that builds computing systems for clients by combining hardware, software, networking and storage products from multiple vendors. Using a systems integrator, a company can align cheaper, preconfigured components and commercial off-the-shelf software to meet key business goals, as opposed to more expensive, customized implementations that may require original programming or manufacturing unique components.
Hiring a systems integrator to combine various subsystems into an integrated offering can also simplify contracting and vendor management for the customer, who would otherwise need to purchase each subsystem separately and work with multiple vendors. Systems integration is, thus, both a procurement method and a technical activity.
Carbon Dioxide (CO2):

Primary greenhouse gas emitted through human activities. Carbon dioxide enters the atmosphere through burning fossil fuels (coal, natural gas, and oil), solid waste, trees and other biological materials, and also as a result of certain chemical reactions (e.g., manufacture of cement). Carbon dioxide is removed from the atmosphere (or "sequestered") when it is absorbed by plants as part of the biological carbon cycle.

Decarbonization:

Reduction of carbon dioxide emissions through the use of low carbon power sources, achieving a lower output of greenhouse gasses into the atmosphere.