R&M – R&M at Data Centre World in London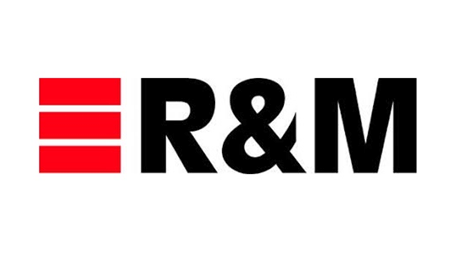 Integrated infrastructure solutions for data centers from a single source
R&M is taking the next step towards becoming a solution provider for complete and integrated infrastructures for data centers. The Swiss developer and provider of high-quality systems for data and communications networks will be presenting the expanded portfolio at Data Centre World 2023 in London.
«With Integrated Data Center Infrastructure solutions from R&M, data center providers are gearing up for the hybrid future. The adaptable solutions enable the construction of on-premise, edge, colocation, and flexible modular data centers,» explains R&M Market Manager Carsten Ludwig. R&M covers the spectrum from connectivity in the rack and equipping cubes and computer rooms to DCIM software.
Infrastructure solutions at R&M now come from a single source. Following the acquisition of the Italian company Tecnosteel S.r.l., R&M now has its own rack and housing portfolio for green data centers. In addition to the high-density fiber optic distributor family Netscale, R&M will be presenting the in-house DCIM software inteliPhy net. Specific products from third-party providers are also used. In London, R&M is providing information on corresponding cooperation solutions.
R&M's support for data centers ranges from planning and project management to the start of operations. Other services include the construction of one-of-a-kind products, pre-termination, training, logistics, measurements, documentation, operation, and maintenance of infrastructures.
«Our customers don't have to search through catalogs, buy single parts, configure distributors, or calculate attenuation budgets. Those responsible can use their time more effectively,» explains Carsten Ludwig.
The congress fair will take place on March 8 and 9, at ExCeL London. Visitors can meet the R&M team at stand D930. Register now.
EMR Analysis
More information on R&M: See the full profile on EMR Executive Services
More information on Martin Reichle (Co-owner and Chairman of Reichle Holding, Vice Chairman of the Board of Directors, R&M): See the full profile on EMR Executive Services
More information on Carsten Ludwig (Market Manager Data Center, R&M): See the full profile on EMR Executive Services
More information on Data Centre World, London (8th – 9th March 2023, Excel, London, United Kingdom): https://www.datacentreworld.com/ + Experience the world's largest gathering of data centre professionals and end-users at Data Centre World. Data Centre World is part of Tech Show London, presented by CloserStill Media.
The AEO award-winning Tech Show London brings together five leading technology events: Big Data & AI World, Cloud Expo Europe, Cloud & Cyber Security Expo, Data Centre World, and DevOps Live.
More information on Tecnosteel S.r.l.: https://www.tecnosteel.info/homeeng + Tecnosteel S.r.l. is a manufacturer of racks, enclosures, cabinets, and infrastructure solutions for data centers, IT, telecommunications, office, and building networks based in Brunello in the Varese region of Italy. The entrepreneurs Mauro Turci and Marino Piotti founded Tecnosteel in 2000. Tecnosteel employs 85 people. Italy is the main sales area. Around 40 % of production is exported.
EMR Additional Notes:
DCIM Software (Data Center Infrastructure Management):

DCIM software is used to measure, monitor and manage the IT equipment and supporting infrastructure of data centers. This enables data center operators to run efficient operations while improving infrastructure design planning. DCIM software can be hosted on premises or in the cloud.
Enables organizations to track their key metrics such as database performance, energy efficiency, power consumption, and disc capacity. A thorough analysis of such metrics provides a holistic idea of the data center operations and how they can be improved for the organization.
Cloud Computing:

Cloud computing is a general term for anything that involves delivering hosted services over the internet. … Cloud computing is a technology that uses the internet for storing and managing data on remote servers and then access data via the internet.
Cloud computing is the on-demand availability of computer system resources, especially data storage and computing power, without direct active management by the user. Large clouds often have functions distributed over multiple locations, each location being a data center.

Edge Computing:

Edge computing is a form of computing that is done on site or near a particular data source, minimizing the need for data to be processed in a remote data center.
Edge computing can enable more effective city traffic management. Examples of this include optimising bus frequency given fluctuations in demand, managing the opening and closing of extra lanes, and, in future, managing autonomous car flows.

Data Centers:

A data center is a facility that centralizes an organization's shared IT operations and equipment for the purposes of storing, processing, and disseminating data and applications. Because they house an organization's most critical and proprietary assets, data centers are vital to the continuity of daily operations.

Hyperscale Data Centers:

The clue is in the name: hyperscale data centers are massive facilities built by companies with vast data processing and storage needs. These firms may derive their income directly from the applications or websites the equipment supports, or sell technology management services to third parties.
Fiber Optic Cable:

Fiber optic cables possess a center glass core surrounded by multiple layers of protective materials. They avoid electrical obstruction by transmitting light instead of electronic signals, making them perfect for environments with large amounts of electrical interference. Fiber optic cables have become the standard for connecting networks across buildings because of their resistance to moisture and lighting.

Shielded Twisted Pair (STP) Cable:

Often referred to colloquially as simply ethernet cables, STP cables employ a special type of copper telephone wiring used for business installations. An external shield functioning as a ground is added to the standard twisted pair of telephone wires.

Unshielded Twisted Pair (UTP) Cable:

Unshielded twisted pair (UTP) cables are broadly used in the telecommunications and computer industries as ethernet cables and telephone wires. In a UTP cable, conductors forming a single circuit are twisted around one another to cancel out electromagnetic interference (EMI) from external sources.

FTTx:

Fiber to the Home (FTTH), Fiber to the Building (FTTB), Fiber to the Premises (FTTP) and Fiber to the Curb (FTTC), termed as FTTx are various technology and deployment options developed to enable reach of fiber as close to the user location as possible to provide high speed data and voice services.
Fiber to the home (FTTH) is the delivery of a communications signal over optical fiber from the operator's switching equipment all the way to a home or business, thereby replacing existing copper infrastructure such as telephone wires and coaxial cable.
FTTP and FTTH are two different abbreviations for the same thing. FTTP stands for 'fibre to the premises' and FTTH stands for 'fibre to the home'. … Unlike FTTC, FTTP broadband is delivered via fibre-optic cables not only as far as the cabinet, but across the entire span to your home or business.
Fiber-optic cables are less susceptible to glitches than traditional copper wires and can withstand the shock and vibration from inclement weather. FTTH is considered "future proof" and offers the flexibility to deliver additional services in the years to come.
Key Differences Between Copper Cable and Fiber Optics:

Data transmission speed of a fiber cable is comparatively more than that of copper cable. Copper cables are nearly 31% slower in data transmission than fiber cable.
A copper cable transmits the data through it in the form of electrical pulse i.e., due to the movement of electrons. As against in a fiber optics, the data transmission is the result of movement of photons thus it transmits in the form of light pulses.
The bandwidth provided by a copper cable is less than that of the fiber optics. Thus, a copper cabling meets the industry standards and provides a performance of up to 10 Gbps.  However, a fiber optics due to its large bandwidth possess better performance of up to 60 Tbps and above.
The energy consumed by a copper cable during its operation is somewhat greater than 10W but on the other side, fiber optics consumes less energy i.e., around 2W per user.
The lifespan of a copper wire is approximately 5 years as it gets easily affected by temperature variations and other environmental factors. However, fiber optics possess a lifespan of 30 to 50 years.
As fiber optics are difficult to be tapped as compared to copper cables thus proves advantageous from the security point of view. Due to this reason fiber optics are widely used for data transmission at present time.
A fiber optics allows transmission of data at a much faster rate as compared to copper cable.
The installation and maintenance cost of a fiber cable is more than copper cable.