R&M – R&M and US Conec Agree to Exchange Licenses for Fiber Optic Connectors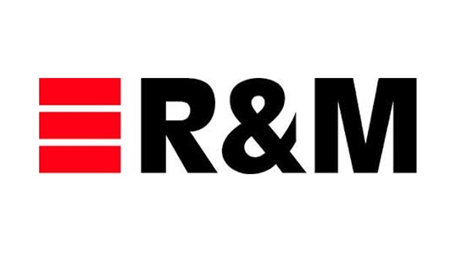 Make way for QR and DirectConec™ technology. 
In the future, users will be able to operate multiple fiber connectors for high-speed data networks more easily.
The fiber optic manufacturers Reichle & De-Massari (R&M) AG and US Conec Ltd. have agreed to exchange licenses. They will mutually recognize important patents for MPO fiber optic connectors. This will benefit data center providers and carriers who have to further increase the density of their fiber optic cabling for high-speed data transmission.
The agreement clears the way for the QR mechanism developed and patented by R&M to be integrated into US Conec's DirectConec™ push-pull product portfolio. These connectors make it possible to lock and unlock fiber optic connectors with the strain relief sleeve on the back. This makes them particularly easy to operate in high-density patch panels.
US Conec can now use the QR mechanism in its own connector types. At the same time, R&M can assemble and sell its own QR multiple fiber connector – the new MPO-QR with polarity change – in the U.S.
Another step in the US market
R&M CTO Robert Merki comments: «We are delighted about the new cooperation with US Conec. As leading developers in the field of fiber optic connectivity, we can work together to pave the way for fast and efficient network densification. For R&M, bringing QR technology to the US market is a major step. We value the innovative strength of US Conec, which we are now able to make available to a large group of users. Our global production network forms a robust supply chain that supplies data centers and carriers with the leading fiber optic connector systems for next-generation high-speed data transmission.»
Faster, more secure patching
«For US Conec, it means a lot to be able to cooperate with R&M in order to meet current market needs. R&M delivers unsurpassed Swiss precision craftsmanship when it comes to fiber optic connector technologies. The QR mechanism from R&M is an ingenious addition to our innovative DirectConec™ push-pull system. This will enable users to work even more securely and faster in highly densified network infrastructures.» says Mike Hughes, Vice President of US Conec
The agreement on patent cross-licensing came into force on November 16, 2022. It is backdated to products that have already been developed, manufactured, and sold.
EMR Analysis
More information on R&M: See the full profile on EMR Executive Services
More information on Martin Reichle (Co-owner and Chairman of Reichle Holding, Vice Chairman of the Board of Directors, R&M): See the full profile on EMR Executive Services
More information on Peter Reichle (Co-owner and Chairman of Reichle Holding, Member of the Board of Directors, R&M): See the full profile on EMR Executive Services
More information on Michel Riva (CEO, R&M): See the full profile on EMR Executive Services
More information on Robert Merki (CTO, R&M): See the full profile on EMR Executive Services
More information on US Conec: https://www.usconec.com/ + Established in 1992, US Conec is a leader in providing passive components for high density optical interconnects. The company was founded to expand the use of MT style multifiber technology through the design, manufacturing and sales of high precision fiber optic components.
Today, US Conec brands span the globe, delivering cost effective technology solutions for data center and enterprise structured cabling, public networks, circuit board interconnect, and industrial and military markets worldwide.
US Conec shareholders are Corning Inc., Fujikura Ltd., and NTT Advanced Technology Corporation.
More information on Joe Graham (President and CEO, US Conec): https://www.linkedin.com/in/joe-graham-41806759/
More information on Mike Hughes (Vice President, US Conec): https://www.linkedin.com/in/mehughes-nc/
EMR Additional Notes: 
Fiber:

Fiber to the Home (FTTH), Fiber to the Building (FTTB), Fiber to the Premises (FTTP) and Fiber to the Curb (FTTC), termed as FTTx are various technology and deployment options developed to enable reach of fiber as close to the user location as possible to provide high speed data and voice services.
Fiber to the home (FTTH) is the delivery of a communications signal over optical fiber from the operator's switching equipment all the way to a home or business, thereby replacing existing copper infrastructure such as telephone wires and coaxial cable.
FTTP and FTTH are two different abbreviations for the same thing. FTTP stands for 'fibre to the premises' and FTTH stands for 'fibre to the home'. … Unlike FTTC, FTTP broadband is delivered via fibre-optic cables not only as far as the cabinet, but across the entire span to your home or business.
Fiber-optic cables are less susceptible to glitches than traditional copper wires and can withstand the shock and vibration from inclement weather. FTTH is considered "future proof" and offers the flexibility to deliver additional services in the years to come.
Key Differences Between Copper Cable and Fiber Optics:

Data transmission speed of a fiber cable is comparatively more than that of copper cable. Copper cables are nearly 31% slower in data transmission than fiber cable.
A copper cable transmits the data through it in the form of electrical pulse i.e., due to the movement of electrons. As against in a fiber optics, the data transmission is the result of movement of photons thus it transmits in the form of light pulses.
The bandwidth provided by a copper cable is less than that of the fiber optics. Thus, a copper cabling meets the industry standards and provides a performance of up to 10 Gbps.  However, a fiber optics due to its large bandwidth possess better performance of up to 60 Tbps and above.
The energy consumed by a copper cable during its operation is somewhat greater than 10W but on the other side, fiber optics consumes less energy i.e., around 2W per user.
The lifespan of a copper wire is approximately 5 years as it gets easily affected by temperature variations and other environmental factors. However, fiber optics possess a lifespan of 30 to 50 years.
As fiber optics are difficult to be tapped as compared to copper cables thus proves advantageous from the security point of view. Due to this reason fiber optics are widely used for data transmission at present time.
A fiber optics allows transmission of data at a much faster rate as compared to copper cable.
The installation and maintenance cost of a fiber cable is more than copper cable.
MPO Connector:

Multi-fiber push on connectors, or MPOs for short, are fiber connectors comprised of multiple optical fibers. While defined as an array connector having more than 2 fibers, MPO Connectors are typically available with 8, 12 or 24 fibers for common data center and LAN applications.