Prysmian – Prysmian to further expand its cable-laying vessel fleet to support global power grid upgrade for the energy transition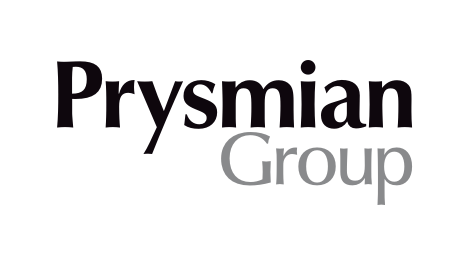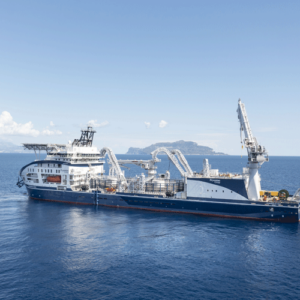 Contract to build a new cable-laying vessel awarded to VARD. 

The widest cable-layer fleet in the industry will ensure reduced timescales, lower costs and greater sustainability of submarine cable projects.
Prysmian Group, world leader in the energy and telecom cable systems industry, announces an investment of approximately €200 million in a new cutting-edge cable-layer plus adjustment for cables equipment of approximately €40 million. The new vessel will be fully operational by Q1 2025 and will reinforce Prysmian's project execution capabilities and its EPCI (Engineering, Procurement, Construction, Installation) approach.
As for Leonardo da Vinci, the new vessel will be built by the VARD Group (a subsidiary of the Fincantieri Group), one of the world leaders in the design and construction of specialised vessels for the offshore market, and will stand out for its technical performance, operational flexibility and sustainability. The new cable-laying vessel will be very similar to Leonardo da Vinci, which was delivered in 2021 and exceeded all expectations in its first year of operations, being fully recognised by the market as the best-in-class vessel to meet the growing demand of the submarine cable industry.
"The development of more efficient and sustainable power grids infrastructure is key to enable the energy transition, and submarine cables are an essential component. As global leader we are fully committed to technology innovation and we are happy to partner with worldwide leaders in the construction of vessels like Fincantieri and Vard to improve also our installation capabilities" stated Valerio Battista, CEO Prysmian Group.
Pierroberto Folgiero, CEO of Fincantieri, said: "The complexity of such a ship fully demonstrates Fincantieri's ability to ensure its customers technological excellence, constant innovation and commitment to sustainability. Indeed, the highly demanding context in which the vessel will operate, both in terms of environment and hi-tech requirements, will enhance the sophisticated latest generation onboard systems. We are therefore particularly pleased to serve Prysmian – once again – with a successful project in a sector such as the cabling one, while supporting energy transition, which will attract investments in the near future".
With substantially the same hull of Leonardo Da Vinci, a length of approximately 170 m and a breadth of about 34 m, the new cable-laying vessel will also be equipped with a similar cable installation equipment, , such as: a first laying line with a capstan suitable for deep water installation at over 3,000 m; a second independent laying line with linear cable engines in order to increase operating flexibility; 2 carousels of 7,000 and 10,000 tonnes, which ensure the highest cable loading capacity in the market, enabling a reduced transportation time from the factory to the site, for an overall improved project efficiency. The bollard pull will be in excess of 180 tonnes conferring the capability to perform complex installation operations and supporting a variety of burial tools. The vessel will be equipped with state-of-the-art DP3 positioning and seakeeping systems, while the maximum transit speed will exceed 16 knots. Like Leonardo da Vinci, the new vessel will have green credentials: the high cable load capacity and navigation speed will significantly reduce the number of cable installation campaigns needed, compared to other vessels, thus enabling an overall decrease in CO2 emissions and a reduction in fuel consumption of approximately 40% compared to a traditional cable-laying vessel. Moreover, the very efficient and green engines will cut NOX emissions by 85%, allowing the cable-layer to comply with the most stringent international environmental requirements. In addition, the new vessel will be equipped with a battery pack for a total power of 3 megawatt.
"The new vessel will be definitely a game changer in strengthening our installation capabilities and supporting our leadership position in the interconnection and offshore wind farm markets, while ensuring on-time delivery and execution. This new vessel is in addition to Leonardo da Vinci and the other cable-laying vessels in our existing fleet, and from now on it will support the Group's long-term growth in the submarine cable installation business, which is constantly evolving," underlines Hakan Ozmen, EVP Project BU, Prysmian Group.
Prysmian can count on a fleet currently composed of five state-of-the-art cable-laying vessels: Giulio Verne, its former flagship with a track record of about 35 years of cable installation projects; Cable Enterprise, a very versatile DP2 vessel, mainly used for installation of offshore wind farm export cables; Ulisse, an efficient barge for shallow-water installation; Barbarossa, a small barge, recently added to the fleet and specifically designed for operations in very shallow water and intertidal zones; and Leonardo da Vinci, the world's most advanced cable-laying vessel that became operational in the summer of 2021. Prysmian has also the widest range of high–tech burial equipment, including Hydroplows, HD3 Ploughs and Post Lay Burial machines (Sea Mole, SeaRex and Otter).
Once operational, the new vessel will be dedicated to the execution of important projects such: as Dominion Energy, the largest submarine cabling project ever secured by Prysmian in the USA; the Neuconnect Energy Link project, the first power cable connection between the UK and Germany; and the Dolwin4 and Borwin4 projects, two offshore wind farm grid connection cable systems in Germany.
EMR Analysis
More information on Prysmian: See the full profile on EMR Executive Services
More information on Valerio Battista (CEO, Prysmian Group): See the full profile on EMR Executive Services
More information on Hakan Ozmen (EVP Project Business, Prysmian Group): See the full profile on EMR Executive Services
More information on the VARD Group:  https://www.vard.com + In a nutshell, VARD is a preeminent designer and shipbuilder of high-quality specialized vessels for the global market. We boast more than 8,000 employees worldwide, and operate shipbuilding facilities at home in Norway, as well as in Romania, Brazil, and Vietnam. Our headquarters are located in Ålesund on Norway's stunning west coast, a city famous for its Art Nouveau architecture.
As well as providing high-end design and engineering services to the global maritime industry, through our specialized VARD subsidiaries we create and develop an outstanding range of advanced power and automation systems, deck handling equipment, and vessel accommodation solutions.
VARD is majority owned by Fincantieri Oil & Gas S.p.A., a wholly owned subsidiary of FINCANTIERI S.p.A.
Headquartered in northern Italian city of Trieste, FINCANTIERI is one of the world's largest shipbuilding groups that over its 200 years history has delivered more than 7,000 vessels.
More information on Pierroberto Folgiero (CEO, Fincantieri): https://www.fincantieri.com/it/governance/management/pierroberto-folgiero/ + https://www.linkedin.com/in/pierroberto-folgiero/
EMR Additional Notes: 
EPC (Engineering, Procurement and Construction): 

An Engineering, Procurement and Construction Contract ("EPC Contract"), occasionally known as a "Turnkey Contract", is a construction contract where the contractor ("EPC Contractor") holds the responsibility towards the design, procurement, construction, commissioning and handover of a project ("Project").
An EPC contractor performs the engineering, procurement and construction scope(s) for a project, i.e. the EPC executes the actual work.
Nitrogen Oxides (NOx):

Chemical compound of oxygen and nitrogen which is formed by these reacting with each other during combustion at high temperatures, mainly the combustion of fuels such as oil, diesel, gas and organic material. NOx is a common name for the nitrogen oxides NO and NO2.
Nitrogen oxides (NOx) act as indirect greenhouse gases by producing the tropospheric greenhouse gas 'ozone' via photochemical reactions in the atmosphere.
Global Warming: Global warming is the long-term heating of Earth's climate system observed since the pre-industrial period (between 1850 and 1900) due to human activities, primarily fossil fuel burning, which increases heat-trapping greenhouse gas levels in Earth's atmosphere.
Global Warming potential (GWP): 

The heat absorbed by any greenhouse gas in the atmosphere, as a multiple of the heat that would be absorbed by the same mass of carbon dioxide(CO2). GWP is 1 for CO2. For other gases it depends on the gas and the time frame.
Carbon dioxide equivalent (CO2e or CO2eq or CO2-e) is calculated from GWP. For any gas, it is the mass of CO2 which would warm the earth as much as the mass of that gas. Thus it provides a common scale for measuring the climate effects of different gases. It is calculated as GWP times mass of the other gas. For example, if a gas has GWP of 100, two tonnes of the gas have CO2e of 200 tonnes.
GWP was developed to allow comparisons of the global warming impacts of different gases.

Greenhouse Gas (GHG):

A greenhouse gas is any gaseous compound in the atmosphere that is capable of absorbing infrared radiation, thereby trapping and holding heat in the atmosphere. By increasing the heat in the atmosphere, greenhouse gases are responsible for the greenhouse effect, which ultimately leads to global warming.
The main gases responsible for the greenhouse effect include carbon dioxide, methane, nitrous oxide, and water vapor (which all occur naturally), and fluorinated gases (which are synthetic).
HVDC Light:

HVDC Light is the successful and environmentally-friendly way to design a power transmission system for a submarine cable, an underground cable, using over head lines or as a back-to-back transmission. HVDC Light is HVDC technology based on voltage source converters (VSCs).
HVDC Light is designed to transmit power underground and underwater, also over long distances. It offers numerous environmental benefits, including "invisible" power lines, neutral electromagnetic fields, oil-free cables and compact converter stations.
As its name implies, HVDC Light is a dc transmission technology. However, it is different from the classic HVDC technology used in a large number of transmission schemes. Classic HVDC technology is mostly used for large point-to-point transmissions, often over vast distances across land or under water. It requires fast communications channels between the two stations, and there must be large rotating units – generators or synchronous condensers – present in the AC networks at both ends of the transmission. HVDC Light consists of only two elements: a converter station and a pair of ground cables. The converters are voltage source converters, VSC's. The output from the VSC's is determined by the control system, which does not require any communications links between the different converter stations. Also, they don't need to rely on the AC network's ability to keep the voltage and frequency stable. These feature make it possible to connect the converters to the points bests suited for the AC system as a whole.

HVDC (High-Voltage Direct Current):

Key enabler for a carbon-neutral energy system. It is highly efficient for transmitting large amounts of electricity over long distances, integration of renewables and interconnecting grids, opening up for new sustainable transmission solutions.

HVDC Links:

The first successful HVDC experimental long distance line (37 miles) was made at Munich, Germany in 1882 by Oskar Von Miller and fellow engineers.
HVDC allows power transmission between AC transmission systems that are not synchronized. Since the power flow through an HVDC link can be controlled independently of the phase angle between source and load, it can stabilize a network against disturbances due to rapid changes in power.
An HVDC line has considerably lower losses compared to HVAC over longer distances.
Neu Connect (the first power interconnection between Great Britain and Germany): https://neuconnect-interconnector.com +

The NeuConnect Interconnector will create the first direct power link between Germany and Great Britain, connecting two of Europe's largest energy markets for the first time. Around 720km of land and subsea cables will form an 'invisible highway' allowing up to 1.4GW of electricity to move in either direction, enough to power up to 1.5 million homes over the life of the project.
The Tyrrhenian Link: https://www.terna.it/en/projects/public-engagement/Tyrrhenian-link +

Connecting Sicily with Sardinia and the Italian peninsula via a double underwater cable: a new electricity corridor at the centre of the Mediterranean; the Tyrrhenian Link. At 950 kilometres long and with a capacity of 1000 MW, this is an infrastructure initiative of international significance, another step towards a more sustainable energy future. The link will improve electricity exchange capacity, facilitate the development of renewable energy sources, and the reliability of the grid.
The overall project involves two sections: EAST from Sicily to Campania and WEST from Sicily to Sardinia.
The East section is 480 kilometres long and connects the Fiumetorto landing point, in the municipality of Termini Imerese in Sicily, with the landing point in Torre Tuscia Magazzeno, near Battipaglia in Campania.
The WEST section is approximately 470 kilometres long and connects the Fiumetorto landing point to the one in Terra Mala, in Sardinia.
The Viking Link:  https://viking-link.com +

World's longest power interconnection. the Viking Link is a 1400 MW high voltage direct current (DC) electricity link between the British and Danish transmission systems connecting at Bicker Fen substation in Lincolnshire and Revising substation in southern Jutland, Denmark.
The North Sea Link: https://northsealink.com/ + North Sea Link is a 720 kilometre subsea interconnector linking the electricity systems of the UK and Norway. The 1400 megawatt interconnector stretches from Blyth in the UK, across the North Sea, to Kvilldal in Norway.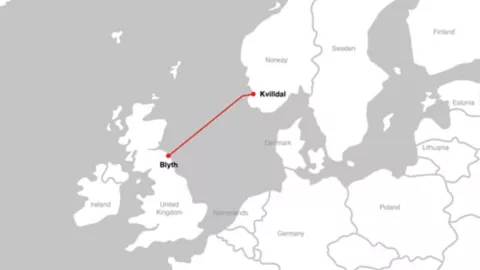 The Hertel–New York interconnection line: https://www.hydroquebec.com/projects/hertel-new-york-interconnection/ + The Hertel–New York interconnection line project aims to supply clean, renewable energy to New York City. In Québec, the project involves the construction of a line that will span 57.7 km (56.1 km underground and 1.6 km underwater). This 400-kV direct current line will connect Hertel substation in La Prairie to an interconnection point in the Rivière Richelieu at the Canada–United States border.
Carbon Dioxide (CO2):

Primary greenhouse gas emitted through human activities. Carbon dioxide enters the atmosphere through burning fossil fuels (coal, natural gas, and oil), solid waste, trees and other biological materials, and also as a result of certain chemical reactions (e.g., manufacture of cement). Carbon dioxide is removed from the atmosphere (or "sequestered") when it is absorbed by plants as part of the biological carbon cycle.

Decarbonization: 

Reduction of carbon dioxide emissions through the use of low carbon power sources, achieving a lower output of greenhouse gasses into the atmosphere.