Pipelife – Modern Stormwater Solution Helps Redevelop an Abandoned Military Site in Ukmerge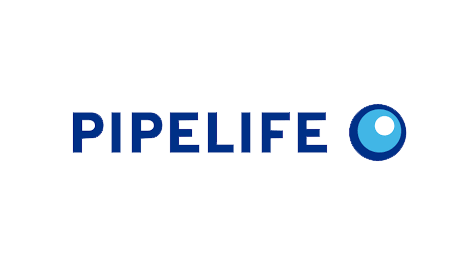 A deserted 20-hectare former army base in Ukmerge, Lithuania, will soon be reborn as a modern recreational, residential and business center thanks to a major reconstruction program.
The first phase of the project has already started, aiming to establish an up-to-date underground infrastructure that could support sustainable, long-term development of the area. The Pipelife stormwater retention system allowed expanding the capacity of the site's stormwater management network, which will protect the future community center from flood damage.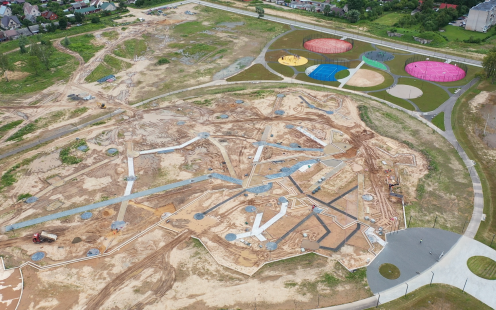 SECOND LIFE TO FORMER ARMY BARRACKS
Due to its strategic location, the Ukmerge district has been used for military purposes since the early 19th century. However, the former army settlements are abandoned nowadays, leaving a large, unattractive scar in the center of the thriving Ukmerge city.
Thanks to joint funding from the EU, the state government and the Ukmerge municipality, the derelict site is now being repurposed into a modern recreational and business center. The heart of the former military base will be an open-air miniature park, stretching over 1.65 hectares and featuring replicas of the most iconic buildings, landmarks and art installations from across the country. In addition, the area will feature gardens, playgrounds, an outdoor exercise zone, a business park and a modern residential district, revitalizing the Ukmerge city center.
MODULAR SOLUTION ALLOWS EXPANDING OUTDATED STORMWATER NETWORK
As a former military area, the site has limited underground infrastructure which is unsuitable for the project's purposes. Therefore, the current networks for drainage, stormwater disposal, water supply and sewage all have to be redesigned and rebuilt.
One of the project's major challenges was preventing the limited-capacity wastewater networks from overflowing during heavy precipitation periods. To achieve this, a new underground stormwater retention system was built, which will largely consist of Pipelife Stormbox E crates and accessories.
The dimensions of the retention system are 19.8 x 8.4 x 1.8 meters, with a net capacity of nearly 300 cubic meters. In total, almost 1400 Stormbox E crates were used, together with all necessary accessories and inspection chambers, to build a massive, six-story underground reservoir.
BRINGING CIRCULARITY TO STORMWATER MANAGEMENT SYSTEMS
Pipelife Stormbox E systems are applicable for stormwater retention, storage and soakaway in green areas, parking lots, and for most road drainage projects. Furthermore, the Stormbox E crates are produced entirely from top-quality recycled material and meet the same international quality standards as similar systems from virgin material.
Launched in 2021, Stormbox E immediately raised interest in Pipelife's markets. The system has been widely used in major industrial, residential and commercial projects, offering a fully modular, sustainable and cost-efficient stormwater management solution for areas without heavy traffic.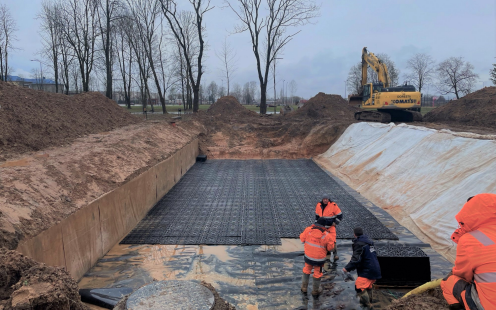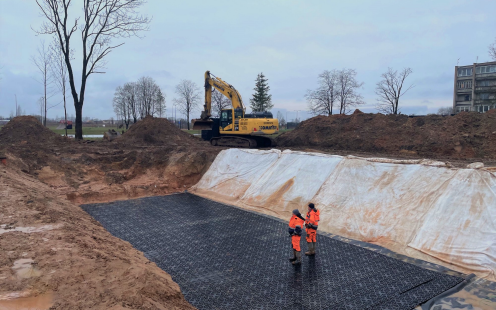 FROM ABANDONMENT TO A THRIVING COMMUNITY SPACE
The construction company UAB "Doresta" is the installer of the ambitious project. The redevelopment of the Ukmerge military town began in 2021, whereas the construction of the underground stormwater retention system was started and completed in January 2023.
The project's first phase, including the miniature park, will be commissioned already by the end of the year, transforming the long-neglected army base into a vibrant, sustainable space for the city's community and guests.
EMR Analysis
More information on Pipelife: https://www.pipelife.com + Pipelife is a leading international manufacturer of sustainable piping solutions that connect people and communities with water, energy and data. Our purpose is to provide the necessary means of infrastructure to create a safer, healthy and more carefree living for current and future generations. Whether behind walls, in floors, underground, or at the bottom of the sea, our solutions may be hidden but they are always part of your life.
Pipelife was founded in 1989 as as a joint venture of Solvay (Belgium) and Wienerberger (Austria) with activities in Austria, France and Germany. Since 2012, Pipelife is fully owned by Wienerberger.
Pipelife was founded in 1989, as a joint venture of Solvay (Belgium) and Wienerberger (Austria). Since 2012, Pipelife is fully owned by Wienerberger, with our headquarters based in Vienna, Austria. We are actively present in 24 countries with 3,756 employees. As of 2022, 855,608 km of our pipes have been installed. That's more than 21 times around the world!
More information on Wienerberger: https://www.wienerberger.com/en.html + The Wienerberger group operates 216 production sites in 28 countries and is the world's largest producer of bricks and the market leader in clay roof tiles in Europe as well as concrete pavers in Central-Eastern Europe and pipe systems in Europe.
216 Plants
19,000 Employees
28 Countries
Wienerberger AG is a public company on the Vienna Stock Exchange. There is no single, main shareholder, as all shares are free float shares. The majority of shares are held by institutional investors, with less than 15% owned by private investors.
Wienerberger's brands are: Wienerberger (Clay Blocks, Facing Bricks and Clay Toof Tiles), Pipelife (Plastic Pipes for transporting energy, water and data) Steinzeug-Keramo (Solutions for Sewer Systems, Pipes for open and sealed designs), Semmelrock (Concrete pavements in Central and Eastern Europe) and General Shale (Facing Bricks in the USA and Canada)
More information on Harald Schwarzmayr (CEO, Pipelife + COO, Wienerberger AG): See the full profile on EMR Executive Services
More information on UAB "Doresta": https://doresta.lt/ + UAB "Doresta" is a ten-year-old and constantly growing construction company located in the middle of Lithuania. Doresta employs work managers and other specialists with many years of experience who bravely accept various challenges in the field of construction. The company specializes in the construction of industrial and commercial buildings, demolition and installation of roads, streets and sites.
More information on The European Union: https://european-union.europa.eu/index_en + The European Union's institutional set-up is unique and its decision-making system is constantly evolving. The 7 European institutions, 7 EU bodies and over 30 decentralised agencies are spread across the EU. They work together to address the common interests of the EU and European people.
In terms of administration, there are a further 20 EU agencies and organisations which carry out specific legal functions and 4 interinstitutional services which support the institutions.
All of these establishments have specific roles – from developing EU laws and policy-making to implementing policies and working on specialist areas, such as health, medicine, transport and the environment.
There are 4 main decision-making institutions which lead the EU's administration. These institutions collectively provide the EU with policy direction and play different roles in the law-making process:
the European Parliament (Brussels/Strasbourg/Luxembourg)
the European Council (Brussels)
the Council of the European Union (Brussels/Luxembourg)
the European Commission (Brussels/Luxembourg/Representations across the EU)
Their work is complemented by other institutions and bodies, which include:
the Court of Justice of the European Union (Luxembourg)
the European Central Bank (Frankfurt)
the European Court of Auditors (Luxembourg)
The EU institutions and bodies cooperate extensively with the network of EU agencies and organisations across the European Union. The primary function of these bodies and agencies is to translate policies into realities on the ground.
Around 60,000 EU civil servants and other staff serve the 450 million Europeans (and countless others around the world).
Currently, 27 countries are part of the EU: https://european-union.europa.eu/principles-countries-history/country-profiles_en
More information on The European Commission: https://ec.europa.eu/info/index_en + The Commission helps to shape the EU's overall strategy, proposes new EU laws and policies, monitors their implementation and manages the EU budget. It also plays a significant role in supporting international development and delivering aid.
The Commission is steered by a group of 27 Commissioners, known as 'the college'. Together they take decisions on the Commission's political and strategic direction.
A new college of Commissioners is appointed every 5 years.
The Commission is organised into policy departments, known as Directorates-General (DGs), which are responsible for different policy areas. DGs develop, implement and manage EU policy, law, and funding programmes. In addition, service departments deal with particular administrative issues. Executive agencies manage programmes set up by the Commission.
Principal roles in law: The Commission proposes and implements laws which are in keeping with the objectives of the EU treaties. It encourages input from business and citizens in the law-making process and ensures laws are correctly implemented, evaluated and updated when needed.
More information on Ursula von der Leyen (President, The European Commission): https://ec.europa.eu/commission/commissioners/2019-2024/president_en + https://www.linkedin.com/in/ursula-von-der-leyen/
EMR Additional Notes:
Circular Economy: 

A circular economy is a systemic approach to economic development designed to benefit businesses, society, and the environment. In contrast to the 'take-make-waste' linear model, a circular economy is regenerative by design and aims to gradually decouple growth from the consumption of finite resources.
In such an economy, all forms of waste, such as clothes, scrap metal and obsolete electronics, are returned to the economy or used more efficiently.

Sustainability Vs. Circular Economy:

Circularity focuses on resource cycles, while sustainability is more broadly related to people, the planet and the economy. Circularity and sustainability stand in a long tradition of related visions, models and theories.
A sustainable circular economy involves designing and promoting products that last and that can be reused, repaired and remanufactured. This retains the functional value of products, rather than just recovering the energy or materials they contain and continuously making products anew.