Niedax – Niedax Group purchases CO2-reduced steel from Tata Steel UK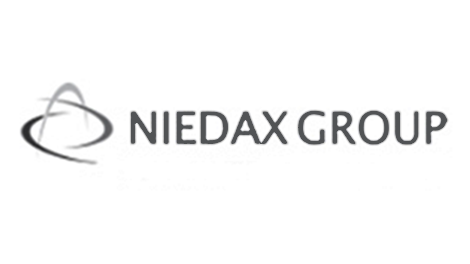 The Niedax Group, for the first time, is sourcing and processing certified "Optemis® Carbon Lite" steel from Tata Steel UK, the largest steel producer in the UK.
This week, the first coil was delivered to the own steel center in Schwerte, which is operated by Niedax subsidiary Boecker Stahl-Service GmbH. CO₂ emissions in the production of the 22-ton hot-dip galvanized coils were reduced by 85 percent in the course of an independently certified insetting process. This corresponds to a CO₂ saving of around 45 tons – comparable to the annual emissions of 33 cars.
The CO₂ emission-reduced steel enables the Niedax Group to manufacture cable management systems for large infrastructure projects in its own steel service center with a significantly more favorable carbon footprint. In the coming weeks, the Niedax Group expects further deliveries of the Optemis® Carbon Lite steel. The CO₂-reduced steel called Optemis® Carbon Lite is a fully certified concept verified by DNV, an independent auditing and risk management organization.
Bruno Reufels, CEO Niedax Group, sees the processing of these steel coils in the company's own steel service center as a significant step towards emission reduction and a more sustainable future:
"As one of the world's leading manufacturers of cable management systems, we are committed to operating sustainably and reducing the carbon footprint of our products. That's why we are investing in new technologies and are pleased to be working with Tata Steel UK on the carbon reduced steel initiative. We are already registering initial interest from consumer-related sectors such as the construction and automotive industries. In the future we aim to meet their demand for reduced-emission steel."
Tata Steel UK is aware of the extent of CO₂ emissions that are currently still unavoidable in the steel production process and wants to play a pioneering role in the production of emission-reduced steel with its insetting process certified by a neutral party. To this end, the company is investing in numerous projects to reduce its CO₂ emissions. The savings from these projects can be passed on to customers via Optemis® Carbon Lite steel, enabling them to achieve immediate savings within their Scope 3 emissions value chain according to GHG Protocol.
Anil Jhanji, Chief Commercial Officer von Tata Steel UK, says:

"We are committed to reducing our emissions: Our goal is to achieve CO₂-neutral steel production by 2045 and reduce emissions by at least 30 percent by 2030. Every ton of Carbon Lite steel we sell helps fund further CO₂-saving projects, accelerating our transformation to decarbonization. That's why this first delivery to a leading international company like Niedax Group is an important step on our journey to a carbon neutral steel supply."
For more information on Tata Steel's Optemis® Carbon Lite steel, visit the Tata Steel Europe website.
EMR Analysis
More information on Niedax Group: https://www.niedax-group.com/en/ + Niedax has been synonymous with modern electrical systems for over 100 years. Decades of experience and pioneering innovation have created the international NIEDAX GROUP. Based in Linz am Rhein, Germany, the Group currently employs a workforce of around 2500 across the globe. Niedax, Kleinhuis, Fintech, Rico, Ebo, Niedax France, Gouda Holland, ACS, Femi-CZ, For M.A., SteelLine, BVS, Excel Electrics and MOPA: these are the brands that form the NIEDAX GROUP, a strong group of companies that is now a global leader in the design and manufacture of cable support systems. A portfolio of over 50,000 products covers all your cable management systems in projects including industrial plants, office complexes, power plants and sports arenas.
Continuity defines both the company history of the NIEDAX GROUP and its management structure. Bruno Reufels has headed the group as Chairman of the Board of Management and Global Head of Sales for more than 25 years, with great success. Mr. Alexander Horn, grandson of the founding father Fritz Axthelm, is responsible in his function as managing director for the technology and development division. Together, Mr. Bruno Reufels and Mr. Alexander Horn form the dual leadership of the NIEDAX GROUP.
More information on Bruno Reufels (Chairman of the Management Board & CEO, Niedax Group): See the full profile on EMR Executive Services
More information on Alexander Horn (Managing Director, Technology, Research & Development + Member of the Executive Board, Niedax Group): See the full profile on EMR Executive Services
More information on Adrian Lowiner (Managing Director, International Sales and Project Management, Niedax Group + Member of the Executive Board, Niedax Group): See the full profile on EMR Executive Services
More information on Marina Reufels (Managing Director, Niedax Digital + Member of the Executive Board, Niedax Group): See the full profile on EMR Executive Services
More information on Philipp Stiehl (Head of Distribution Business, Niedax Group Outside Germany + Member of the Executive Board, Niedax Group): See the full profile on EMR Executive Services
More information on Cornelius Steele (Managing Director, Niedax Group's North American and African Companies and Head of the Global Team + Member of the Executive Board, Niedax Group): See the full profile on EMR Executive Services
More information on Boecker Stahl-Service GmbH: https://www.boecker-stahl-service.de/ + As a family-owned Steel Service Center with global activity Boecker Stahl-Service is specialized in cold-rolled surface-coated flat steel products and the processing hereof.
Ever since 1983 we have successfully pursued the satisfaction of our customers' needs. We consistently improve and develop our service offering in order to meet changing market requirements.
No matter how unique our customers' wishes are, we always put all our effort into finding attractive solutions. Our key characteristics are flexibility, reliability and a great corporate culture.
If you are interested in cold-rolled, tin-coated, galvanized, Iron-Zinc coated, Electro-Zinc coated, Aluminized Material, Aluzinc or Galfan, we offer you qualified advice, highly accredited quality standards and on-time delivery. About 25 employees are looking to serve your demands and enquiries at our facility in Schwerte-Westhofen, Germany.
Since 1 July 2018, Boecker Stahl-Service GmbH belongs to the NIEDAX GROUP
More information on Thomas Neumann (Head of Central Purchasing, Niedax Group + Managing Director, Boecker Stahl-Service GmbH): See the full profile on EMR Executive Services
More information on Tata Steel: https://www.tatasteel.com/ + https://www.tatasteeleurope.com + Shaped by a lineage of sound and straightforward business principles, the Tata group is built on a foundation of trust and transparency. This forms the basis of every business we operate in.
Founded by Jamsetji Nusserwanji Tata in 1868 and headquartered in India, the Tata group is a global business conglomerate, operating in over 100 countries across 6 continents. From an early foray into steel and automobiles to staying abreast of the latest technologies, the Tata group today has a strong presence across diverse industries, such as agrochemicals, automotive, chemicals, construction, finance, consumer products, and hospitality.
There are 29 publicly listed Tata enterprises, which include Tata Steel, Tata Motors, Tata Consultancy Services, Tata Power, Tata Chemicals, Tata Global Beverages, Tata Teleservices, Titan, Tata Communications and Indian Hotels. The group has a combined market capitalisation of around $123 bn (as on March 31, 2020).
Tata companies have made significant investments in different geographies. With our ever-increasing global footprint, we are now reaching out to customers in the farthest corners of the world.
We touch upon lives across the globe and have an employee strength of over 750,000, representing the rock-solid company that we are.
Several Tata group companies have achieved leadership positions globally in their areas of operation.
The Tata group's value system directs the growth and business of all sectors we operate in. Two-thirds of the equity of Tata Sons, the Tata group holding company, is held by philanthropic Trusts that have created national institutions for science and technology, medical research, social studies, and the performing arts.
Cutting-edge innovation, a stringent focus on quality, sustainable operations and business excellence are the hallmarks of the trust the Tata name is best recognised for.
Tata Steel, with an annual crude steel capacity of 34 million tonnes per annum (MnTPA), is one of the world's most geographically diversified steel producers. We are one of the few steel operations that are fully integrated – from mining to the manufacturing and marketing of finished products.
Continuous improvement in our product and service portfolio, along with success in value creating initiatives for customers, allows us to serve global growth markets. Today, we have our operations and commercial presence across the world. A Great Place to Work-CertifiedTM organisation, Tata Steel, together with its subsidiaries, associates, and joint ventures, is spread across five continents with an employee base of over 65,000. The group recorded a consolidated turnover of INR 1,56,294 crore in the financial year ending March 31, 2021.
Our Raw Material operations are spread across India and Canada which help us to be self-sufficient in steel production. Key manufacturing functions are performed by the raw materials and iron-making groups, while Shared Services provides maintenance support for a smooth production. In India, our downstream business activities are structured into strategic business units such as Ferro-Alloys and Minerals, Tubes, Wires, Bearings, Agrico, Industrial By-products Management & Tata Growth Shop.
Tata Steel was established in India as Asia's first integrated private steel company in 1907. With this, we also developed India's first industrial city at Jamshedpur. Today, we are among the leading global steel companies. Our annual crude steel capacity across Indian operations is nearly 20 MnTPA and we registered a turnover of INR 91,037 crore in FY21. We also set up our second greenfield steel plant of 3 MnTPA in the eastern state of Odisha in 2016; the expansion to 8 MnTPA in currently underway. We possess and operate captive mines that help us maintain cost- competitiveness and production efficiencies through an uninterrupted supply of raw material. This is how we ensure that we remain the lowest cost producer of steel in Asia.
The Indian product portfolio is divided into four segments – Automotive and Special Products; Industrial Products, Projects and Exports; Branded Products and Retail; and Services and Solutions. The Company supplies hot-rolled, cold-rolled, galvanised, branded solution offerings and more.
More information on T V Narendran (CEO & MD, Tata Steel Limited): https://www.tatasteeleurope.com/about-us/organisation + https://www.linkedin.com/in/t-v-narendran-5b531816/
More information on Anil Jhanji (Chief Commercial Officer, Tata Steel Limited): https://www.linkedin.com/in/anil-jhanji-a402021/
More information on Optemis® Carbon Lite steel by Tata Steel: https://www.tatasteeleurope.com/sustainability/green-steel-solutions/optemis/optemis-carbon-lite + Optemis Carbon Lite is a fully certified in-setting scheme verified by leading assurance organisation DNV. Our continued commitment to decarbonisation means reductions in CO2 emissions can now be passed on to our customers, enabling them to achieve immediate Scope 3 emission savings.
Revenues generated from the sale of Optemis Carbon Lite certificates are used to fund additional projects, generating further CO2 savings to be verified by DNV and speeding up our decarbonisation efforts.
By buying Optemis Carbon Lite from Tata Steel UK  we, and our customers, will be actively contributing to a reduction in atmospheric CO2.
More information on DNV: https://www.dnv.com/ + We are the independent expert in assurance and risk management. Driven by our purpose, to safeguard life, property and the environment, we empower our customers and their stakeholders with facts and reliable insights so that critical decisions can be made with confidence. As a trusted voice for many of the world's most successful organizations, we use our knowledge to advance safety and performance, set industry benchmarks, and inspire and invent solutions to tackle global transformations.
We are the world's leading classification society and a recognized advisor for the maritime industry. We deliver world-renowned testing, certification and technical advisory services to the energy value chain including renewables, oil and gas, and energy management. We are one of the world's leading certification bodies, helping businesses assure the performance of their organizations, products, people, facilities and supply chains.
We are also a world-leading provider of digital solutions for managing risk and improving safety and asset performance for ships, pipelines, processing plants, offshore structures, electric grids, smart cities and more. Our open industry assurance platform Veracity, cyber security and software solutions support business-critical activities across many industries, including maritime, energy and healthcare.
EMR Additional Notes:
Carbon Dioxide (CO2):

Primary greenhouse gas emitted through human activities. Carbon dioxide enters the atmosphere through burning fossil fuels (coal, natural gas, and oil), solid waste, trees and other biological materials, and also as a result of certain chemical reactions (e.g., manufacture of cement). Carbon dioxide is removed from the atmosphere (or "sequestered") when it is absorbed by plants as part of the biological carbon cycle.

Decarbonization:

Reduction of carbon dioxide emissions through the use of low carbon power sources, achieving a lower output of greenhouse gasses into the atmosphere.
Global Warming: Global warming is the long-term heating of Earth's climate system observed since the pre-industrial period (between 1850 and 1900) due to human activities, primarily fossil fuel burning, which increases heat-trapping greenhouse gas levels in Earth's atmosphere.
Global Warming potential (GWP): 

The heat absorbed by any greenhouse gas in the atmosphere, as a multiple of the heat that would be absorbed by the same mass of carbon dioxide(CO2). GWP is 1 for CO2. For other gases it depends on the gas and the time frame.
Carbon dioxide equivalent (CO2e or CO2eq or CO2-e) is calculated from GWP. For any gas, it is the mass of CO2 which would warm the earth as much as the mass of that gas. Thus it provides a common scale for measuring the climate effects of different gases. It is calculated as GWP times mass of the other gas. For example, if a gas has GWP of 100, two tonnes of the gas have CO2e of 200 tonnes.
GWP was developed to allow comparisons of the global warming impacts of different gases.

Greenhouse Gas (GHG):

A greenhouse gas is any gaseous compound in the atmosphere that is capable of absorbing infrared radiation, thereby trapping and holding heat in the atmosphere. By increasing the heat in the atmosphere, greenhouse gases are responsible for the greenhouse effect, which ultimately leads to global warming.
The main gases responsible for the greenhouse effect include carbon dioxide, methane, nitrous oxide, and water vapor (which all occur naturally), and fluorinated gases (which are synthetic).
Hydrofluorocarbons (HFC):

Hydrofluorocarbons (HFCs) are a group of industrial chemicals primarily used for cooling and refrigeration. HFCs were developed to replace stratospheric ozone-depleting substances that are currently being phased out under the Montreal Protocol on Substances that Deplete the Ozone Layer.
Many HFCs are very powerful greenhouse gases and a substantial number are short-lived climate pollutants with a lifetime of between 15 and 29 years in the atmosphere.