Niedax – ELECRAMA: Flagship of the Indian Electrical Industry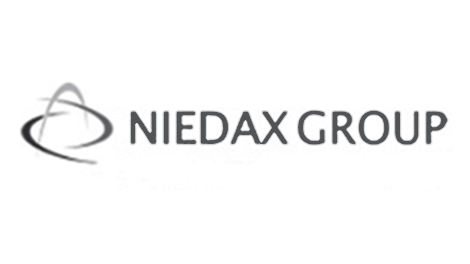 Niedax India will be at ELECRAMA from February 18 to February 22, 2023
The ELECRAMA exhibition in Greater Noida, India, is the flagship event of the Indian electronics industry and is the largest gathering of the power sector in the region.
At ELECRAMA, companies exhibit the full spectrum of electrical solutions. The show not only showcases new equipment and technologies, but also provides a platform for power thought leaders – from technical conferences and one-on-one meetings to industry summits.
Facts and figures
Buyers and project managers from around 70 countries – including South East Asia, the Middle East and South America
110,000 square meters of exhibition space and 10 country pavilions
More than 1,000 exhibitors showcasing new technologies
350,000 visitors expected
More than 15,000 appointments have already been made between suppliers and prospects
India – a market of the future
India wants to save one billion tons of CO² by 2030 and become carbon neutral by 2070. This will require a massive expansion of its electrical infrastructure. This year's top topics include future technologies, rail electrification and opportunities for carbon neutrality.
As a result, experts see huge opportunities for cable laying, switchgear, photovoltaics, power electronics, electric vehicles, charging infrastructure, the battery storage value chain and hydrogen. Strengthening supply chains, smart cities, artificial intelligence and the Internet of Things (IoT) will also be top themes at the show.
In line with this, the Niedax India team will be showcasing exclusive projects in tunnels, solar, nuclear, automotive and infrastructure and is looking forward to your visit!
Are you interested?
Then visit us at ELECRAMA, India Expo Mart, Greater Noida, India, from February 18 to 22, 2023 in Hall 10 at booth H10F4.
Click here for more information.
EMR Analysis
More information on Niedax Group: https://www.niedax-group.com/en/ + Niedax has been synonymous with modern electrical systems for over 100 years. Decades of experience and pioneering innovation have created the international NIEDAX GROUP. Based in Linz am Rhein, Germany, the Group currently employs a workforce of around 2500 across the globe. Niedax, Kleinhuis, Fintech, Rico, Ebo, Niedax France, Gouda Holland, ACS, Femi-CZ, For M.A., SteelLine, BVS, Excel Electrics and MOPA: these are the brands that form the NIEDAX GROUP, a strong group of companies that is now a global leader in the design and manufacture of cable support systems. A portfolio of over 50,000 products covers all your cable management systems in projects including industrial plants, office complexes, power plants and sports arenas.
Continuity defines both the company history of the NIEDAX GROUP and its management structure. Bruno Reufels has headed the group as Chairman of the Board of Management and Global Head of Sales for more than 25 years, with great success. Mr. Alexander Horn, grandson of the founding father Fritz Axthelm, is responsible in his function as managing director for the technology and development division. Together, Mr. Bruno Reufels and Mr. Alexander Horn form the dual leadership of the NIEDAX GROUP.
More information on Bruno Reufels (Chairman of the Management Board & CEO, Niedax Group): See the full profile on EMR Executive Services
More information on Alexander Horn (Managing Director, Technology, Research & Development + Member of the Executive Board, Niedax Group): See the full profile on EMR Executive Services
More information on Adrian Lowiner (Managing Director, International Sales and Project Management, Niedax Group + Member of the Executive Board, Niedax Group): See the full profile on EMR Executive Services
More information on Marina Reufels (Managing Director, Niedax Digital + Member of the Executive Board, Niedax Group): See the full profile on EMR Executive Services
More information on Philipp Stiehl (Head of Distribution Business, Niedax Group Outside Germany + Member of the Executive Board, Niedax Group): See the full profile on EMR Executive Services
More information on Cornelius Steele (Managing Director, Niedax Group's North American and African Companies and Head of the Global Team + Member of the Executive Board, Niedax Group): See the full profile on EMR Executive Services
More information on ELECRAMA (18-22 February, 2023 – India Export Mart, Greater Noida, NCR, India): https://elecrama.com/ + ELECRAMA is the flagship showcase of the Indian Electrical Industry ecosystem and the largest standalone show in the electrical and allied equipment industry and also the largest T&D show in the world.  It is a gateway to the world of electricity.
ELECRAMA brings together the complete spectrum of solutions that powers the planet from source to socket and everything in between. Featuring not just equipment & technology, but thought leadership platforms for everything electric – from technical conclaves to industry summits.
More information on Jitendra Kumar Agarwal (Chairman, Elecrama): https://www.linkedin.com/in/jitendra-kumar-agarwal-8680606/
EMR Additional Notes:
Carbon Dioxide (CO2):

Primary greenhouse gas emitted through human activities. Carbon dioxide enters the atmosphere through burning fossil fuels (coal, natural gas, and oil), solid waste, trees and other biological materials, and also as a result of certain chemical reactions (e.g., manufacture of cement). Carbon dioxide is removed from the atmosphere (or "sequestered") when it is absorbed by plants as part of the biological carbon cycle.

Decarbonization:

Reduction of carbon dioxide emissions through the use of low carbon power sources, achieving a lower output of greenhouse gasses into the atmosphere.
AI – Artificial Intelligence:

https://searchenterpriseai.techtarget.com/definition/AI-Artificial-Intelligence  +

Artificial intelligence is the simulation of human intelligence processes by machines, especially computer systems. Specific applications of AI include expert systems, natural language processing, speech recognition and machine vision.
As the hype around AI has accelerated, vendors have been scrambling to promote how their products and services use AI. Often what they refer to as AI is simply one component of AI, such as machine learning. AI requires a foundation of specialized hardware and software for writing and training machine learning algorithms. No one programming language is synonymous with AI, but a few, including Python, R and Java, are popular.
In general, AI systems work by ingesting large amounts of labeled training data, analyzing the data for correlations and patterns, and using these patterns to make predictions about future states. In this way, a chatbot that is fed examples of text chats can learn to produce lifelike exchanges with people, or an image recognition tool can learn to identify and describe objects in images by reviewing millions of examples.
AI programming focuses on three cognitive skills: learning, reasoning and self-correction.
What are the 4 types of artificial intelligence?

Type 1: Reactive machines. These AI systems have no memory and are task specific. An example is Deep Blue, the IBM chess program that beat Garry Kasparov in the 1990s. Deep Blue can identify pieces on the chessboard and make predictions, but because it has no memory, it cannot use past experiences to inform future ones.
Type 2: Limited memory. These AI systems have memory, so they can use past experiences to inform future decisions. Some of the decision-making functions in self-driving cars are designed this way.
Type 3: Theory of mind. Theory of mind is a psychology term. When applied to AI, it means that the system would have the social intelligence to understand emotions. This type of AI will be able to infer human intentions and predict behavior, a necessary skill for AI systems to become integral members of human teams.
Type 4: Self-awareness. In this category, AI systems have a sense of self, which gives them consciousness. Machines with self-awareness understand their own current state. This type of AI does not yet exist.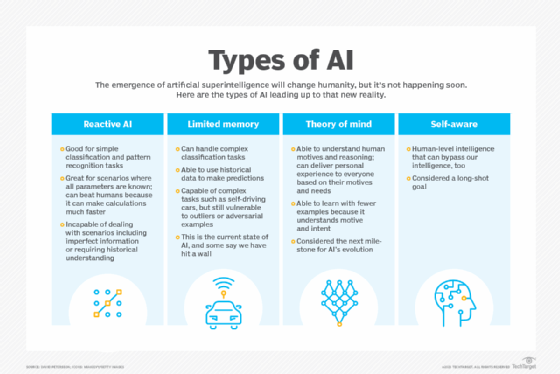 IT & OT:

Information technology (IT) refers to anything related to computer technology, including hardware and software. Your email, for example, falls under the IT umbrella. This form of technology is less common in industrial settings, but often constitutes the technological backbone of most organizations and companies. These devices and programs have little autonomy and are updated frequently.
Operational technology (OT) refers to the hardware and software used to change, monitor, or control physical devices, processes, and events within a company or organization. This form of technology is most commonly used in industrial settings, and the devices this technology refers to typically have more autonomy than information technology devices or programs. Examples of OT include SCADA (Supervisory Control and Data Acquisition).
=> The main difference between OT and IT devices is that OT devices control the physical world, while IT systems manage data.
IOT (The Internet Of Things): 

The Internet of Things (IoT) refers to a system of interrelated, internet-connected objects that are able to collect and transfer data over a wireless network without human intervention.
Describes the network of physical objects—"things"—that are embedded with sensors, software, and other technologies for the purpose of connecting and exchanging data with other devices and systems over the internet.
The Most Popular IoT Devices are:

Smart watches are the most popular IoT devices. …
Gaming consoles. …
Smart TV sets and content streaming devices. …
Voice control devices. …
Printers. …
Cameras. …
Lighting appliances. …
Smart thermostats.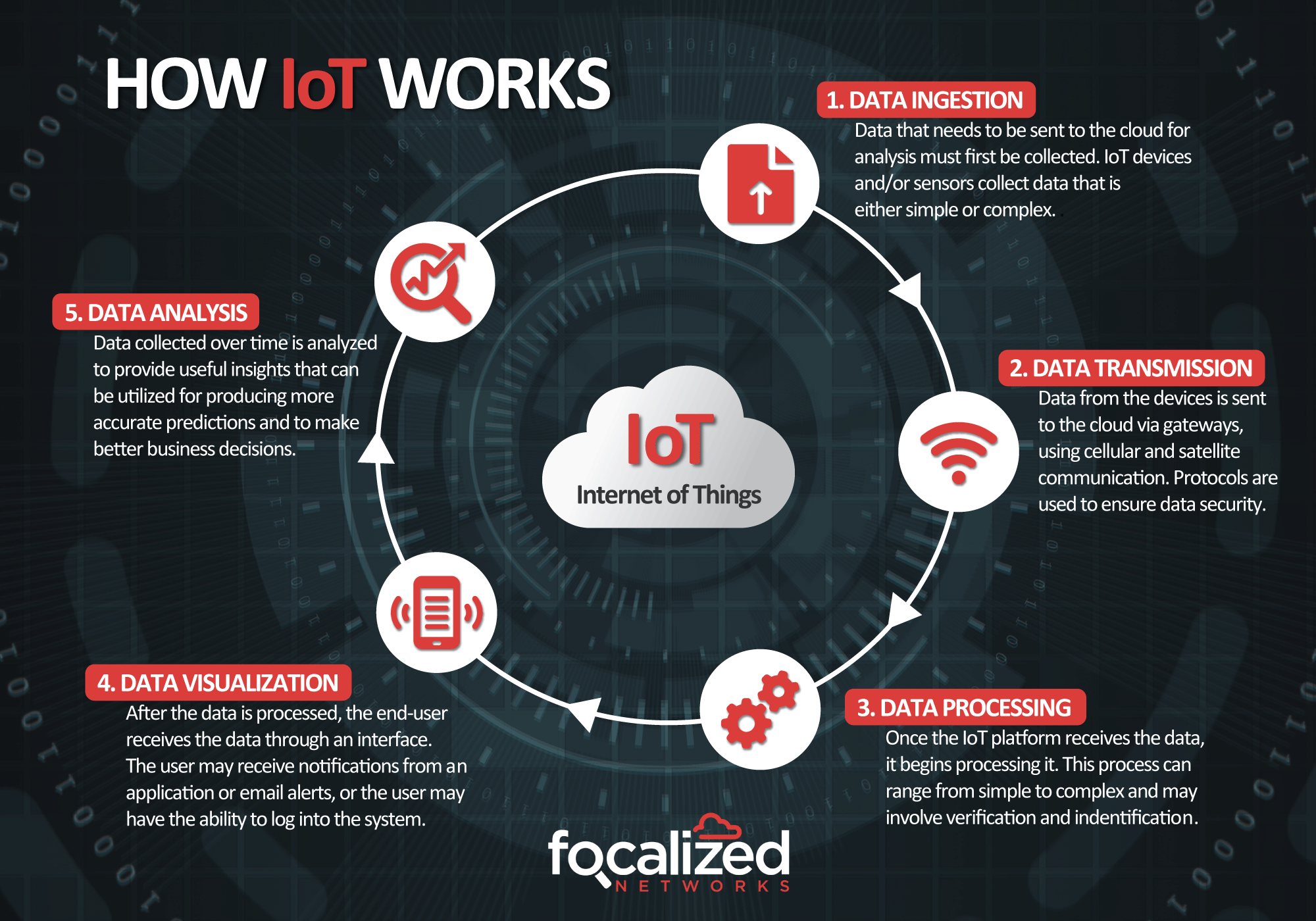 Industrial IoT Solutions:

Industrial IoT (IIoT) involves collecting and analyzing sensor-generated data to support equipment monitoring and maintenance, production process analytics and control, and more. In manufacturing IT since 1989, ScienceSoft offers IIoT consulting and development to create secure IIoT solutions.