Mersen – Mersen officially opens new manufacturing Facility in Columbia, TN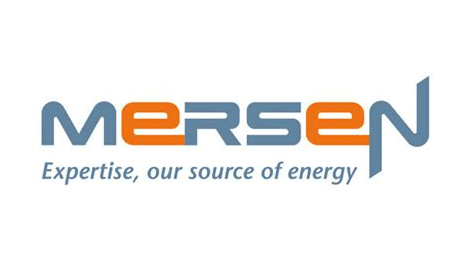 The global leader invested $70 million in the Tennessee facility to further advance their customers' green technology innovations in the U.S.
Further graphite production capacities scheduled as part of the Group's 2027 plan
Start-up of isostatic graphite production, mainly for the semiconductor market
Columbia, TN – July 11, 2023 – Mersen, a global expert in electrical power and advanced materials, has officially opened its new manufacturing facility, located at 795 Santa Fe Pike in Columbia, TN.  The Maury County facility will be the global manufacturer's 10th U.S. location.
Mersen has invested $70 million in the Tennessee facility and plans to invest more over the next 1-3 years including $25 – $30million in 2023 and has hired nearly 100 employees from the region, with plans to hire 50 more in the next 12 months.
The Columbia, TN location is considered a multi-activity center of excellence that will strengthen our industrial capabilities and allow us to ramp-up several high-growth markets like solar power and electronics.  This location will focus on the manufacturing of extruded graphite, insulation felt and isostatic graphite that will be used for green technology products used in solar panels, semiconductors and electric vehicles.
Mersen – Columbia site – Tennessee, United States
"I am thrilled to join Columbia in welcoming Mersen to Maury County," said Tennessee Congressman Andy Ogles. "Their investment in our community, from repurposing a local facility to creating jobs for Tennesseans, is inspiring. I look forward to seeing its continued growth going forward. Manufacturing plays an integral part in the lives of so many of us. I trust that Mersen and its innovative technology will bring countless opportunities to Middle Tennessee in the years to come."
The Mersen team strategically renovated the industrial site that was once home to Union Carbide and Graftech Advanced Graphite.  After acquiring the plant in July 2019, Mersen has invested millions to reshape, rehabilitate and re-industrialize the site to match the group's industrial requirements and accelerate its development in its key markets. The plant will quickly have the capacity to produce 4,000 tons of extruded graphite, 120 tons of insulation felt, and 2,000 tons of isostatic graphite per year.
As part of its 2027 strategic plan, Mersen will further increase its isostatic graphite manufacturing capacities to reach 4,000 tons at Columbia by the end of 2024. The Columbia site's configuration means it could accommodate other production capacities in the future, if required.
"I'm very proud of what has been achieved at the Columbia site in the last four years, in terms of redevelopment, investment, production start-up and more," said Luc Themelin, Mersen's Chief Executive Officer.  "It is now a key site in our manufacturing base, bringing together production capacities for extruded graphite, isostatic graphite and insulating felts. This important strengthening of our industrial capacities will enable us to achieve the objectives of our 2027 plan, and we intend to continue investing to meet increased demand from sustainable development markets, particularly the SiC semiconductor market."
From left to right: Luc Themelin, Mersen's CEO, Andy Ogles, Tennessee Congressman, Eric Guajioty, Executive VP, Advanced Materials and Lance Butler, Columbia's General Manager
EMR Analysis
More information on Mersen: See the full profile on EMR Executive Service
More information on Luc Themelin (Chief Executive Officer, Mersen): See the full profile on EMR Executive Services
More information on Eric Guajioty (Group Vice President, Advanced Materials, Mersen): See the full profile on EMR Executive Services
More information on Lance Butler (Columbia's General Manager, Mersen USA GSTN Corporation, Mersen): See the full profile on EMR Executive Services
More information on Andy Ogles (Tennessee Congressman, United States of America): https://ogles.house.gov/
EMR Additional Notes:
Semiconductor:

Solid substance that has a conductivity between that of an insulator and that of most metals, either due to the addition of an impurity or because of temperature effects. Devices made of semiconductors, notably silicon, are essential components of most electronic circuits. Some examples of semiconductors are silicon, germanium, gallium arsenide, and elements near the so-called "metalloid staircase" on the periodic table. … Silicon is a critical element for fabricating most electronic circuits.

SiC Semi-Conductor Technology:

Silicon carbide (SiC), a semiconductor compound consisting of silicon (Si) and carbon (C), belongs to the wide bandgap (WBG) family of materials. Its physical bond is very strong, giving the semiconductor a high mechanical, chemical and thermal stability.
Silicon carbide, exceedingly hard, synthetically produced crystalline compound of silicon and carbon. Its chemical formula is SiC. Since the late 19th century silicon carbide has been an important material for sandpapers, grinding wheels, and cutting tools.
Since there is less energy to dissipate, an SiC device can switch at higher frequencies and improve efficiency. The higher efficiency, smaller size and lower weight of SiC can create a higher-rated solution or a smaller design with reduced cooling requirements.
Graphite:

Mineral composed of stacked sheets of carbon atoms with a hexagonal crystal structure. It is the most stable form of pure carbon under standard conditions. Graphite is very soft, has a low specific gravity, is relatively non-reactive, and has high electrical and thermal conductivity.
Natural graphite is mostly used for refractories, batteries, steelmaking, expanded graphite, brake linings, foundry facings, and lubricants.
They are well-known for their excellent thermal shock resistance, heat resistance, high corrosion resistance, non-reactivity, and ability to age well (because graphite is a non-fatiguing material).
Synthetic graphite is made by heating a variety of carbon containing substances (including petrochemicals, pitch, coal or acetylene). When super-heated (to temperatures higher than 4000°C) the carbon atoms rearrange themselves into layers to form graphite.

Isostatic Graphite:

Isostatic graphite is an ultra-fine grain graphite used for applications where the mechanical properties of other fine grain graphites are inadequate. The term "isostatic graphite" stands for isostatically molded graphite.
In contrast to isostatic graphite, extruded graphite has a coarser grain size and a lower strength but higher thermal and electrical conductivity. Vibration molded graphite is characterized by a homogeneous structure and typically a medium grain size.