ITSME – Schneider Electric helps customers optimise and simplify their motor management solution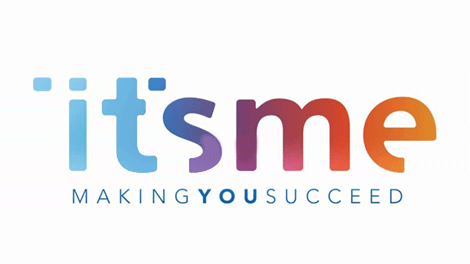 With the right selection of tools, you ensure optimal motor availability and productivity and therefore machines. 
Schneider Electric helps machine builders and industrial end-users with the right offer, competences and know-how, helping you build the most sustainable motor control solution for your customers.
Schneider Electric introduces the next generation of motor starters with the new TeSys Giga series
Schneider Electric is proud to present a new TeSys series. The TeSys Giga Motor starters consisting of contactors and electronic thermal relays. The focus is on large calibre motors and power switching applications. The TeSys Giga Motor starters come with a very compact and modular design and feature full protection and diagnostic functions for 115-800A 3 pole & 4 pole contactors and 28-630A electronic thermal protection relays.
You will immediately recognise the new TeSys Giga series by its new, compact and modern design. Key features at a glance:
Smart & efficient: Smart design with accurate maintenance prediction and also IIot-connecitvity ready.
Simple: A modular design makes the TeSys Giga simple and easy to design, select, install, maintain and replace
Reliable: New security and modular features of the TeSys Giga ensure a safe user experience.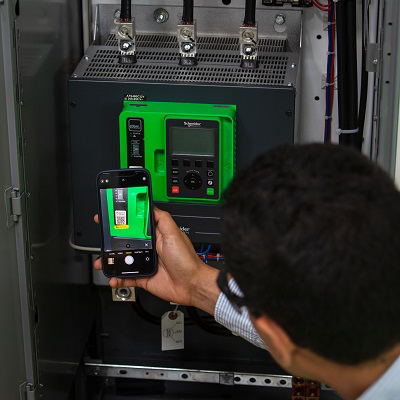 The Altivar ATS480 Soft Starter the latest evolution in the field of soft starters!
The ATS480 realises a more complete service-oriented offering for motor control and protection solutions. The ATS480 builds on the proven robustness and success of its predecessor, the ATS48. The ATS480 supports processes in various industries such as water and wastewater, food industry, energy and chemicals.
The ATS480 provides robust performance, torque control and ease of use to deliver the following benefits to its users:
Save valuable engineering time: The integration of the Altivar Softstarter ATS480 into EcoStruxure apps and software for automation drastically simplifies design and implementation.
Integrated security features: Enhanced cyber security features to accelerate the industrial world's transition to secure automation architectures.
High performance: With the Torque Control System (TCS) for controlled start-up and deceleration.
Reliability: Robust and reliable for the most demanding applications in harsh environments. Less downtime in operations and more flexibility and optimisations in diversions.
Now temporarily promotional TeSys Giga and ATS480 starter kits
Special starter kits have been put together for both the TeSys Giga and the ATS480 to get acquainted with these new products in an attractive way. With the purchase of a TeSys Giga motor starter, you now temporarily receive a FREE RWD module card for remote indication of contact wear.
With the purchase of the ATS480, you will receive the Ethernet/IP, ModbusTCP communication module for FREE in order to generate additional data from the softstarter.
EMR Analysis
More information on itsme (Industrial Technology and Supply for Mechanical and Electrical): http://www.itsme.eu/en + itsme is the family name of an international group of six companies that offer innovative technology and distribution to industrial end users, machine manufacturers, panel builders and industrial installers.
itsme (industrial technology and supply for mechanical and electrical) is aimed at industrial end-users, machine and module contractors, and technical installers with a diverse range of electrotechnical and mechanical products and solutions.
The company started as ES Elektro and took over Hoogland-Mennens in 2008. At the start of 2010, the German company Schultz+Erbse was taken over by itsme and in April 2011 itsme started trading under the name Breemes in Belgium. In Romania, itsme is active under the name ES Elektro Romania and on 1 January 2014 itsme's Spanish branch, Elektres, opened its doors.
itsme has an annual turnover of 205 million euros and has 550 employees at 21 branches in the Netherlands, Belgium, Germany, Romania and Spain.
Companies part of itsme:
More information on Henk Oude Brunink (Chairman of the Board, itsme): See the full profile on EMR Executive Services
More information on Schneider Electric: See full profile on EMR Executive Services
More information on Jean-Pascal Tricoire (Chairman and CEO, Schneider Electric): See the full profile on EMR Executive Services
More information on TeSys Giga series by Schneider Electric: https://www.se.com/ww/en/product-range/26322422-tesys-giga-contactors/ + Contactors to control motors up to 800 A (450 kW / 400V) or switch power up to 1050A.
Part of TeSys, TeSys Giga is the range of high current contactors from 115 A to 800 A for AC-3 (motor) applications and from 250 A to 1050 A for AC-1 (resistive) applications.
More information on Altivar by Schneider Electric: https://www.se.com/ww/en/work/products/master-ranges/altivar/ + Altivar variable speed drives and soft starters deliver top performance in motor control applications across machines, processes, and buildings. With built-in intelligence, these smart connected devices gather and share data to improve operational efficiency, safety, and reliability.
More information on RM AirSeT Medium-Voltage Switchgear: https://www.se.com/ww/en/product-range/21830554-rm-airset/#overview + SF6-free GIS ring main unit (RMU) and modular MV switchgear for secondary distribution applications up to 24kV.
More information on EcoStruxure™ by Schneider Electric: https://www.se.com/ww/en/work/campaign/innovation/overview.jsp + EcoStruxure™ is our open, interoperable, IoT-enabled system architecture and platform. EcoStruxure delivers enhanced value around safety, reliability, efficiency, sustainability, and connectivity for our customers. EcoStruxure leverages advancements in IoT, mobility, sensing, cloud, analytics, and cybersecurity to deliver Innovation at Every Level. This includes Connected Products, Edge Control, and Apps, Analytics & Services, supported by Customer Lifecycle Software. EcoStruxure™ has been deployed in almost 500,000 sites with the support of 20,000+ developers, 650,000 service providers and partners, 3,000 utilities, and connects over 2 million assets under management.
From energy and sustainability consulting to optimizing the life cycle of your operational systems, we have worldwide services to meet your business needs. As a customer-centric organization, Schneider Electric is your trusted advisor to help increase asset reliability, improve total cost of ownership, and drive your enterprise's digital transformation towards sustainability, efficiency and safety.
EMR Additional Notes:
Low Voltage (LV):

The International Electrotechnical Commission (IEC) defines supply system low voltage as voltage in the range 50–1000 V AC or 120–1500 V DC.

Medium Voltage (MV):

Medium-voltage circuit breakers rated between 1 and 35/72 kV.

High Voltage (HV):

The International Electrotechnical Commission define high voltage as above 1000 V for alternating current, and at least 1500 V for direct current.

Super High-Voltage: 
Ultra High-Voltage: 
Switchgears:

Performs the function of controlling and metering the flow of electrical power in addiction to acting as interrupting and switching devices that protects the equipment from damage arising out of electrical fluctuations.

Circuit Breakers:

Mechanical electrical switch to protect electrical circuit against short circuit or overload.

Fuses:

Single time mechanical circuit interruption in an over-current situation through fusion of a graded electrical conductor. Employed in 30KV to 100KV range.

ACB: 

Air Circuit Breakers: Uses air as insulating medium.

VCB: 

Vacuum Circuit Breakers: Vacuum is used as the means to protect circuit breakers.

GIS: 

Gas Insulated Switchgears: All working components assembled under SF6 (Sulfur Hexafluoride HV Switchgears) gas-tight casing.

OCB: 

Oil Circuit Breakers: Vapors a portion of oil to blast a jet of oil through the arc.

Hybrid: 

Combines Air-insulated and SF6 Gas-insulated technologies.

MCB: 

Miniature Circuit Breakers: employed in domestic households to safeguard against overload. Rated current max. 100 A.

RCCB: 

Residual Current Circuit Breakers: to safeguard against electrical shock arising out of indirect contact and includes the detection of residual current such as earth leakage.

MCCB: 

Molded Case Circuit Breakers: Incorporates insulating material in the form of molded casing within circuit breaker. Rated current up to 2,500 A.

Disconnectors: 

Automatic switching device that offers specific isolating distance on the basis of specific requirements.

Contactors: 

Works alike high-current switching systems but at higher voltage rates. Contactors can however not be utilized as disconnecting switches. Contactors are employed in 30KV to 100KV range.
Relay:

Relays are electrically operated switches that open and close the circuits by receiving electrical signals from outside sources.
Relays are the switches which aim at closing and opening the circuits electronically as well as electromechanically. It controls the opening and closing of the circuit contacts of an electronic circuit.

Reed Relay:

A reed relay is a type of relay that uses an electromagnet to control one or more reed switches. The contacts are of magnetic material and the electromagnet acts directly on them without requiring an armature to move them. Sealed in a long, narrow glass tube, the contacts are protected from corrosion.

Monitoring Relay:

A Monitoring Relay is a protective control device. The basic functions are to receive input signals, monitor and determine them, and output an alarm signal if a set value (threshold) is reached.
To determine if a phase imbalance is present, the relay monitors each of the phases to detect when the voltage in any one phase falls by a predetermined amount below the average of all three phases. Similarly, if complete loss of a phase is detected, the relay will trip and disconnect power from the motor.
Three-Phase Monitor Relays continuously monitor and detect voltage faults to protect equipment in three-phase systems. These relays retain indication and continue monitoring even with a lost phase.

Control Relay:

A control relay is an electrical component that opens or closes a switch in order to allow current to flow through a conducting coil, with the coil not coming into direct contact with the switch. Control relays are electromagnetic devices that typically control the power flow in circuits.

Sequence Control Relay:

A relay which protects the electrical system from negative sequence component is called a negative sequence relay or unbalance phase relay. The negative sequence relay protects the generator and motor from the unbalanced load which mainly occurs because of the phase-to-phase faults.
The phase sequence relay/guard measure three phase AC supplies for correct rotation and will activate and relay output for any fault. A wrong phase sequence will cause fault in rotation or motors and pumps and can cause problems and damages. The units also monitor for phase failure and phase imbalance in the supply.

PCB Terminal Block Relay: 

A printed circuit board, or PCB, is used to mechanically support and electrically connect electronic components using conductive pathways, tracks or signal traces etched from copper sheets laminated onto a non-conductive substrate.
The Printed Circuit Board (PCB) is very important in all electronic gadgets, which are used either for domestic use or for industrial purposes. PCB design services are used to design the electronic circuits. Apart from electrically connecting, it also gives mechanical support to the electrical components.
Relays are electric switches that use electromagnetism to convert small electrical stimuli into larger currents. These conversions occur when electrical inputs activate electromagnets to either form or break existing circuits.
A simple electromagnetic relay is made up of a solenoid, which is wire coiled around a soft iron core, an iron yoke that provides a low reluctance path for magnetic flux, a movable iron frame, and one or more sets of contacts. The three main types of relays are electromechanical, solid-state, and reed.
The electromagnetic PCB relay works by applying an electromagnetic field when power gets applied to the coil, subsequently causing the movement of the armature and making the contacts either close or open. PCB relays get classified by construction, mounting type, or function.
PCB terminal block connectors are designed using one-piece board mount terminal blocks and two-piece plug connectors with mating right angle and straight shrouded headers. Assembly is made simpler due to our built-in interlocks on the modular housing types.
PCB terminal blocks enable the easy and safe transmission of signals, data, and power to the PCB. They are suitable for a variety of applications in numerous industries, markets, and for Industry 4.0 applications.

Programmable Logic Relay:

Programmable Logic Relays are mainly used in light industry where only a few points of I/O are needed, and cost efficiency is key. Programmable relays can be modified faster and easier than their PLC counterparts because they typically function as relays and timers only.

Power Relay:

Power relays open or close a circuit by using an electromagnetic coil for seamless power flow. These cost-efficient relays are manufactured with an armature, spring, and one or several contacts. If the relay is meant to be normally open (NO), when power is applied the electromagnet attracts the armature. These switches are useful in audio amplification and telephone systems. You can also use them in automotive electronics and computer systems. The objective is to relay any signal from one circuit to another.
Variable Speed Drive (VSD) – Variable Frequency Drive (VFD) – Inverter:

A variable speed drive is a device used in electromechanical drives to control the speed and torque of an AC motor by adjusting the motor's input frequency and voltage. Variable speed drives may be either electric, hydraulic, mechanical or even electronic.
A Variable Frequency Drive (VFD) is a type of motor controller that drives an electric motor by varying the frequency and voltage supplied to the electric motor. Frequency (or hertz) is directly related to the motor's speed (RPMs). In other words, the faster the frequency, the faster the RPMs go.

Other names for a VFD are variable speed drive, adjustable speed drive, adjustable frequency drive, AC drive, microdrive, and inverter.

An Inverter is a device that converts direct current electricity to alternating current either for stand-alone systems or to supply power to an electricity grid.

An inverter is one of the most important pieces of equipment in a solar energy system. It's a device that converts direct current (DC) electricity, which is what a solar panel generates, to alternating current (AC) electricity, which the electrical grid uses.
Most inverters are installed and used in conjunction with a battery bank of some sort – a common set up in off-grid solar installations.

=> A variable frequency drive (VFD) refers to AC drives only and a variable speed drive (VSD) refers to either AC Drives or DC Drives. VFDs vary the speed of an AC motor by varying the frequency to the motor. VSDs referring to DC motors vary the speed by varying the voltage to the motor.
Industrial IoT Solutions:

Industrial IoT (IIoT) involves collecting and analyzing sensor-generated data to support equipment monitoring and maintenance, production process analytics and control, and more. In manufacturing IT since 1989, ScienceSoft offers IIoT consulting and development to create secure IIoT solutions.
IT & OT:

Information technology (IT) refers to anything related to computer technology, including hardware and software. Your email, for example, falls under the IT umbrella. This form of technology is less common in industrial settings, but often constitutes the technological backbone of most organizations and companies. These devices and programs have little autonomy and are updated frequently.
Operational technology (OT) refers to the hardware and software used to change, monitor, or control physical devices, processes, and events within a company or organization. This form of technology is most commonly used in industrial settings, and the devices this technology refers to typically have more autonomy than information technology devices or programs. Examples of OT include SCADA (Supervisory Control and Data Acquisition).
=> The main difference between OT and IT devices is that OT devices control the physical world, while IT systems manage data.
Ethernet:

Ethernet is a family of wired computer networking technologies commonly used in local area networks, metropolitan area networks and wide area networks. It was commercially introduced in 1980 and first standardized in 1983 as IEEE 802.3.

Single Pair Ethernet (SPE):

Single Pair Ethernet cables are copper cables that only contain one twisted pair (single pair) that they use for data transmission, for example in industrial applications.
Describes the transmission of Ethernet over only one pair of twisted copper wires. In addition to data transmission via Ethernet, SPE also enables a simultaneous power supply of terminal devices via PoDL – Power over Data Line.
As its name suggests, Single Pair Ethernet (SPE) cabling uses only one pair of wires to transmit data, as opposed to the two pair that have long been standard in the majority of Ethernet cabling in use worldwide.

PoE (Power over Ethernet):

Power over Ethernet (PoE) is the process of sending electrical power and data over copper wire. The combination of data transmission along with power supplying hardware onto the same RJ45 Ethernet connector allows for the transmission of power over the network cabling.
As PoE technology has developed, the amount of power that can be sent over Ethernet cable has increased. IEEE-compliant PoE switches and injectors can output anywhere from 12 watts to over 70 watts of power per port.
Modbus Protocol:

Modbus is a data communication protocol that is based on a request-response model. Previously referred to as a master-slave protocol, the Modbus organization replaced the terms master and slave with server and client in 2020.
Modbus is used for transmitting information between devices that are connected to buses or networks over serial lines or Ethernet and, increasingly, using wireless.
Modbus is the most widely used network protocol in the industrial manufacturing sector. The most common use case is the communication between a human-machine interface (HMI) or supervisory control and data acquisition (SCADA) system and a sensor, programmable logic controller (PLC), or programmable automation controller (PAC). It provides a hardware-agnostic, cost-effective way to enable the interoperability of disparate automation equipment.
Modbus is popular because it is open source, simple to use, and used everywhere, making it a reliable solution for transferring discrete or analog I/O and register data between control devices.