Hikvision – Hikvision hosts 2022 Shaping Intelligence Summit looking into the future of AIoT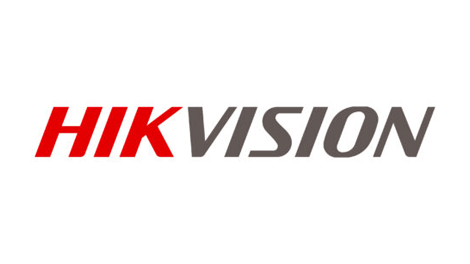 Hikvision hosted its 2022 Shaping Intelligence Summit in Bali, Indonesia, on November 29-30. 
During the summit, Hikvision, customers, technology and solution partners, and other industry leaders came together to look into the future of AIoT and explore paths to shared success.
"Right at the forefront of AI, IoT and other technologies, we see great opportunities for AIoT innovation and collaboration with partners to help public service organizations and enterprises with solutions that can optimize decision making and increase operational efficiency," said Keen Yao, Vice President of Hikvision, in his opening speech for the summit.
New approach to AIoT innovation, collaboration and openness
At the event, Hikvision outlined its new AIoT architecture with four layers of intelligence that include technologies, software and hardware products, open ecosystem collaboration, and AIoT applications and solutions.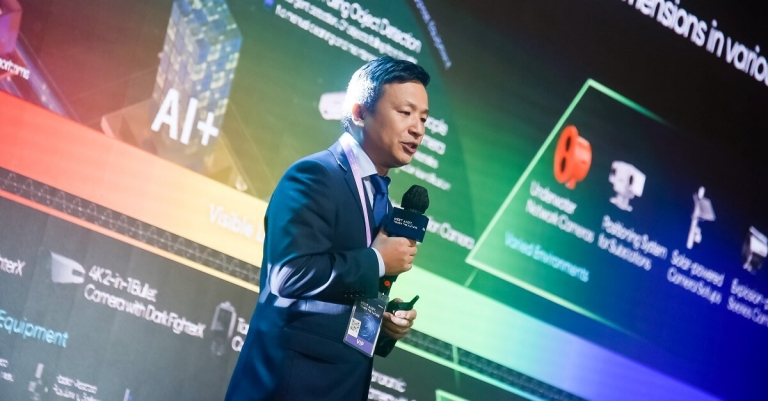 "Our approach to AIoT can be seen as a tree, where technology innovation is the tree's roots; that innovation nurtures AIoT hardware and software products in the trunk. The branches of the tree represent our open partner ecosystem and collaboration that enable the growth and delivery of intelligent applications, which are like the leaves and fruits of the tree," said Frank Zhang, Vice President of Hikvision. "We hope to better meet the needs of a fast-developing market together with our partners. Our customers can benefit from an easier path to AI adoption and success with the digital transformation of their operations."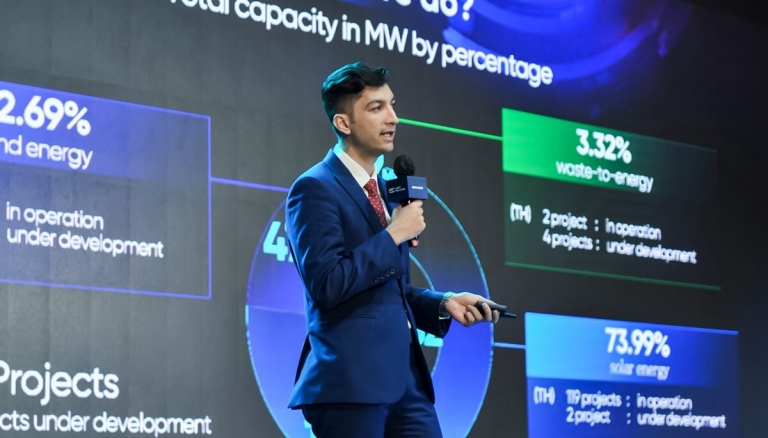 At the summit, several technology partners and customers presented how they leverage Hikvision's AIoT technologies and solutions to drive improved security and efficiency in their industries.
For instance, the Institute of Technical Education (ITE) in Singapore described their "Classroom of the Future," co-developed with Hikvision, which has enabled this digital transformation of classes and online sharing of educational material. And a large retail group who manages over 5,000 stores in Thailand shared with the audience how they adopted the HikCentral solution to centralize management, resulting in reduced costs and accelerated digitalization of their operations. Also, in the energy industry, a large solar plant in Vietnam has successfully used the security applications of an intelligent Hikvision video system with thermal cameras to achieve remote, round-the-clock operation in any weather.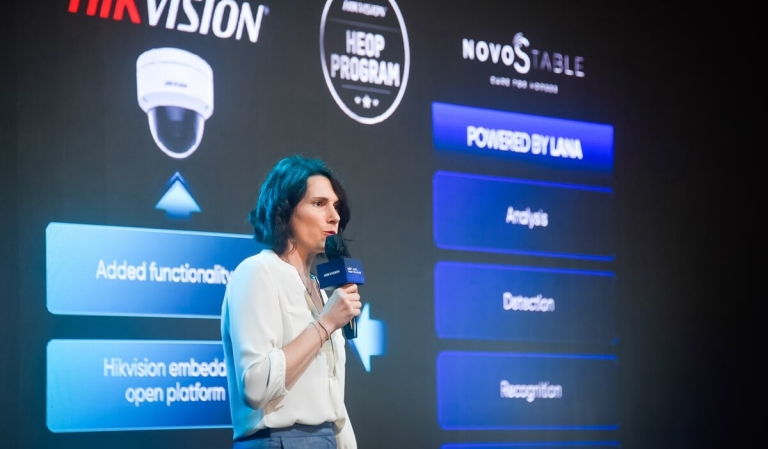 More news at the event came with the announcement of the release of the Hikvision Embedded Open Platform (HEOP) 2.0, which provides Hikvision partners with a unified, open environment for application operation and management that makes it possible to run third-party applications, algorithms, or components on Hikvision's AIoT hardware products.
Technologies for a better world
During the summit, Hikvision also launched its STAR program, which aims to partner with non-profit organizations around the world and explore innovative ways to enhance environmental conservation and cultural preservation through Hikvision's cutting-edge technologies.
"At Hikvision we are committed to the full integration of corporate social responsibility and a sustainable development philosophy in our business, and always believe that technological innovation can help create a better world," said Zhang.
The STAR program will be focused on three main areas: biodiversity monitoring and conservation, environmental monitoring and protection, and cultural heritage preservation.
More than 400 Hikvision partners from around the world participated in this summit and exchanged ideas, insights, experiences, and practices in AIoT technology megatrends.
Visit the 2022 Shaping Intelligence Summit website to learn more about the event.
EMR Analysis
More information on HikVision: https://www.hikvision.com/en/ + Hikvision is a world-leading IoT solution provider with video as its core competency. Featuring an extensive and highly skilled R&D workforce, Hikvision manufactures a full suite of comprehensive products and solutions for a broad range of vertical markets. In addition to the security industry, Hikvision extends its reach to smart home tech, industrial automation, and automotive electronics industries to achieve its long-term vision. Hikvision products also provide powerful business intelligence for end users, which can enable more efficient operations and greater commercial success.
Hikvision is an IoT solution provider with video as its core competency.
Hikvision now has more than 42,000 employees, over 20,000 of which are R&D engineers. The company annually invests over 10% of its annual sales revenue to research and development for continued product innovation. Hikvision has established a complete, multi-level R&D system that includes every operation from research to design, development, testing, technical support, and service. Centered at its Hangzhou headquarters, the R&D teams operate globally, including R&D centers in UK, Canada and Asia-Pacific region, as well as eight cities in China.
More information on Hu Yangzhong (President & CEO, Hikvision): See the full profile on EMR Executive services
More information on Keen Yao (Vice President, Hikvision): See the full profile on EMR Executive services
More information on Frank Zhang (Vice President, Hikvision): See the full profile on EMR Executive services
More information on the HikVision Shaping Intelligence Summit 2022: https://event.hikvision.com/shapingintelligence/global/ + The Shaping Intelligence Summit is the annual event where Hikvision and technology partners, systems integrators, scholars, and industry leaders come together to look into the future of the security industry and explore paths to shared success.
Hikvision sees AIoT as a technological megatrend that is approaching everyone with an ocean of opportunities. Thus we designed this summit so you could see and experience the latest AIoT applications, hear success stories from some of the most explorative leaders, and envision the future development of technology to benefit even more walks of life.
More information on the HikVision HEOP Platform: https://tpp.hikvision.com/tpp/HEOP + Hikvision Embedded Open Platform (HEOP) enables technology partners to develop and run their own applications on Hikvision's hardware to suit the specific needs and unique installation scenarios of customers.
HEOP features open-architecture hardware, standard interfaces, and the HikFlow algorithm development kit. Partners can easily join the HEOP ecosystem through Hikvision's Technology Partner Portal.
Compared to HEOP 1.0, HEOP 2.0 facilitates partners to deploy proprietary deep-learning algorithms on Hikvision's edge devices, providing more intelligent and tailored applications for end users.
The HEOP 2.0 system architecture ensures smooth running and quick migration of applications among varied types of underlying hardware.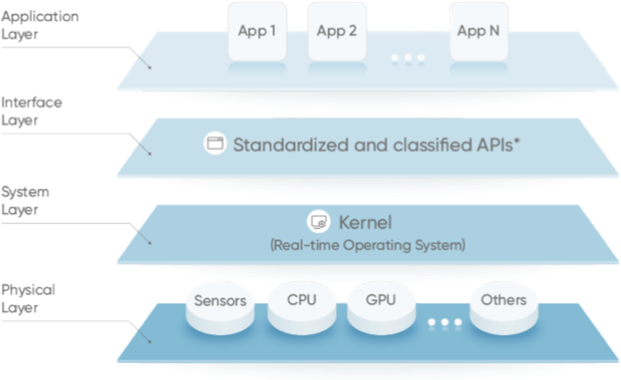 *The Base API is used to set parameters. The Media API provides raw videos and images. The HikFlow API provides deep-learning hardware resources.
More information on Hikvision STAR program: https://www.hikvision.com/en/about-us/sustainability/STAR/ + Hikvision's STAR Program for Social Good aims to provide cutting-edge technologies that help non-profit organizations and projects explore innovative ways to benefit communities and protect our valuable nature and culture.
Partners we are calling for: non-governmental organizations, public sector agencies, social enterprises, research institutions, universities and schools.
Areas we are focusing on: Biodiversity Monitoring and Conservation, Environmental Monitoring and Protection, Cultural Heritage Preservation
More information on Institute of Technical Education (ITE), Singapore: https://www.ite.edu.sg/ + The Institute of Technical Education (ITE) was established as a post-secondary institution in 1992, under the Ministry of Education. ITE is a principal provider of career and technical education and a key developer of national skills certification and standards skilling Singapore for the future economy. It offers three key programmed –
Pre-Employment Training for youths after secondary education.
Continuing Education and Training for adult learners.
Workplace Learning and Work-Study Programmed with employers.  Under its 'One ITE System, Three Colleges' Governance Model, ITE has three Colleges – ITE College Central, ITE College East and ITE College West.
More information on Dr. Yek Tiew Ming (Principal, ITE College East): https://www.linkedin.com/in/tiew-ming-yek-36b007178/
EMR Additional Notes: 
AIoT (Artificial Intelligence of Things):

Relatively new term and has recently become a hot topic which combines two of the hottest acronyms, AI (Artificial Intelligence) and IoT (Internet of Things).
AIoT is transformational and reciprocally beneficial for both types of technology, as AI adds value to IoT through machine learning capabilities and improved decision-making processes, while IoT adds value to AI through connectivity, signalling, and data exchange.
Aim: achieve more efficient IoT operations, improve human-machine interactions and enhance data management and analytics.
AI – Artificial Intelligence:

https://searchenterpriseai.techtarget.com/definition/AI-Artificial-Intelligence  +

Artificial intelligence is the simulation of human intelligence processes by machines, especially computer systems. Specific applications of AI include expert systems, natural language processing, speech recognition and machine vision.
As the hype around AI has accelerated, vendors have been scrambling to promote how their products and services use AI. Often what they refer to as AI is simply one component of AI, such as machine learning. AI requires a foundation of specialized hardware and software for writing and training machine learning algorithms. No one programming language is synonymous with AI, but a few, including Python, R and Java, are popular.
In general, AI systems work by ingesting large amounts of labeled training data, analyzing the data for correlations and patterns, and using these patterns to make predictions about future states. In this way, a chatbot that is fed examples of text chats can learn to produce lifelike exchanges with people, or an image recognition tool can learn to identify and describe objects in images by reviewing millions of examples.
AI programming focuses on three cognitive skills: learning, reasoning and self-correction.
What are the 4 types of artificial intelligence?

Type 1: Reactive machines. These AI systems have no memory and are task specific. An example is Deep Blue, the IBM chess program that beat Garry Kasparov in the 1990s. Deep Blue can identify pieces on the chessboard and make predictions, but because it has no memory, it cannot use past experiences to inform future ones.
Type 2: Limited memory. These AI systems have memory, so they can use past experiences to inform future decisions. Some of the decision-making functions in self-driving cars are designed this way.
Type 3: Theory of mind. Theory of mind is a psychology term. When applied to AI, it means that the system would have the social intelligence to understand emotions. This type of AI will be able to infer human intentions and predict behavior, a necessary skill for AI systems to become integral members of human teams.
Type 4: Self-awareness. In this category, AI systems have a sense of self, which gives them consciousness. Machines with self-awareness understand their own current state. This type of AI does not yet exist.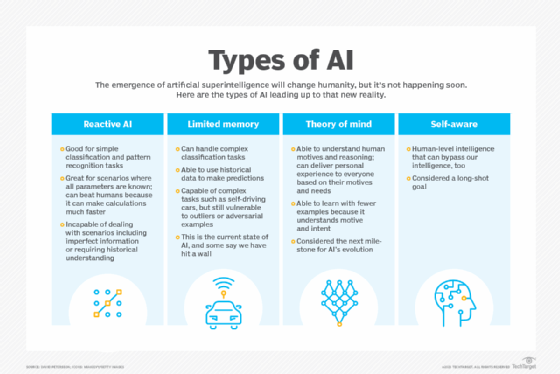 IOT (The Internet Of Things): 

The Internet of Things (IoT) refers to a system of interrelated, internet-connected objects that are able to collect and transfer data over a wireless network without human intervention.
Describes the network of physical objects—"things"—that are embedded with sensors, software, and other technologies for the purpose of connecting and exchanging data with other devices and systems over the internet.
The Most Popular IoT Devices are:

Smart watches are the most popular IoT devices. …
Gaming consoles. …
Smart TV sets and content streaming devices. …
Voice control devices. …
Printers. …
Cameras. …
Lighting appliances. …
Smart thermostats.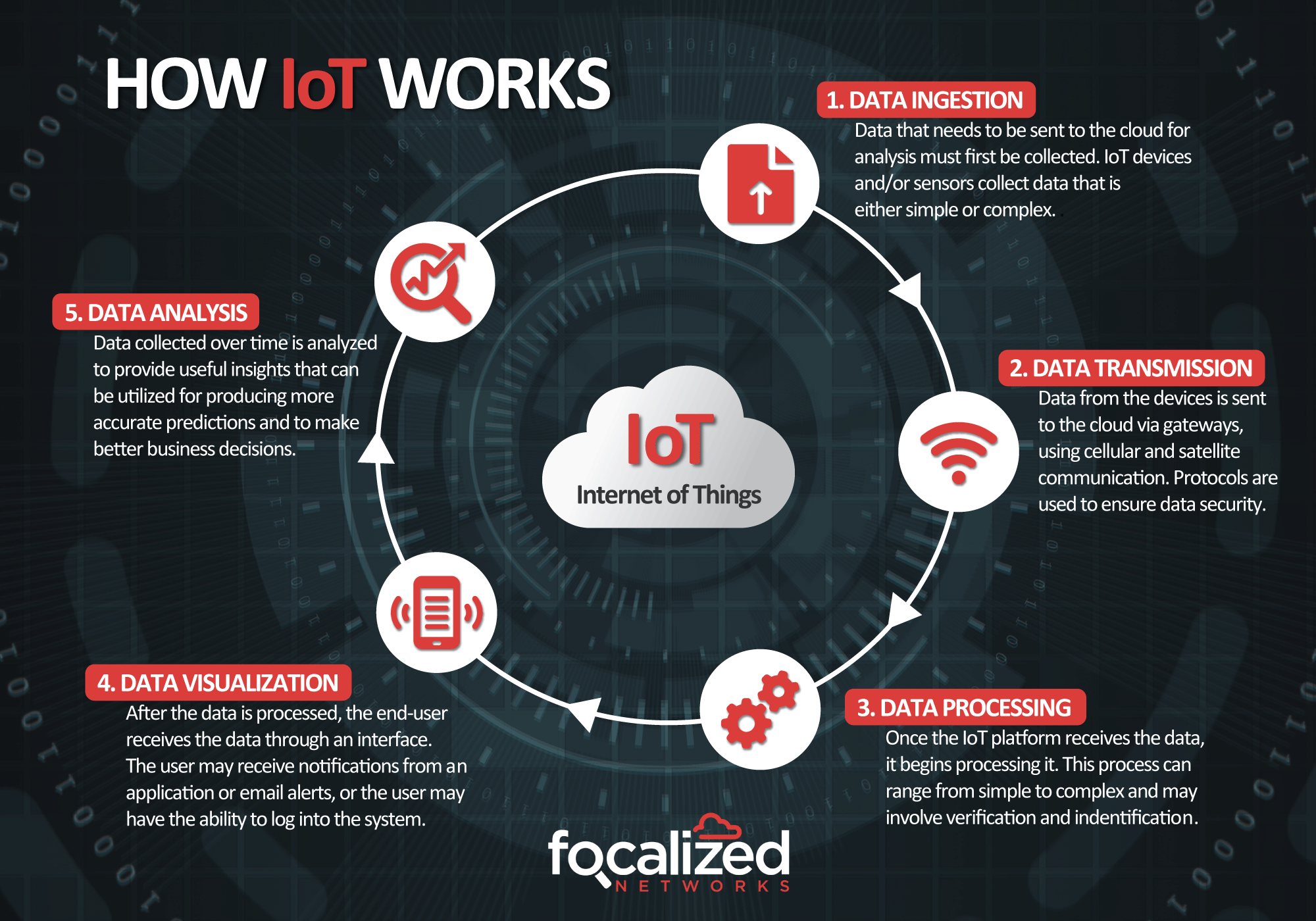 Industrial IoT Solutions:

Industrial IoT (IIoT) involves collecting and analyzing sensor-generated data to support equipment monitoring and maintenance, production process analytics and control, and more. In manufacturing IT since 1989, ScienceSoft offers IIoT consulting and development to create secure IIoT solutions.
IT & OT:

Information technology (IT) refers to anything related to computer technology, including hardware and software. Your email, for example, falls under the IT umbrella. This form of technology is less common in industrial settings, but often constitutes the technological backbone of most organizations and companies. These devices and programs have little autonomy and are updated frequently.
Operational technology (OT) refers to the hardware and software used to change, monitor, or control physical devices, processes, and events within a company or organization. This form of technology is most commonly used in industrial settings, and the devices this technology refers to typically have more autonomy than information technology devices or programs. Examples of OT include SCADA (Supervisory Control and Data Acquisition).
=> The main difference between OT and IT devices is that OT devices control the physical world, while IT systems manage data.
Grid, Microgrids and DERs:

The power grid is a network for delivering electricity to consumers. The power grid includes generator stations, transmission lines and towers, and individual consumer distribution lines.
The grid constantly balances the supply and demand for the energy that powers everything from industry to household appliances.
Electric grids perform three major functions: power generation, transmission, and distribution.
A microgrid is a small-scale power grid that can operate independently or collaboratively with other small power grids. The practice of using microgrids is known as distributed, dispersed, decentralized, district or embedded energy production.
Smart Grid is any electrical grid + IT at all levels . Micro Grid is a group of interconnected loads and DERs (Distributed energy resources) within a clearly defined electrical and geographical boundaries witch acts as a single controllable entity with respect to the main grid.
Distributed energy resources (DERs) are small-scale electricity supply (typically in the range of 3 kW to 50 MW) or demand resources that are interconnected to the electric grid. They are power generation resources and are usually located close to load centers, and can be used individually or in aggregate to provide value to the grid.
Common examples of DERs include rooftop solar PV units, natural gas turbines, microturbines, wind turbines, biomass generators, fuel cells, tri-generation units, battery storage, electric vehicles (EV) and EV chargers, and demand response applications.