Finder – Finder's 6M Series power analyzer products represent the latest addition to the Finder catalogue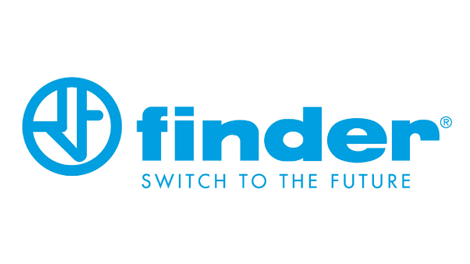 Power outages, sudden changes in the characteristics of the electricity supply network or unintended power overload conditions can all negatively impact on the normal activity of electrical panels and machinery.
The 6M Series power analyzer products are capable of measuring and exchanging data relating to power and/or energy being consumed or generated, while at the same time measuring the prime electrical characteristics that indicate the quality of the electrical network.
Designed for use in commercial and industrial electrical control and distribution panels, machine tools, or production and inverter equipment, they can also be particularly useful in PV systems, and EV charging stations.
The range currently consists of a Modbus TCP/IP gateway (Type 6M.BU.0.024.2200) and single-phase power monitors for voltage and current measurements in AC-TRMS and DC up to 1000 V.
All power monitors have an integrated Modbus RS485 communication port and the capability to measure bidirectional active energy (kWh). Additionally, instantaneous  values for V (RMS), A (RMS), PF, kW, kVA, kvar, Hz, THD (I), Vpk, Ipk, Cosφ, are also measured/calculated.
The three Types of single-phase power monitors currently available are:
Type 6M.TA.9.024.1200 (50A – 800 V AC / 1000 V DC)
Type 6M.TB.9.024.1200 (100A – 800 V AC / 1000 V DC)
Type 6M.TF.9.024.1200 (300A – 800 V AC / 400A – 1000 V DC)
The fourth product of the 6M Series present in the catalog is the Bridge Modbus TC/IP to Modbus RTU (RS485 master) Type 6M.BU.0.024.2200 compatible not only with the 6M.Tx devices but also with the energy meters of the 7M Series and with any other generic device with Modbus RS485 protocol.
The 6M.BU features a simple built-in web server for configuring network parameters and protocol, and can manage up to 200 modbus devices and is capable of accepting up to 10 Ethernet clients.
10/100 Mb/s Ethernet port
RS485 port up to 115200 bit/s
Isolation between power supply, RS485, Ethernet of 1500V
User interface: 6 status LEDs
All 6M Series devices can be mounted on a DIN rail thanks to the dedicated adapters supplied.
For more information, visit the product page and download the attached documentation.
EMR Analysis
More information on Finder: See the full profile on EMR Executive Services
More information on Renato Giordanino (Owner & Managing Director, Finder): See the full profile on EMR Executive Services
EMR Additional Notes: 
Modbus Protocol:

Modbus is a data communication protocol that is based on a request-response model. Previously referred to as a master-slave protocol, the Modbus organization replaced the terms master and slave with server and client in 2020.
Modbus is used for transmitting information between devices that are connected to buses or networks over serial lines or Ethernet and, increasingly, using wireless.
Modbus is the most widely used network protocol in the industrial manufacturing sector. The most common use case is the communication between a human-machine interface (HMI) or supervisory control and data acquisition (SCADA) system and a sensor, programmable logic controller (PLC), or programmable automation controller (PAC). It provides a hardware-agnostic, cost-effective way to enable the interoperability of disparate automation equipment.
Modbus is popular because it is open source, simple to use, and used everywhere, making it a reliable solution for transferring discrete or analog I/O and register data between control devices.
Low Voltage (LV):

The International Electrotechnical Commission (IEC) defines supply system low voltage as voltage in the range 50–1000 V AC or 120–1500 V DC.

Medium Voltage (MV):

Medium-voltage circuit breakers rated between 1 and 35/72 kV.

High Voltage (HV):

The International Electrotechnical Commission define high voltage as above 1000 V for alternating current, and at least 1500 V for direct current.

Super High-Voltage: 
Ultra High-Voltage: 
IP Communication:

The Internet Protocol (IP) is defined as the protocol for sending data from one computer to another across the Internet, with each computer having at least one IP address that identifies it from all other computers on the Internet.
MoIP, or mobile communications over internet protocol, is the mobilization of peer-to-peer communications including chat and talk using internet protocol via standard mobile communications applications including 3G, 4G, 5G, GPRS, Wi-Fi …
Voice over Internet Protocol (VoIP), is a technology that allows you to make voice calls using a broadband Internet connection instead of a regular (or analog) phone line.
EtherCAT:

The Ethernet Fieldbus: https://www.ethercat.org/default.htm + EtherCAT is the open real-time Ethernet network originally developed by Beckhoff. EtherCAT sets new standards for real-time performance and topology flexibility.

EtherCAT Technology Group:

The worlds largest Industrial Ethernet organization with 6900 member companies: https://www.ethercat.org/en/tech_group.html + The ETG is a global organization in which OEM, End Users and Technology Providers join forces to support and promote the further technology development. The EtherCAT Technology Group keeps EtherCAT technology open for all potential users.

Ethernet:

Ethernet is a family of wired computer networking technologies commonly used in local area networks, metropolitan area networks and wide area networks. It was commercially introduced in 1980 and first standardized in 1983 as IEEE 802.3.

Single Pair Ethernet (SPE):

Single Pair Ethernet cables are copper cables that only contain one twisted pair (single pair) that they use for data transmission, for example in industrial applications.
Describes the transmission of Ethernet over only one pair of twisted copper wires. In addition to data transmission via Ethernet, SPE also enables a simultaneous power supply of terminal devices via PoDL – Power over Data Line.
As its name suggests, Single Pair Ethernet (SPE) cabling uses only one pair of wires to transmit data, as opposed to the two pair that have long been standard in the majority of Ethernet cabling in use worldwide.

PoE (Power over Ethernet):

Power over Ethernet (PoE) is the process of sending electrical power and data over copper wire. The combination of data transmission along with power supplying hardware onto the same RJ45 Ethernet connector allows for the transmission of power over the network cabling.
As PoE technology has developed, the amount of power that can be sent over Ethernet cable has increased. IEEE-compliant PoE switches and injectors can output anywhere from 12 watts to over 70 watts of power per port.
LED:

LED stands for light emitting diode. LED lighting products produce light up to 90% more efficiently than incandescent light bulbs. How do they work? An electrical current passes through a microchip, which illuminates the tiny light sources we call LEDs and the result is visible light.
A light-emitting diode is a semiconductor light source that emits light when current flows through it. Electrons in the semiconductor recombine with electro