ETIM – R. STAHL Joins ETIM North America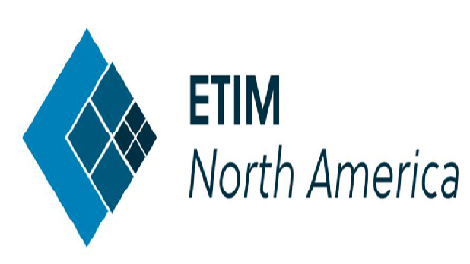 SALT LAKE CITY) – Mar. 20, 2023 – ETIM North America announced that R. STAHL, a major supplier in the field of explosion protected products and systems, has joined the North American chapter of the global product classification standards organization.
R. STAHL, www.rstahl.com, a global electrical manufacturer, provides the industrial customers of electrical distributors a wide array of products including terminal boxes, control boxes, control systems and distribution boards, industrial lighting, intrinsically safe barriers, remote I/O, grounding, industrial cameras and PCs, signaling devices and more.
Given such a diverse offering, properly classifying its products, and ensuring they are appropriately described is very important.
According to Mac Criswell, Vice President and General Manager, "North America is a major area of focus for R. STAHL, and we recognize that we need to digitize our product information to meet the needs of the North American market. As a global company, we are familiar with ETIM and the power of ETIM classified information. Having a global viewpoint, we can say definitively that the ETIM product descriptor structure is a great structure. It's robust yet flexible. We look forward to collaborating with our distributor and manufacturer colleagues in ETIM North America's Product Expert Groups to refine global standards to best meet the North American market's needs."
As a direct member, R. STAHL has access to the ETIM developed tools and will participate in many ETIM NA Product Expert (PE) Groups, starting with the Power & Automation and Wiring Devices / Lighting Controls groups.
Mary Shaw, ETIM North America's Executive Director, stated "We welcome R. STAHL to the ETIM North America community. Their robust offering and technical expertise will bring additional insights and information to our PE Groups. Through the design of a collaborative process, collectively we're able to determine standardized product class descriptors to help digitize industry product information, streamline processes, and improve customer experiences throughout the industry ecosystem."
Shaw further commented that it is important that manufacturers and distributors, of all sizes and product types who recognize that the electrical ecosystem is undergoing a digital transformation, are encouraged to be part of the process. ETIM North America is designed to be open, collaborative and embraces all manufacturers and distributors.  We are building upon standards that have been embraced in 25 countries over the past 30+ years, refining and enhancing it, to support North America.
To learn more about ETIM North America, its Product Expert Groups, and how manufacturers, distributors, reps, and service companies can participate, visit www.etim-na.org or contact Mary Shaw at mary@etim-na.org.
EMR Analysis
More information on ETIM: https://www.etim-international.com + ETIM is a format to share and exchange product data based on taxonomic identification. This widely used classification standard for technical products was developed to structure the information flow between B2B professionals. The ETIM classification model was developed to meet the industry's growing demand for a clear, discerning information structure for available technical products: ETIM allows for technical products to be classified and uniformly described by product groups, classes, synonyms, features, values and units.
With ETIM, the exchange of detailed information needed to find technical products became a reality.
ETIM stands fro Electro Technical Information Model.
More information on ETIM North America: https://www.etim-na.org + Based in Salt Lake City, ETIM North America is a non-profit chapter of ETIM International, responsible for the translation and adoption of the ETIM product classification model to support consistent communication of technical product information from manufacturers to end-users in the North American wholesale electrical industry and related construction and industrial sectors.
More information on Mary Shaw (Executive Director, ETIM North America): https://www.etim-international.com/about-us/governance/ + https://www.linkedin.com/in/mary-shaw-b799265/
More information on R. STAHL: https://r-stahl.com/de/global/home/ + R. STAHL is a major supplier in the field of explosion protection products and solutions. And when it comes to systems, we are the no. 1 provider in the international arena. We provide incredibly reliable protection for both people and systems.
Our electrical products and complex systems are particularly prized by customers from the oil and gas industry as well as the chemical and pharmaceutical industry. R. STAHL's unwavering focus on development has earned us our reputation as a leading provider of explosion protection technology designed and built to IECEx standard. Our ongoing drive to innovate and design new products with outstanding added value cements our position at the vanguard of technological advances, and we file patent applications to ensure that our original ideas are protected.
With our own production facilities, subsidiaries and sales offices in all the important markets in Europe, the Asia-Pacific region, and North and South America, we are perfectly placed to work on complex international projects, with resources on hand locally to provide our customers with explosion protection solutions and in-depth expertise, wherever it is needed. Our products and systems boast exceptional quality coupled with state-of-the-art technology. We also offer our customers expert advice, a wide range of services plus first-rate customer service.
A well-established family-run company from Germany, R. STAHL has continued to develop into a global player in the explosion protection market ever since its inception in 1876. Thanks to our high employee retention rate and continuity in managerial staff, we have been able to accumulate a wealth of knowledge on which our customers can capitalise.
2021 Revenue: €248.1M
More information on Peter Leischner (Chairman of the Supervisory Board, R. STAHL): https://r-stahl.com/en/global/corporate/investor-relations/corporate-governance/supervisory-board/ + https://www.linkedin.com/in/peter-leischner-9713a5225/
More information on Dr. Mathias Hallmann (Executive Board Member – CEO, R. STAHL): https://r-stahl.com/de/global/unternehmen/ueber-uns/unternehmensfuehrung/ + https://www.linkedin.com/in/mathias-hallmann-3395602b/
More information on Mac Criswell (Vice President and General Manager, R. STAHL Inc.): https://www.linkedin.com/in/mac-criswell/