Bunzl – Half Year Report 2023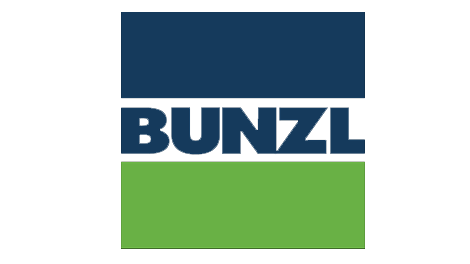 Half Yearly Financial Report for six months ended 30 June 2023
Bunzl plc, the specialist international distribution and services Group, today publishes its half yearly financial report for the six months ended 30 June 2023.
Highlights include:
Revenue grew by 0.6% at constant exchange rates, and grew by 2.4% excluding the UK healthcare disposal≠
Adjusted operating profit* increased by 2.5% at constant exchange rates, with growth of 4.1% excluding the UK healthcare disposal≠; reported operating profit increased by 9.9%
Operating margin increased from 7.3% to 7.4%
Adjusted earnings per share* declined by 1.7% at constant exchange rates, and grew by 0.2% excluding the UK healthcare disposal≠, due to an expected increase in net finance expense and tax rate; reported basic earnings per share rose 6.9%
Free cash flow* grew by 21% at actual exchange rates to £286.3 million; supported by a substantial reduction in inventory
Interim dividend per share grew by 5.2%, extending 30 consecutive years of annual dividend growth
12 acquisitions announced August year-to-date, including two announced today, with a total committed spend of more than £350 million; our pipeline remains active
Net debt to EBITDA*† of 1.1 times providing substantial headroom for acquisitions; resilient return on invested capital* of 14.9% compared to 13.6% at the end of 2019, prior to the pandemic
2023 outlook: adjusted operating profit guidance upgraded, driven by a meaningful increase in operating margin expectations
Commenting on today's results, Frank van Zanten, Chief Executive Officer of Bunzl, said:

"I am pleased with our first half performance, with good adjusted operating profit growth and an operating margin significantly ahead of that achieved prior to the comparable period of 2019. The Group's performance continues to be supported by the strength of our customer focused value proposition, including our sustainability expertise and range of innovative products and solutions, and the continued success of our acquisition strategy. We have an active pipeline of attractive opportunities, and I am delighted to announce two additional acquisitions today, including our first acquisition in Poland, meaning Bunzl will operate from 32 countries upon completion. As a result of our successes over the period, we are upgrading our 2023 adjusted operating profit guidance, supported by a meaningful increase in our operating margin expectations. I remain confident in Bunzl's medium-term growth opportunities which are underpinned by our differentiated value-added proposition and a strong balance sheet to support significant consolidation opportunities."
* Alternative performance measure (see Note 2).
◊ Growth at constant exchange rates is calculated by comparing the H1 23 results to the H1 22 results retranslated at the average exchange rates used for H1 23.
† At average exchange rates and based on historical accounting standards, in accordance with the Group's external debt covenants.
≠ The Group disposed of its UK healthcare business in December 2022.
Note: A live webcast of today's presentation to analysts will be available on www.bunzl.com, commencing at 9.30 am.